The Dallas Must-Do List: Prove You're a Local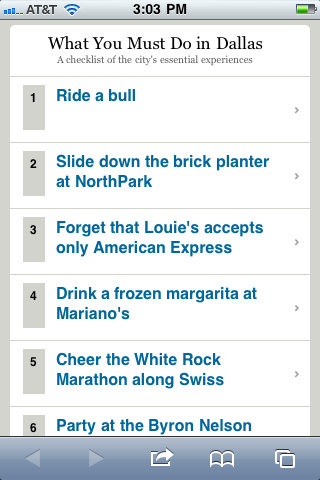 The cover story of the April issue of D Magazine invites you to take stock of your existence. Are you fully leading the life you've always imagined? You're in Dallas, Texas. Have you embraced that fact and taken advantage of all that this city has to offer?
By checking how many of the Things Every Dallasite Must Do you have accomplished, you'll learn whether you've earned the right to call yourself a local. In other words, you'll discover whether you're well on your way to a life filled with passion and happiness, or if you're stuck in a rut.
We make this guarantee: As you check off the items from the list, taking on experiences you've never imagined before, you'll feel better about yourself. And you'll feel better about Dallas. You'll find that you never again complain about the city's lack of nearby mountains or beaches. You'll be a more fully realized human being.
And we've made it easy to view these items on your smartphone. When you visit DMagazine.com on your phone's browser, you'll find a button that takes you right to the list. Then….You can click on any item to read more about it. At the bottom of each listing is a green box that allows you to check off any of the items that you've accomplished. (See the example at bottom left)
Once you've checked it off, there will be a nice red check-mark next to the items you've completed (just as I've completed No. 7 in the example at bottom right).
So get to it. Drink life to the lees. We're sick of hearing you complain about how there's nothing to do around here.