Never let it be said that the beautiful people don't come out for a good party. Despite the closure of schools and advisories to stay-at-home Friday, the people who have makeup artists on retainer made it to Mi Cocina in Highland Park Village. Not just the same old MC. Nope, the Jerry Jones family  had turned the place into South Beach for LOOK, "a Super Bowl fashion preview featuring Richie Sambora and co-designer Nikki Lund's couture line, White Trash Beautiful (WTB)."
To say the place was jammed is putting it lightly. Surely, the Highland Park fire marshal must have been on vacation. The crowd was so packed that even body wedging through the crowd was challenging. But on such a frigid day, body heat was appreciated.
About an hour into the event, a call to arms from a South Beach-styled drum band drew all eyes to the second level. Down the stairs came the parade of musicians with sunglassed Richie in the center. In front of him was a tall fella in a white and brown sweater with no instrument except for his elbows and hands as he "encouraged" people to make way for Sir Sambora.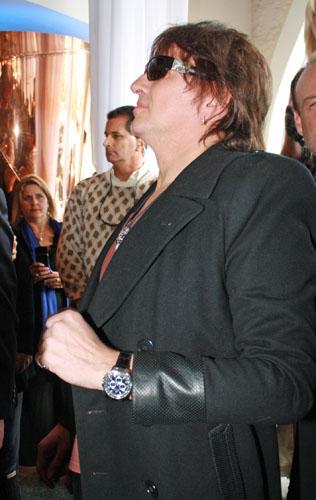 Just as the parade snaked its way around the crowded room, Richie did a "high-five reach out" to longest-legged Nancy Rogers who returned the gesture. When asked how she knew Richie, Nancy said, "I don't know him at all. Never met him before."
Then models in WTB outfits took their places on elevated stages. Their efforts received iPhone salutes.
Over in the side room Stephen Jones was chatting it up with the likes of Lana and Barry Andrews and Brill Garrett. As Troy Aikman was heading out the door, someone asked him if he'd be at the Samuel Lynne Galleries party later that night. He said, "Maybe. Don't know." Interesting since he was hosting the event benefitting The Giving Back Fund and The Troy Aikman Foundation. Oh, well, he has a busy schedule!
Just after Troy left, party host Jerry arrived. Looking skyward, he smiled. The sun was finally shining.
Get the D Brief Newsletter
Dallas' most important news stories of the week, delivered to your inbox each Sunday.