The NFL had issued its marching orders to ESPN earlier about DFW's big freeze, with the sports anchors repeating the mantra: "It's the Ultimate Reality Show; have fun with it!" Cowboys owner Jerry Jones had also weighed in, saying the frigid temps would only serve to make Saturday and Sunday–when it's predicted to be warmer–that much sweeter.  So you knew the weather would be a hot topic at Tuesday night's Super Bowl Media Party at the House of Blues, where the thousands of guest included Jerry and his son Stephen (shown here watching the action from a  roped-off balcony perch, with two Dallas cops guarding access.) And sure enough  it was.
Among the local and out-of-town media types packed into the nightclub's multiple floors, Fox4 weatherman Ron Jackson said he "just came in to have a couple of beers" after a long, tough day of reporting on the below-freezing conditions. Dallas Mayor Tom Leppert welcomed the throng like this: "While  temperatures are a little cold outside … there's no warmer hospitality than you'll find in Dallas."
And local host committee chairman Roger Staubach said the committee was simply trying to accommodate the Super Bowl rivals, Green Bay and Pittsburgh, with weather that was relevant to their parts of the country. "But by Friday, Saturday and Sunday," Roger added, "our host committee will deliver [to the fans and media] the weather that you want. I just wanted to clarify that."
So, who all was at this shindig?
The News' Gromer Jeffers Jr., for one. The Ticket guys, of course, including Dunham
and Miller and Gordon Keith, who seemed to be everywhere at once. Art Stricklin, who scribbles for Sports Illustrated online. DMN editor Mark Edgar, who stopped by just long enough to rave about the barbecue–there was more 'cue here than you could shake a stick at–before getting back to the newsroom. And of course 'Boys exec Charlotte Jones Anderson (pictured at right with her mom, Gene), who said that after so many years of planning, she "couldn't believe" the Super Bowl was finally here.
Then there was the higher-profile crowd: coach/broadcaster John Madden; legendary football voice Pat Summerall; the great sportswriter Dan Jenkins (Semi Tough); ace sports scribe Frank Luksa. These last three were honored formally with awards named after Blackie Sherrod, the Texas sportswriting god. (Krista described this presentation for you in an earlier post.)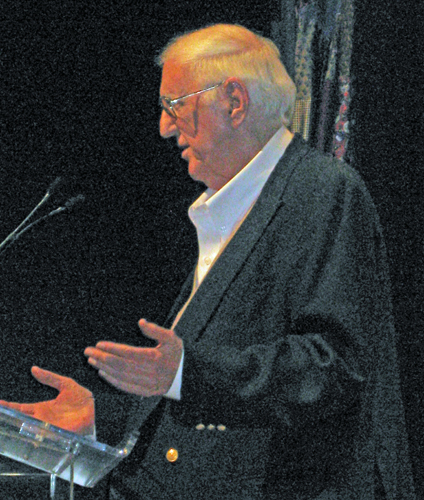 Introducing her father, Dan (pictured), Sally Jenkins — a writer herself for the Washington Post — said he'd taught her several things about the trade, including how to open a pack of Winstons and drink three martinis. Most importantly, she added: "He said to never a let a thing go until it's absolutely as good as you can make it." Jenkins pere, for his part, said he was happy to be presented an award for living too long.
Fort Worth Star-Telegram sportswriter Randy Galloway introduced his "hero" Luksa, saying, "He's always been a gentleman in this business. Personally, I never held that against him." In his remarks Luksa gave a shout-out to Blackie: "He'd find a perfect word to start a column, and then he'd find 800 after that" just as perfect.
Then, before the Old 97's took the stage — and did their kick-ass song Champaign, Illinois, among many — the evening's emcees, Daryl "Moose" Johnston and Michael Johnson (pictured right with Daryl), advised the crowd to party until midnight, then head over to Victory Park, where the bars would be open til 2. "But be safe," the Moose added with a smile. "Don't slip on the ice!"
Get the D Brief Newsletter
Dallas' most important news stories of the week, delivered to your inbox each Sunday.