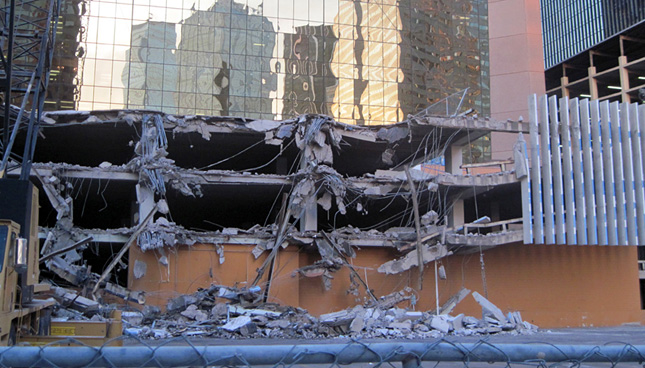 I've already beat up the First Baptist Church for its list this morning, so I thought why stop there? I didn't realize that the parking lot/parking garage across from the First Baptist  Church on St. Paul Street would be part of the remodeling the church is doing. So I was a little surprised when I started my walk home and saw the parking garage being destroyed. Normally, I'm not an advocate for parking garages, but this one is different. This one had the mural Resources painted on it. Readers of the print product may remember the story of this mural from our May issue. Jeff Garrison and Chris Arnold, owners of Eyecon, told me the piece was supposed to show how children slip through the cracks in our education system. They depicted this by having several kids sitting in a row, all facing toward what we assume was a teacher, and then had a silhouette of a child as if to show that child falling through the cracks.  The guys caught some heat from the piece because they had one of the kids staring into the sky. The kid was black. They were told this was a bad depiction. They argued, however, that they told the kid to think about what he wanted to be when he grew up (which was a Dallas Cowboy). They then captured that moment with their paintbrush.
That moment is now gone along with the rest of the painting. The guys said they wanted to show the elusive problems of education. I guess it's more elusive than they thought.
UPDATE: I just got off the phone with Chris Arnold. He had no idea the piece was being destroyed until he got the message from me asking for his comment. Although Arnold says "it smarts a little bit," he says he does understand that it's progress and he understands why it happens. However, this was one of the company's first big pieces and he's sad to see it go. Another one of their pieces, Mass Transit, is now covered up by advertising. Arnold says this brings up the subject of mural conservation in Dallas. Where other cities have a system to preserve murals in place, Dallas does not, and he'd like to know why.
Get the D Brief Newsletter
Dallas' most important news stories of the week, delivered to your inbox each Sunday.