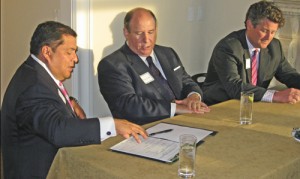 The GOP should pick up around 50 House seats today, but Democrats will hang on to the Senate. Joe Miller, Christine O'Donnell and Ken Buck should all go down in flames, and Senate Majority Leader Harry Reid (the "toughest, nastiest S.O.B." in Washington) is likely to survive. It all means the biggest donnybrook over taxes since the 1980s could be coming next year, when Republicans will face some risky decisions (like cutting defense spending) to prove they're serious about deficit reduction.
Those were a few of the predictions when mega-Realtors Pierce and Allie Beth Allman hosted three soothsayers from D.C.'s Ogilvy Government Relations for an "Election Eve" gab-fest last night at Dallas' Tower Residences at The Ritz-Carlton. The three wise men were, from left in photo, former Obama strategist Moses Mercado; McCain/Palin campaign vice chair Wayne Berman; and Chris Giblin, previously chief of staff for Congressman John Carter (R-TX). The Allmans laid out some good groceries, too.
Get the D Brief Newsletter
Dallas' most important news stories of the week, delivered to your inbox each Sunday.