Careful readers of the magazine will remember Laray Polk's name from the story she wrote for us about Harold Simmons. After she sent me a few cellphone pictures from the groundbreaking at SMU yesterday, I asked if she'd send along a report for FrontBurner. She was kind enough to oblige:
Bushes Break Ground
Today's festivities occurred both inside a tent, erected on the site of the future George W. Bush Presidential Center, and outdoors in public space on the SMU campus. The atmosphere by 8:30 a.m. was part semi-police state and upscale fundraiser. Homeland Security, dressed in full-body Kevlar, stood outside the Ford Stadium, anticipating the arrival of protesters, while K9 units leisurely uncrated canines. Those who had arrived by formal invitation did so on luxury buses. It was a behemoth caravan of black tourist vehicles navigating, tipsy-turvy, the narrow streets of the labyrinthine inner campus to deliver event-goers to an exclusive area that led to folding chairs inside a rather large tent. I and a chum, along with many others, waited in a long line of tent hopefuls. From our vantage point outside the tent in queue, we could see neither those who had exclusive entry nor those who were there to protest.
The overflow crowd was finally let in; we were instructed to sit in the bleachers — the farthest point from the stage. We scrambled for seats wherever we could find them. There were two massive screens set up at either side of the stage. Country music played until the program began. A slide show started things off. Pictures of George W. Bush in a cowboy hat garnered the first applause of the day.
Then a choir sung, a soloist performed "God Bless America," a Methodist preacher prayed, and library officials were introduced. Dick Cheney and Condoleezza Rice then arrived onstage. It was the day's first standing ovation. The second came upon the arrival of former President George W. Bush and Laura Bush.
A common thread among all the speakers was the library is not referred to as a library per se. It is 1) an archive, 2) a museum, and 3) a policy institute. The future George W. Bush Presidential Center was consistently described as an extension of the principles of Bush's presidency, principles that will continue on thanks to the mutually beneficial merger of a presidential library and SMU. (As some may remember, in the planning stages, the library and policy institute were to exist as two separate buildings with separate functions. Now this has all been collapsed under the rubric of the George W. Bush Presidential Center. The Center will be maintained by an official archivist and staff via the federally funded National Archives.) A few speeches touched upon private contributions, though Ray Hunt received the lion's share of accolades. Read more here for more background on Hunt and SMU.
Laura Bush spoke last. Her speech on the liberation of women through literacy was brilliant. In short, she said we should give women everywhere the power of literacy and access to economic development, and if this were to occur, we would see the establishment of civil nations worldwide. She noted that women such as Aung San Suu Kyi and those in Afghanistan and Iran also pay the highest price as freedom fighters.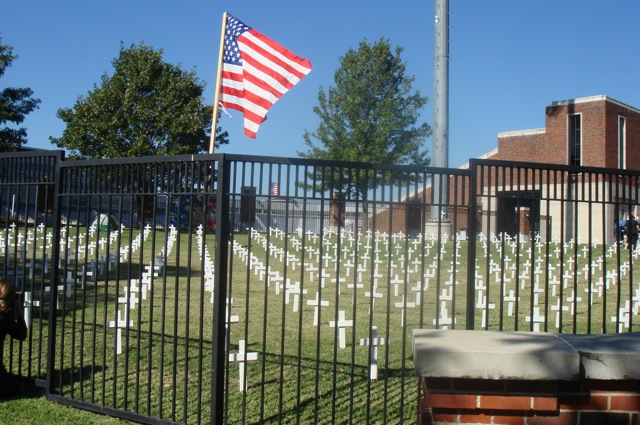 After the event, we hooked up with a photographer who had been photographing events outside the tent. She estimated that at around 10 a.m., there were approximately 100 protesters. The three of us hoofed it down to Mockingbird to see what might still be happening. By the time we arrived, there were a few remaining people who had participated in The People's Response. They were quietly tending the collection of white crosses, representing soldiers killed in Iraq and Afghanistan, on public display in an established free speech zone at Mockingbird and Airline Road. As I turned away from the display and toward the intersection, the last bus was leaving. This time, it was a Sheriff's prisoner bus with no visible passengers. –Laray Polk
Get the D Brief Newsletter
Dallas' most important news stories of the week, delivered to your inbox each Sunday.