The county Republicans sent this wanted poster out to the precinct chairs a bit ago. It's in response to the recent dustup DA Craig Watkins caused when he got up in County Commissioner Maurine Dickey's grill because he doesn't like her vegetable and butterfly garden. I am not making this up. In an e-mail to his fellow Republicans, Dallas Country GOP chair Jonathan Neerman wrote:
Earlier this week, current Democrat DA Craig Watkins unveiled his latest initiative to fight crime in Dallas County. No, he isn't tackling the meteoric rise in rapes. No, it has nothing to do with the high juvenile crime rate. Nor does it have anything to do with fighting public corruption. Hold on to your gardening hats.

Mr. Watkins is hot on the trail of some of the most wanted vegetables in County Commissioner Maurine Dickey's teaching garden. Click here to read the full story. Doesn't Mr. Watkins have something better to do than investigate the level of irrigation in Commissioner Dickey's garden? Is this really the type of fruitless shenanigans we want our District Attorney engaged in?
Here's what makes me sad: not that our political discussion has sunk to this level. No, I actually like this level. What makes me sad is that, with Eric Celeste no longer part of the Watkins campaign, there's no one from his side who is qualified to fire back. The wanted poster isn't that funny. They get points for effort, no question. But I just know that Eric would have had a great return zinger.
Hey, Eric, maybe a freebie for old time's sake in the comments?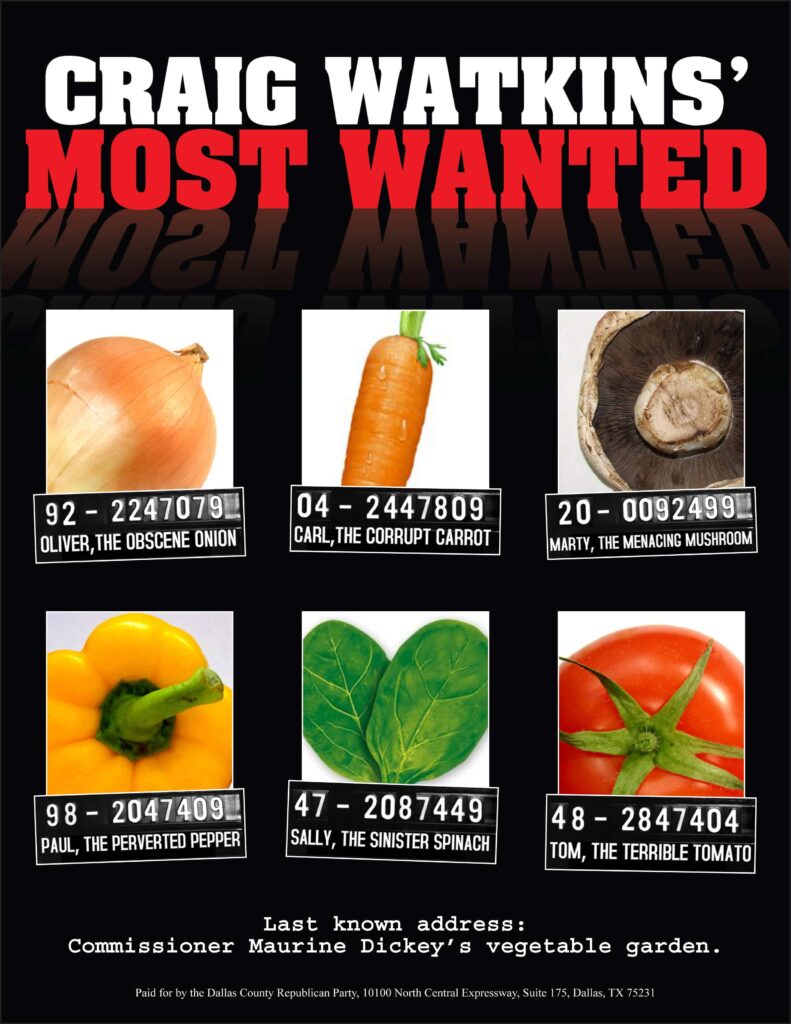 Get the D Brief Newsletter
Dallas' most important news stories of the week, delivered to your inbox each Sunday.