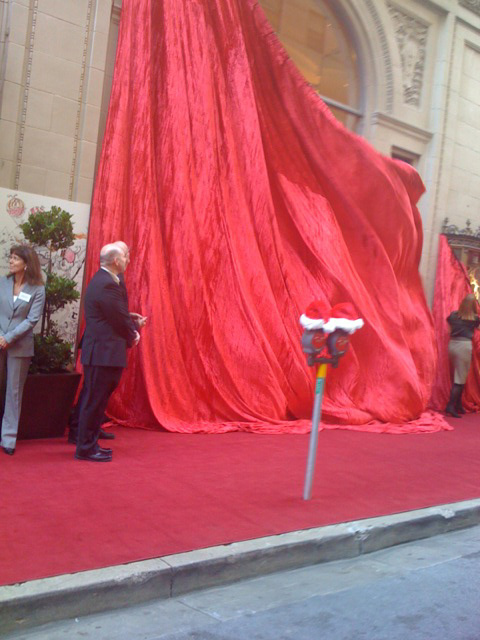 "This is when I miss my 30 percent discount," says Casey Miller, former Neiman Marcus employee, as he watched me flip through the 2010 Christmas Book. As I did a quick calculation of what 30 percent off a $15,000 edible gingerbread house would be, I began reconsidering my career. But before I could get an app for Neiman Marcus, I was distracted by the beckoning of "Jingle Bells" from around the corner. As I stepped onto Ervay Street, I was suddenly hit with the nostalgic feeling of the holidays–Santa hats hung on parking meters, a red carpet led me down the street, and crushed red velvet curtains hung over the NM windows.
If you're one of those traditionalists who believes stockings and Christmas trees shouldn't be displayed until after the Thanksgiving turkey is devoured (looking at you, Tim), then you have not met my friends at Neiman Marcus. They believe the holidays begin with the launch of their Christmas book. I believe they're right. So that means that today marks the beginning of the holidays.
Today, media types wandered around in the 67-degree October morning and anxiously awaited the reveal of the fantasy gifts, which were hidden behind the giant velvet curtains. We didn't have to wait long as Gerald Barnes, president of Neiman Marcus Direct, counted down from five to reveal the fantasy gifts. As the mighty curtains (hung just two hours prior) dropped, we saw…
…the $75,000 2011 Neiman Marcus Edition Camaro Convertible; $4,500 Family Chariot Electric Tricycle; two models and Colin Cowie enjoying some tequila which represented a Tequila Avion Private Party by Colin Cowie for $125,000; a $6,000 Danny Ferrington Handmade Gourd Ukulele; a customized Marfa, Texas experience for $9,500; a $1.5 million Dale Chihuly pool sculpture installation; a $17,500 Leica M9-NM camera; the His and Hers 2010 gift, which is a $250,000 MetroShip Houseboat; a 50th anniversary His and Hers charm bracelet for $248,000; and my favorite, an edible gingerbread playhouse for $15,000.
This was the first year for Neimans to display the fantasy gifts in the windows. Ginger Reeder, vice president of corporate communications at Neiman Marcus, says they started planning the event about three months ago. The actual installation began Sunday and finished around 8 this morning. When I asked her about some behind-the-scenes info of the planning and installation, she told me there would be a video up on the site later today. I get it. She's launching the entire holiday season. She's busy. I don't mind checking back later.
When I caught up with Miller again, I asked him which fantasy gift he would have used his discount on. "I really like the ukulele," he says. "Though I wouldn't know what to do with it." I bet Ebby Halliday would.
Whether or not you have a discount, you should check out the 163-page book. Or you could check it out on Neiman Marcus' iPad app. And, yes, you could buy directly from there if you'd like. I want the gingerbread playhouse, if you're feeling generous. But you'd better hurry. There are only 81 days left until Christmas.