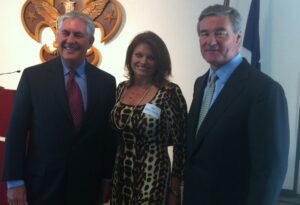 Rex Tillerson credits his Boy Scout experiences with  shaping who he is today–chairman and CEO of  Exxon Mobil Corp., the world's most valuable company (although Apple Inc. is nipping at its heels.) So despite his busy schedule, Tillerson still makes time to serve as national president of Irving-based Boy Scouts of America–not just by lending his name, but through hands-on leadership and fundraising. That included a visit a couple months back with Texas oilman Trevor Rees-Jones, who yesterday announced that he and his wife, Jan, were donating $25 million to the BSA's Circle Ten Council in Dallas.
Rees-Jones, the founder of Dallas-based Chief Oil & Gas, said Tillerson and other Circle Ten leaders had done their homework before asking for a check: "You know the Boy Scout saying, 'Be prepared?' Well, they were very prepared. And it paid off." The $25 million gift–the largest in Circle Ten history–kick-starts the council's $90 million Centennial Campaign, which aims to raise funds for development projects and ScoutReach, a program that allows at-risk youth to participate in scouting even if they can't afford it.
A former Eagle Scout himself, Rees-Jones said the opportunity "struck a chord" with him. "Scouting is not something that should be limited to those with financial means," he said. "All young men are valuable." In true Texas spirit, Rees-Jones said he also liked how the program "helps young men who want to help themselves."
Others on hand for the gift announcement at Circle Ten headquarters included former Texas Gov. Bill Clements, former Halliburton CEO John P. (Jack) Harbin, and Nancy Ann Hunt, all of whom are serving on the capital campaign's leadership team. It will wrap up in 2012, when the council celebrates its 100-year anniversary.
The national Boy Scouts of America, which is based in Irving, turned 100 earlier this year. As president, Tillerson said he's focused on getting the organization ready for the next century. "It's a generational thing," he said. "My grandfather was one of the state's first Eagle Scouts in Texas. My dad was an Eagle Scout, I'm an Eagle Scout and my son is an Eagle Scout. We represent the first 100 years. When you think about the next 100 years, it seems like a long time. But really, it's just a couple of generations away."
Get the D Brief Newsletter
Dallas' most important news stories of the week, delivered to your inbox each Sunday.