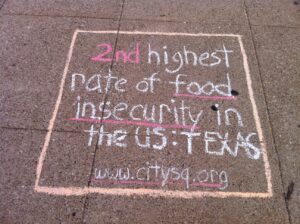 Walking to the parking garage yesterday I saw this message drawn in chalk on the sidewalk in front of the DMA. I thought, "Huh. Why would the cucumbers in Texas have lower self-esteem than cucumbers in any other state?" So I did some journalism-style web browsing and checked out that site. Turns out the former Central Dallas Ministries has, with some help from the folks at the Richards Group, rebranded itself. CEO Larry James explains here why the nonprofit poverty-busting outfit changed its name to CitySquare. And apparently the chalk marketing is all over downtown. I'm not the only one who has stumbled across such a message.
Get the D Brief Newsletter
Dallas' most important news stories of the week, delivered to your inbox each Sunday.