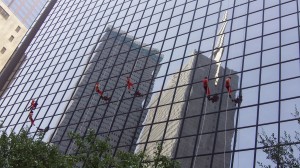 This morning, our own Samantha Shaddock told us about Project Bandaloop's plans to put on an aerial dancing spectacle at Thanksgiving Tower — or rather, on Thanksgiving Tower — so Jason Heid and I walked the few blocks from the D offices at noon to catch the show. I'll take a shot in the dark and guess the event was hosted by Reliant Energy. Maybe because of the army of reps handing out free Reliant hats on the streets, or the appearance by Reliant President Jason Few, or the plane I can see from our office windows towing a "Reliant: Cap and Save!" banner over downtown – but that's just a hunch.
The promise of free food brought out the masses (I'd guess the attendance was in the hundreds), but we didn't indulge in complimentary tacos because the line stretched around the block. After a few minutes, six dancers in red unitards descended from open windows about halfway up the tower, and performed to sitar music backed by a house beat. The best word I can think to describe the presentation is "graceful." Since the performers were strapped into harnesses, most of their moves seemed to happen is zero gravity, and they danced and spun and flipped around for all of five minutes before the aforementioned Few grabbed the mic. He stammered out a few rehearsed lines about how Bandaloop represents Reliant's business plan, including the gem, "Just as Bandaloop scales down the tower, so do our prices." Granted, I didn't have a recorder, so that might be a slight paraphrase, but rest assured the exact line was something equally cringe-worthy.
Jump for a few video clips of the performance:
Get the D Brief Newsletter
Dallas' most important news stories of the week, delivered to your inbox each Sunday.