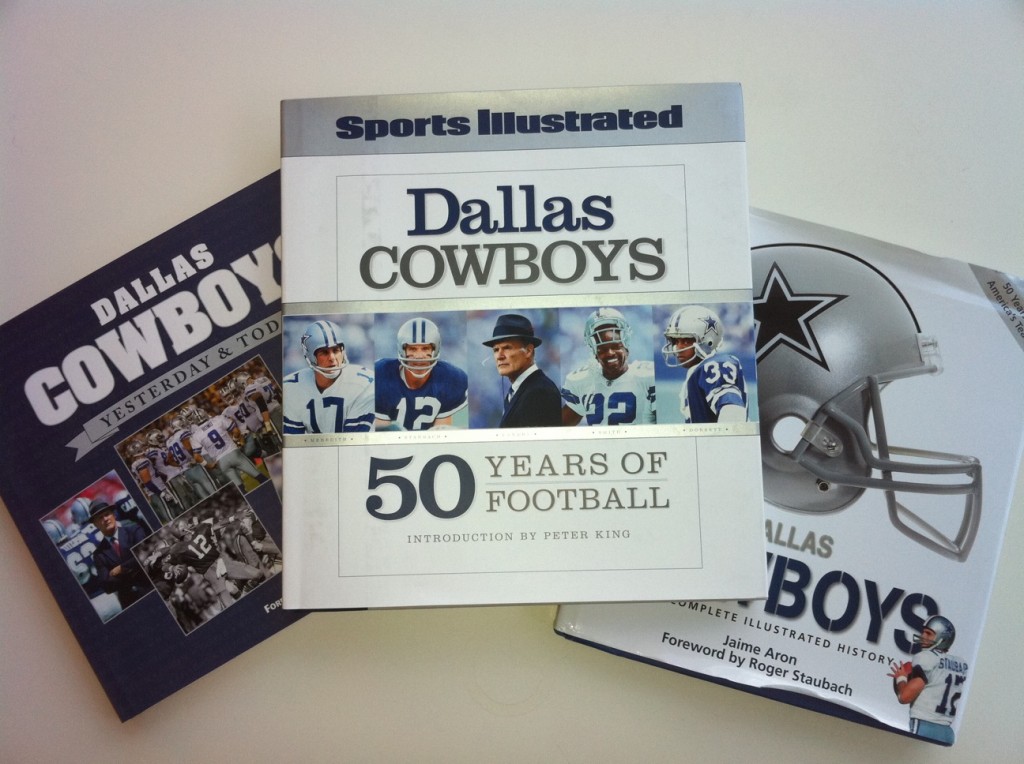 Unless you're my wife, you know that this will be the Cowboys' 50th season. The team played its first regular season game September 24, 1960. If you think that occasion sounds like a good marketing hook for a book, you're not alone, as evidenced by the three coffee table books sitting on my desk: Dallas Cowboys: Yesterday & Today, by Jeff Miller, with foreword by Mel Renfro (West Side Publishing, $24.95, 160 pages); Dallas Cowboys: The Complete Illustrated History, by Jaime Aron, with foreword by Roger Staubach (MVP books, $30, 192 pages); and Dallas Cowboys: 50 Years of Football, introduction by Peter King (Sports Illustrated Books, $29.95, 192 pages).
The first two books are local efforts, and the third is, obviously, from Sports Illustrated, which is a national concern that you might be familiar with. What we've got here is a mismatch. Think of the SI book as the 5A Trinity Trojans, loaded up with 250-pound chanting Tongans. Think of the other two books as the 2A Cistercian Hawks, comprised of 160-pound white kids who will go on to become accountants and lawyers, maybe with one weird guy thrown into the mix who will become a performance artist, to his parents' chagrin. It's maybe irresponsible even to let the two teams play each other. Similarly, sportsmanship and common decency should prevent me from comparing the books. But they haven't.
The Jeff Miller book feels undersized next to the SI book. The best thing to recommend it is the "Cowboys Collection," a series of spreads showing Cowboys memorabilia. They're cute — but ultimately unsatisfying. You really want to look at the artifacts themselves, not pictures of them. Every story in the book is laid out on one page, with a headline that makes you want to go to sleep. Sample: "Bill Bates Proves To Be Special," "Landry's Assistants Make Their Marks," "Cowboys Quartet Distinguishes Defense." The writing is not much more inspiring than the headlines.
The Jaime Aron book feels like it came off the same press. The writing is workmanlike. It feels like Aron is doing play by play. "This happened. Then this happened. Afterward, something else happened." It reads more like an attempt to set the record for future generations, a reference book, than it does a celebration. But the book's real sin is its design. Words overrun the thing, relegating the photographs to corners of pages. And the sidebars are done in unpleasant shades of yellow and orange, often illustrated with pictures that look like they were knocked out by an eighth-grader using an old copy of Quark Express.
Forgive my candor.
But that brings us to the Sports Illustrated book (which was edited by D Magazine alum David Bauer, by the by). The typography is beautiful, and photographs are given entire spreads to roam. Then there's the writing: stories excerpted from the magazine by Edwin Shrake, Dan Jenkins, Sally Jenkins, and others. I opened this book and had trouble putting it down. It's a real joy to look at and read.
Look, I know. Bauer got to sit back at his desk and pick and choose from some of the finest sportswriting ever produced in this country. Meanwhile, poor Aron and Miller had to bang out thousands upon thousands of words on a deadline, trying to capture 50 years worth of football. It's not fair. But there it is. If you're going to spend upwards of $30, you deserve to know.
Get the D Brief Newsletter
Dallas' most important news stories of the week, delivered to your inbox each Sunday.