SPOILER ALERT: Chris Cree won it all. More tomorrow.
It's been a short, fun ride from 64 competitors who started in our tournament on June 1 to narrowing the field to only four remaining contestants on June 9. Follow along during our live Final Four Showdown from the D Magazine offices tonight. Â Watch a video stream here, and read our live blogging below. (Keep the video stream open in one browser tab, and this post in another, to get the complete picture.) Games get under way at about 7 p.m., maybe a little earlier.
Just keep refreshing this page to see our updates.
7:10 p.m. Â  Games are about to start. We have all players in the room.
7:14 p.m. A few technical difficulties because we're using special iPads for this game.
7:16 p.m. Â We're under way. Trennis Jones and Rhett Miller have begun.
7:18 p.m. Rhett has a strange, Slavic sort of rack to start the game.
7:19 p.m. First play by Chris Cree: "Hadj." First by Rich Goff, who was running out of time in this speed match: "Shoo."
7:20 p.m. There's a live feed of our video stream of the matches in the kitchen, where are other guests are laughing and having a grand time. The four semifinalists are sequestered in a conference room together. Trying to enjoy themselves under these strict time limits.
7:21 p.m. BTW: Trennis Jones won the coin toss and opted to go first, rather than using the iPad we provided to one of the players. Rich Goff, in the other match, won the coin toss and opted for the iPad.
7:23 p.m. Ouch. Trennis Jones exceeded the time limit and had to skip a turn, taking Zero points for the turn.
7:24 p.m. The Cree-Goff match already has the words "Qi" and "Qis" on the board.
7:25 p.m. Goff tried throwing a phony word with a Z up on a triple word score. Didn't work. Tried something else.
7:27 p.m. I'm amazed at the concentration that our players are showing even with a noisy party just a few feet away in the other room.
7:29 p.m. Chris Cree just played "Dengue." What's "Dengue"?
7:31 p.m. Did you know the plural of "Hadj" is "Hadjes?" Â It's true, apparently.
7:33 p.m. Â Cree leads Goff, 350 to 154
7:34 p.m. Jones leads Miller, 188 to 145
7:37 p.m. The players in the heat of battle: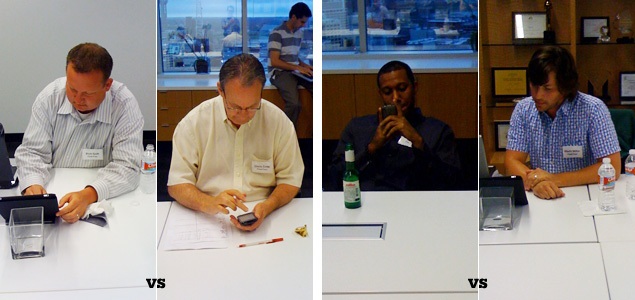 7:41 p.m. The boards are filling up.
7:42 p.m. Cree leads Goff, 453 to 215
7:43 p.m. Jones leads Miller, 272 to 215
7:46 p.m. Â We're reaching the endgames
7:47 p.m. Miller has a blank. He's shuffling, looking for a bingo with those letters.
7:48 p.m. Miller asked for a three-minute extension.
7:48 p.m. Cree vs. Goff is over. Cree wins, 523 to 258.
7:51 p.m. Jones leads Miller, 310 to 265
7:55 p.m. Â Goff just texted his friend to bring him a beer from the party room, to comfort him after the loss.
7:56 p.m. Â Jones is seeming in control, chatting with Cree about how many years he's been married, while Miller considers his next move.
7:57 p.m. We're reaching the end of the Jones-Miller match. Â Will Miller get stuck with the Q, or will it be his salvation?
7:58 p.m. Miller just ran out of time on his turn. Â Tried to play the Q, but couldn't.
7:59 p.m. Jones is up 358 to 251
8:02 p.m. Jones won 415 to 269
8:05 p.m. We're going to take several minutes to set up, and then go into the the Chris Cree vs. Trennis Jones final match of the tournament.
8:11 p.m. OK. About to get the final match started. Â We have two iPads, but Chris Cree prefers to work on his phone.
8:15 p.m. Â Getting the iPad set up for Trennis to play on.
8:18 p.m. We're getting started. Soon.
8:19 p.m. While we're getting set up, Jones asked Cree: "When was the last time you lost at Scrabble?" Â Cree said: "Today, to my wife."
8:20 p.m. Â We are under way. Â Really. Cree has the first move.
8:27 p.m. First play by Chris Cree: "Walled"
8:28 p.m. Jones was scrambling for time, made first move "Sate" right at the end.
8:30 p.m. Using the full minute, Cree  played "Moire."
8:30 p.m. Our referee, Hailey, just laughed at the word "toke" played by Jones. I guess she's familiar with the term?
8:32 p.m. Score is 69 to 36, favor of Cree
8:33 p.m. Jones just played "Sheens," as in Charlie and Martin, I guess.
8:34 p.m. Cree responded quickly with "ajar" in the corner.
8:35 p.m. The board ran straight to one corner. I've read that when the experts play, it usually runs quickly into all directions.
8:37 p.m. Running out of time, Jones settled for "beg." Will that hurt him?
8:38 p.m. Â 108 to 57, in favor of Cree.
8:39 p.m. Running out of time again, Jones has opted to use his three-minute turn.
8:40 p.m. Even with a blank, and an extra minute of time left, Jones is struggling to come up with something, anything.
8:41 p.m. It's a tough rack, and even with more time, Jones settles for AB. Â Should he exchange some tiles?
8:42 p.m. Cree has opted to use this turn to exchange his tiles.
8:43 p.m. Jones' demeanor is more serious in these finals than in the semifinals, when he seemed relaxed and in control the whole time.
8:45 p.m. This time around, it's Cree who seems relaxed and is more talkative. Â There's a problem with the WWF server, it's taking a minute to send. It just went through. Cree's response: "Holy moly." Watch that language, sir.
8:48 p.m. Another short word with time running out for Jones: "Dib."
8:51 p.m. This is getting tough to watch. Another low-scoring, two-letter word from Jones: "Ti"
8:53 p.m. Â Jones played "trig," but doesn't that set up Cree to use a triple-word square?
8:55 p.m. Jones got to use the triple-word himself, with "blog."
8:56 p.m. Cree leads Jones, 234 to 165
8:57 p.m. The lag time on the server transferring the turns back in forth is longer for this match, slowing the game down a bit.
8:59 p.m. Cree got "Sonly" on a triple.
9:00 p.m. Jones was able to answer quickly with "Qi"
9:01 p.m. See, expert players use short words too, when it suits their purposes: Cree just played "Now."
9:02 p.m. Â 322 to 220, in favor of Cree. 10 letters in the virtual bag still.
9:04 p.m. Three R's and Three T's?? Â Jones needs to exchange that rack. Badly. But it may be too late.
9:06 p.m. Yep. Too late. No letters left in the bag to exchange.
9:07 p.m. With this rack, does Jones have a play left?
9:08 p.m. Yep. A small one: "rid."
9:09 p.m. Each has just a few letters left.
9:13 p.m. Looks like we're just running out the clock on this game.
9:13 p.m. Cree says he has no more plays. Though he's still looking.
9:14 p.m. Cree tells Jones he has good "board sense."
9:15 p.m. Cree skipped a turn. Jones has nothing but "r" left.
9:16 p.m. We've reached the end: Cree 423, Jones 283.
Thanks for reading, any of you that made it this far. Â I'll do more of a wrap-up tomorrow. Â That's it for now.
Get the D Brief Newsletter
Dallas' most important news stories of the week, delivered to your inbox each Sunday.