Thousands gathered early one weekend morning in April to watch the implosion of Texas Stadium. Irving city fathers and mothers made it an event and even made some cash on the deal. They had a tent party to shelter VIP-types from the elements and sold sponsorships. Many thousands more watched from their home thanks to live-TV coverage.
So when the topping of the Margaret Hunt Hill Bridge's first arch (pictured) was announced Wednesday, there was some confusion. The topping of the 40-story arch would take place Saturday at 7 a.m. because the crew was ahead of schedule, but the champagne celebration would not take place until Monday morning in the air-conditioned Haynes & Boone offices overlooking the site. Gee, it seemed like the real action was watching the connecting of the two white tubes. Shouldn't take very long and it was such a exciting moment in this Dallas landmark-making project to see the magnificent arch completed.
So what happened Saturday morning? Since there was no live-TV coverage of this has-to-be-perfect topping of the arch and you probably didn't attend, here is a blow-by-blow of the topping and how the event nearly got the best of Mary Ellen and Fred Holt (pictured).
6:40 a.m. — Approaching Continental Bridge, we notice a portable sign reading "Bridge Closed," but it isn't. So we proceed looking for the multitude of crowds that are bound to be here. After all, this is a historic moment in the creation of Santiago Calatrava's multimillion-dollar bridges. If thousands gathered for the destruction of a landmark, surely hundreds, if not thousands, would w
ant to see the birthing of the  first arch after months and months of pregnancy.  But there are no crowds. Just sparse traffic. But wait. Just as we cross the Continental Bridge, we spot a handful of people on the West Bank of the Trinity levee and quickly park. It  is Mayor Tom Leppert (pictured) chatting it up with the TV photographers, who are setting up their equipment. Does the man ever sleep?
Hmm, am wondering about the set-up of cameras. Yes, they have a great view of the two white Tubes, but they are also pointing directly in the direction of the rising sun. And speaking of Old Man Sol, it's already 80 degrees and there is no shade. Hey, but what the heck. How long is a topping going to take? Ten minutes? 20 minutes at the most. That won't be bad.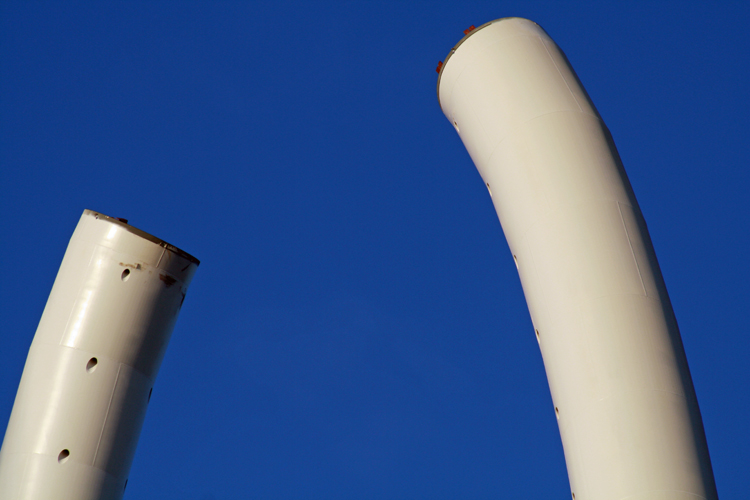 Giving the Tubes (pictured) a second look, they sorta look like the CPVC pipes that are underneath bathroom counter tops. Wonder if they're made of sturdier stuff.
6:45 a.m.— Decide to stroll east along Continental to see if there are any pods of people gathering. Instead discover that the Continental Bridge sparkles in the morning light because of all the broken glass. It's like walking on a path of glitter. Reminder to self: Check soles of tennis shoes later to see if shards of glass are embedded.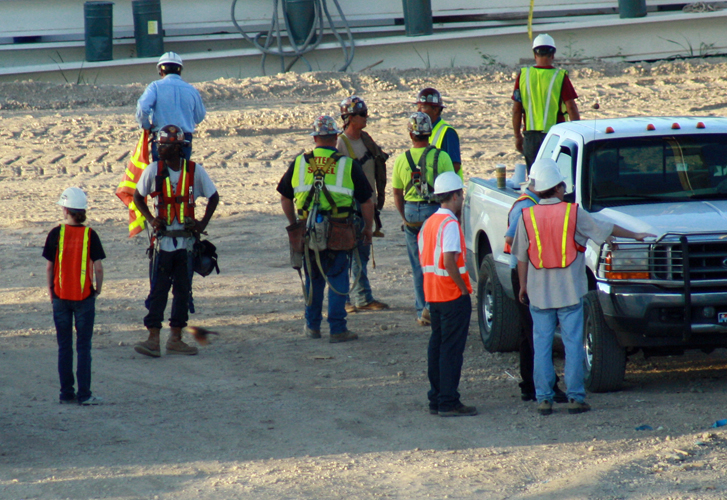 Come upon a still photographer who also wonders why the TV boys are over on the bank when the best view is on the bridge. Cyclists start pedaling to watch the activity. The only thing that's happening is that the "Helmet Heads" (pictured) are gathering at the construction site. Some wear orange vests, and some wear lime- green vests with safety harnesses. Harnesses? You know, the type that skyscraper window washers wear. Is this a sign of things to come?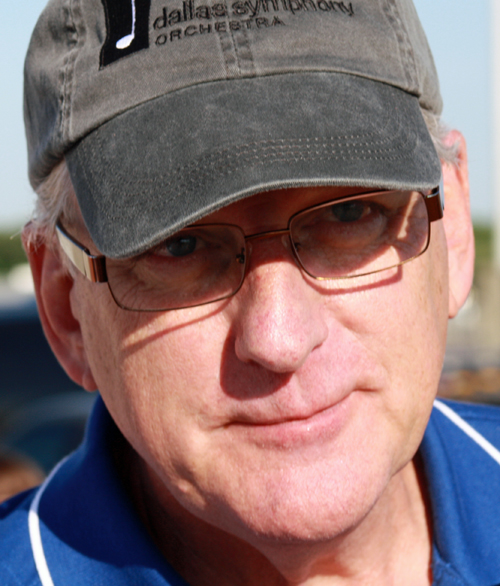 7:05 a.m. — Dallas Symphony Orchestra President Doug Adams (pictured) in natty jogging attire plus DSO gimme cap walks by. Seems he heard about the topping last night from Trinity Trust Champion Mary McDermott Cook and decided to change his usual walking route. "Wasn't it supposed to take place at 7?" he asks. He ambles on to the West Bank to join Mayor Tom.
Cars are starting to slow down to see what the "Continentals," (pictured) consisting of pedestrians and cyclists, are gawking at. Someone rolls down his car window (ah, the breeze from the car's AC feels so good) and asks, "Have they found another dead body floating?"
7:10 a.m.— Helmet Heads are starting in the direction of the massive orange crane ("King Crane") that will pick up the elbow-shaped piece that someone says weighs in at 150 tons.
7:12 a.m. — Helmet Heads are strolling back to discussion center. The Continentals are starting to grow in numbers. Young families are now blending in. Traffic along Continental continues. Chuckle to myself that the "Bridge Closed" sign must be left over from last September's "Bridge Party." Nobody is paying attention to it as traffic zooms by.
7:14 a.m. — Wait! There is activity. One of the five baby yellow crawler cranes (pictured) is trudging i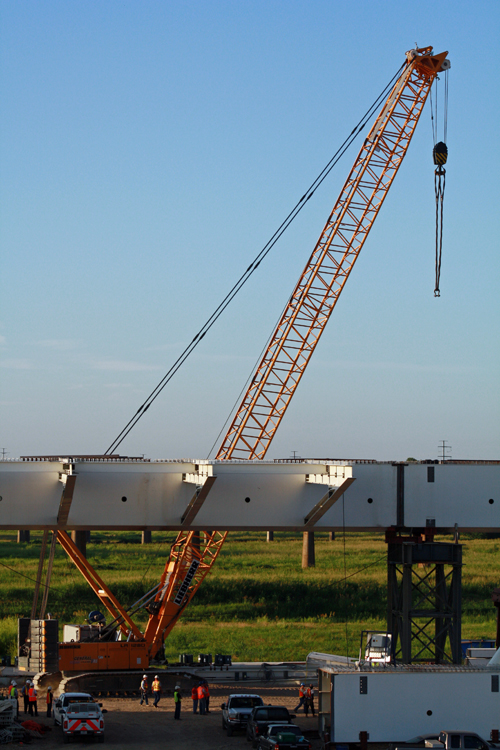 ts way toward King Crane. It's really cranky and grumbles as it goes along.  Somebody must have forgotten to get a latte for Baby Crane. It's stopping and swinging its boom counter-clockwise 180 degrees. Now it's retracing its steps and stops. Guess somebody in the crew realized, "We've got to do something to entertain the Continentals."
7:20 a.m. — More activity. A lift takes a couple of the Helmet Heads to the platform on top of the Elbow. They start to unroll a sign on the platform facing the Continentals. It's upside down. They gather it up and return to earth. Either it's the wrong sign or they don't know how to unfurl it right side up.
7:25 a.m. — The sign flunked its test and someone wads it up and tosses it in the back of a pickup. Helmet Heads are gathering in small groups. Let's hope they're not calling Tony Hayward for advice.
7:29 a.m. — Small groups of Helmet Heads are breaking up and going in different directions. They must have realized that the Continentals have to be home by 1:30 for the World Cup.
What's this? The Helmet Heads are back in little groups. They must be drawing straws to see who has to fit the Tubes to the Elbow. Am impressed with my ability to pick up the construction lingo.
7:33 a.m. — Two Helmet Heads take the back lift to the Platform. Surely, they're not going to ride the Platform to the top of the Tubes. No, they have another sign with them. Ah, shoot! They return to earth again with sign in hand. Another sign fails.
7:38 a.m. — Trinity Trust Champ Mary McDermott Cook, Trinity Trust pr maven Juliette Coulter and Trinity Trust communications/marketing ramrod Judy Schmidt with camera in hand stroll up. Mary is wearing a "Don't Mess With Texas Women" baseball cap. Seems very appropriate. Mary may be petite but she's a pistol. Juliette offers bottled water from her bag.
Decide to broach the question about the topping's taking place today but the celebration isn't til Monday. Juliette says it's because the crew was ahead of schedule. Mary adds that it's also because King Crane costs a pretty penny every day it nests in the Trinity basin. If they use it one day less, it lessens the costs, she says, but then wonders out loud, "But, aren't they still going to need to keep it for other things?"
They mosey on to check out the other views from the Continental Bridge.
7:41 a.m. — The Continentals are getting to know the Helmet Heads. The smart Helmet Heads meet in the shade under the MHH Bridge. One of them keeps motioning with his hands. Must be one of the Italian workers.
7:47 a.m. — Out of nowhere, Construction Boss Bill Doreen drives along Continental in a silver Chevy Avalanche pickup and orders people to move off the bridge (pictured). The peace-loving, sweating Continentals, who have loyally been waiting, are now being dismissed gruffly with no explanation.  Why is he so grumpy, barking orders? Why must the Continentals disband? What the heck does he think is going to happen? One young couple with adorable toddlers in tow seeks another location to watch the topping. They were a little disappointed that their kids had to have someone be so gruff with them, but there's still time to find another spot to view the topping.
7:57 a.m. — Boss Bill pulls his pickup next to a patrol car. They talk. The patrol car with Officer "Friendly" Ridley at the wheel starts clearing the bridge but with a smile
and an explanation. It's liability. If King Crane (pictured left with Tubes on right) topples, it'll take the Continental Bridge with it. (After a little research in the engineering world, it seems that cranes have stability issues especially when lifting tonnage. Words like "stress," "rated load," and "tipping load" come into play. Simply put: If Elbow gets the better of King Crane, the Continental Bridge will not just be closed. . . it will be smashed.)
Now things are making sense: the sign with "Bridge Closed," and the TV photographers setting up on the West Bank. Now I'm stranded on the East Bank and the Continental Bridge has become the Demilitarized Zone. How will I cross back to the West Bank?
Boss Bill pulls up and offers a ride in his air-conditioned pickup. Hop in the back. He stops halfway. OMG, is he going to dump me here for King Cra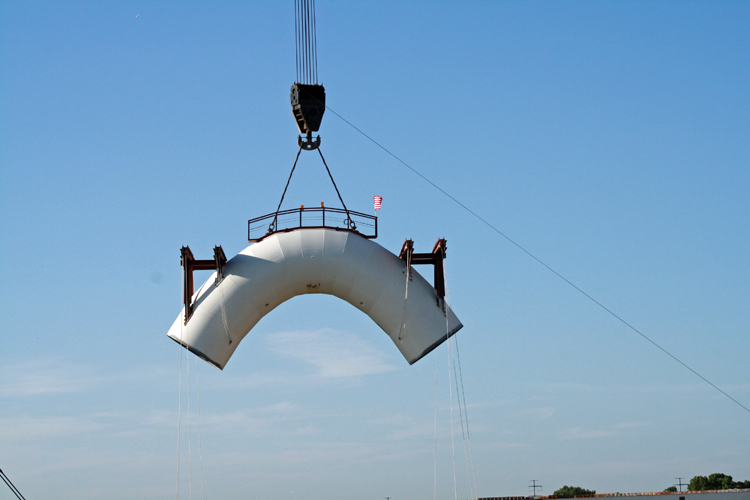 ne to topple on me? Nope. "You're not the only one who likes to take pictures," Boss Bill says as he climbs out of the Avalanche and snaps a couple of photos of Elbow now hovering mid-air (pictured). Hey, when did that happen?
He gets back in the pickup and continues to chauffeur his passenger across the Continental. Sees a group of people still standing in the no-standing zone and pulls up to them. "I've told you before and I'm not going to say it again." They nod and stay put. Say, isn't one of those folks Mary McDermott Cook?
Before Boss Bill drops me off at the edge of the West Bank, he says with pride that this project is a piece of cake. He's gone from Grumpy to Doc.  Bill's a good guy and from the ahead-of-schedule progress, he's a good construction guy. He shouldn't be herding families and cyclists from a potential danger zone. He should be with his crew. Too bad they couldn't have had some of the Trinity Trust's cute River Rats advising the Continentals to safer zones of watching and providing hand fans and water.
8:05 a.m. — It's now 86 degrees and there is sparse, if any, shade on the West Bank. Now the crowd has grown to about 100 with dignitaries  (Sen. Kay Bailey Hutchison in a cool beige blouse, Dallas City Councilpersons Delia Jasso and Tennell Atkins in a black-and-silver "Margaret Hunt Hill Bridge" T-shirt, Assistant City Manager Jill Jordan and Trinity Trust Firs
t Lady Gail Thomas), kids and pooches joining Mayor Tom (pictured left with, from the left, Tennell, Delia and Kay). Neither Kay nor Gail show an ounce of perspiration. They must have sprayed their entire bodies with deodorant. Kay has brought a bucket of Einstein bagels. Smart Gail is wearing a straw hat. Juliette continues to pull bottles of water out of her bag. One lady in the crowd says to her friend, "Seems like there should be more people here!"
Someone says that Mary is staying on Continental and not budging. Wasn't it last September when an anonymous donor provided funding in Mary's name to create a pedestrian walk/park on Continental?  One can't help but suspect that Ms. Mary is not gonna let King Crane bother her baby one iota.
Mayor Tom reports that King Crane "costs $100,000 a day." People look at King Crane with new admiration.
8:15 a.m. — People are starting the iPhone salute, photographing the Elbow as it's oh-so-slowly lifted by King Crane into position.  Is it really moving? Gee, we might be here til Monday.  One of Mayor Tom's men and Kay's suited assistants are comparing notes in the shade.
8:19 a.m. — It's four-fifths the way up. Some naysayer asks, "What if it doesn't fit?" Everyone laughs nervously. Doug Adams tells a story about a situation when a construction piece for the New World Symphony didn't fit and they had to have it remade. More nervous laughter.
Hey, isn't that Kay standing underneath a big black umbrella held by a handsome young guy in a suit? Gee, I definitely gotta get one of those things . . . I mean the umbrella.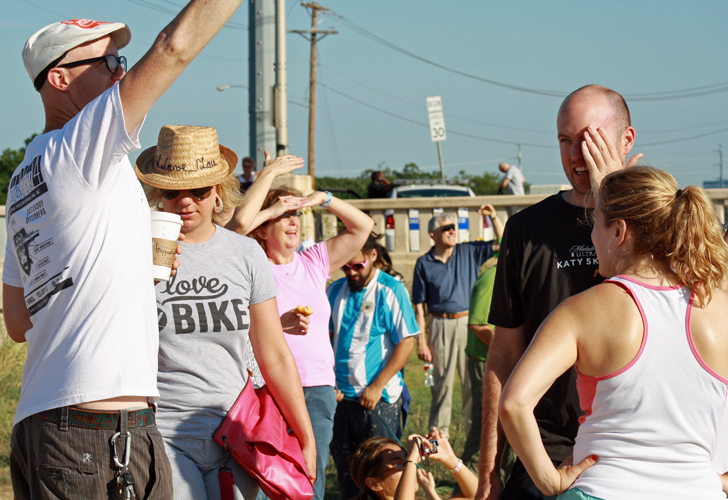 8:27 a.m. — Mayor Tom and Ray Hutchison (Kay's husband and associate of Phil Romano, who has become a landowner in West Dallas) point out there are people at the tops of the Tubes. Hands shade eyes to see if it is true (pictured). Yup, looking like ants peering out of a hole, there are humans up there. Imagine how hot it must have been climbing up the interior of the Tubes.
8:30 a.m. — People are starting to move south on the West Bank toward the Union Pacific railroad trestle for a better view. It can't be any cooler there. There are no trees or shade anywhere. Â People are keeping up good spirits but they're starting to look lik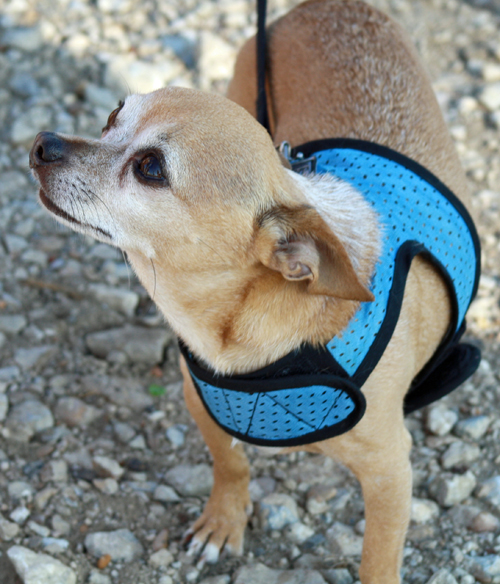 e extras in Death Valley Days. Â Even the Chihuahuas are wondering how long this thing is gonna take. At least they're smart enough to stand in their humans' shadows (pictured).
8:40 a.m. — People in Tube are trying to ooch the Elbow in place. Drat, missed. They'll try again.
8:45 a.m. — The fellow on North Tube had better watch his head (pictured).  Start looking around at the grounds of the West Bank. No trash cans, but trash is starting to gather on the dry grounds.
8:47 a.m. – Mary Ellen Holt is spotted leaving the group. The elderly woman appears to be having problems walking with her arms outstretched as she wobbles across the ground. Is it the heat? No, it's
her back. "I shouldn't have been standing so long," she says as her husband Fred comes over to help her to a seat on one of the MHH's concrete bridge supports (pictured).  As she rests, he explains that they wanted to be here because, "It's such a dramatic event." They decide that she needs to get to the car. As they start off, a couple of the TV photogs offer to help.
8:57 a.m. — Now Elbow is right in place for the South Tube, but the North Tube is playing hard to get. It seems to be just a foot away.
9:02 a.m. — It's 90 degrees and yet the crowd, without shade or very little water, is determined to stay. No bathroom breaks for this group because there are no bathrooms. Some admit they have no choice but to stay. Their options are nil for getting to their cars parked on the East Bank.
9:03 a.m. — Mayor Tom tells Gail (pictured right with Tom), "Looks like it might fit, Gail!" Then he hotfoots across the West Bank like a sprinting jackrabbit with a coyote in hot pursuit. He hops in his black Suburban and his driver takes off, but not on the Continental Bridge. Not even the mayor is going to cross Continental right now.
9:05 a.m. – It appears that Elbow has been connected to the Tubes at last. There is no cheer from the crowd. They're too parched and worn. Mary McDermott Cook, like a proud general arriving from a successful campaign, joins the group starting to disperse. The news photographers with sweaty shirts gather up their equipment in a rush. One still photographer climbs up the embankment looking like he's been on an endurance training exercise. Despite wet clothing, they've all got to get to their next assignment — the  funeral of Lancaster police Officer Craig Shaw.
With King Crane and the now-completed Arch in the foreground, the downtown Dallas skyscrapers look like a forest of eager adults greeting the arrival of the new kid on the block.
Get the D Brief Newsletter
Dallas' most important news stories of the week, delivered to your inbox each Sunday.