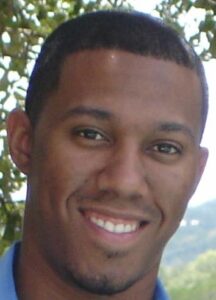 (This is the second of four mini-profiles of the semifinalists of the D Magazine Words With Friends Tournament. Trennis Jones will face Rhett Miller in one of our two semifinals on June 9. Read to the jump to see this member of our Finally Four answer the same questions as our 10 Most Beautiful Women in Dallas nominees.)
Trennis Jones
28, sports agent
Lives in: Uptown Dallas
Trennis Jones has worked for sports agency Octagon, in the basketball division, for 5 ½ years. The agency represents clients like Chris Paul, Rudy Gay, Stephen Curry, and Kirk Hinrich. His largest personal signing this year was Tweety Carter from Baylor University. He's working hard to make sure Tweety's name is called June 24 during the NBA Draft.
Jones has played WWF consistently for the past six months, appreciating the fact that he is exercising his brain while taking a break from the daily grind of work. His toughest match of the tournament came in the first round, against Krys Boyd, the host of Think on KERA. He was playing from behind the entire match, until the last few plays. He hit a groove in rounds 2-4 of the tournament and says that he was fortunate in that the letters he drew allowed him to score well and play good defense.
While Rhett Miller played the grandmother card in the hopes that your sympathies would support him in the semifinals of the tournament, Jones points to his mother as his inspiration. Grova Jones is a big fan of playing Scrabble and taught her son how to love the game. One of these players is going to severely disappoint his relatives after only one comes out on top in their match on Wednesday.
D Magazine Words With Friends Tournament Finally Four answer the 10 Most Beautiful Women in Dallas questionnaire:
People would say your best feature is your:
My competitive fire.
Friends would describe you as "The _______ One." (The Funny One, the Smart One, the Flirty One, etc.)
I would most definitely be the flirty one.
In the movie of your life, you would be played by which actor?
A cross between Jamie Foxx, Samuel L. Jackson, and Hill Harper.

When you have downtime, you're most likely to spend it:
Either playing golf, sleeping, or reading.
It's happy hour during the week. You're at  ___________ drinking a ____________.
At Nick and Sam's Grill … Crown on the rocks.
It's a typical Saturday night. What are you doing?
Dinner somewhere on Knox Henderson (Sushi Axiom or Victor Tango's) and drinks somewhere in Uptown (Quarter Bar or Black Friar)
What charitable organization is closest to your heart?
Big Brothers, Big Sisters. Â Shout out to my little Jon Williams, a.k.a. "JDub"
Get the D Brief Newsletter
Dallas' most important news stories of the week, delivered to your inbox each Sunday.