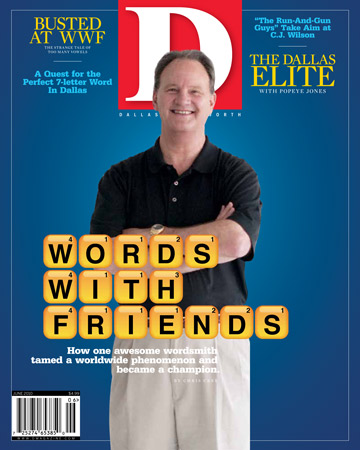 That was a lot of fun. Last night a crowd of enthusiastic Words With Friends fanatics – mostly players who participated in our tournament, along with some of their friends and family – packed the kitchen/lobby of our offices to watch live as Chris Cree, Trennis Jones, Rich Goff, and Rhett Miller fought for the title of WWF champion.
As you can see from the one-of-a-kind mockup of a D Magazine cover that we presented to him framed as his trophy, Chris Cree came out on top. While this was hardly a surprise to those of us who watched him tear through the tournament with unmatched high scores (the only player to break 500 points, he did it three times), what was a surprise was just what an entertaining fellow he is and how amazingly gracious he was in victory, careful to compliment the skills of his opponents. It was a pleasure for us to have him in our tournament and to crown him the winner.
We also want to thank the others in our Finally Four. Sports agent Trennis Jones put up an impressive run to finish second before struggling with a bad rack for much of the championship match against Cree. Musician Rhett Miller of the Old 97s has even more fans after last night, when he showed just what a great sport he is by driving up to Dallas from Austin specifically to participate in our festivities. And promotions manager Rich Goff, despite his unfortunate tendency to root for the St. Louis Cardinals, was a lot of fun even as Cree whipped him soundly in their semifinal pairing. While all the players were sequestered in a (slightly) quieter conference room away from the party, Goff sent a text message to his friend asking him to bring him a beer for comfort. His friend soon obliged.
I'll have a few more game notes, and the final boards, in one last post to come. But first I again want to thank the 400 applicants who had hoped to be part of our tournament field, the 64 who played, the city of McKinney for sponsoring the tournament, and the 1,400 people who checked in on our live video stream at various points last night. It was a great event, and a lot of people made it happen.
And if you're dying for more detail immediately, you're welcome to sort through my attempt at live blogging through difficult circumstances.
Get the D Brief Newsletter
Dallas' most important news stories of the week, delivered to your inbox each Sunday.