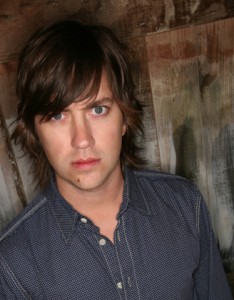 (This is the first of four mini-profiles of the semifinalists of the D Magazine Words With Friends Tournament. Rhett Miller will face Trennis Jones in one of our two semifinals on June 9. Read to the jump to see this member of our Finally Four answer the same questions as our 10 Most Beautiful Women in Dallas nominees.)
Rhett Miller
39, Musician
Lives in: Upstate New York, with frequent trips home to Dallas
The question remains open: Is Rhett Miller just an all-round more impressive human being than you are? He's already been a rock star for years, garnering a legion of adoring fans. Add to that the simple fact that he's advanced all the way to the semifinals of the D Magazine Words With Friends Tournament, and he's already achieved more in his time on this planet than a good percentage of the population ever will.
But here's the killer part: he probably loves his grandmother more than you do too. Though he wasn't originally slated to be in Dallas on June 9 – when our WWF championship will be decided – he's making a special trip to town to play. He calls it an homage to his grandmother, who taught him the game of Scrabble long before a variation of it could be played on a mobile phone.
Miller loves Scrabble and carries around a set to play on the tour bus. Funny thing is, he may be only the second-best WWF player of his band, the Old 97s. Ken Bethea, the guitarist, bested him in their one WWF match. Miller has no intention of playing Bethea again. The guy is too good and too competitive and too ornery.
Starting with his first-round match against Pete Mata, then a tough match against Jessica Oyhenart of Newtoy Inc., followed by a clash with Cristen Hixson (whom he called "an absolute beast at WWF"), then beating Jeff Cheney as Cheney was ushering his children through security at LAX airport, Miller says he's been lucky throughout the tournament to get good tiles at the right time.
He is looking forward to the finals and is a little nervous about the one-minute per turn time limit of the championship round. He's been carrying around his old, dog-eared copy of Everything Scrabble during his travels the last few days. He's studying the two-letter words list and boning up on strategy. There are so many little tricks that competitive Scrabble players take for granted and casual players don't know. For instance, exchanging tiles can be a great move. His match against Cristen Hixson turned on a play where he had been sitting on an awkward rack for a few turns and passed on playing a "Y" on the end of WHIRL to make WHIRLY for something like 12 points (a play Cristen subsequently made herself), instead opting to exchange five tiles. His next two plays were for 47 points each.
He wonders if he will remember any of this stuff when the clock is ticking down his minute of time during the semifinals.
The D Magazine Words With Friends Finally Four
Answer the 10 Most Beautiful in Dallas Questionnaire:
People would say your best feature is your:
Humility, definitely.  I'm super humble.
Friends would describe you as "The _______ One." (The Funny One, the Smart One, the Flirty One, etc.)
The Loud One. Or maybe The Spazzy One. Ooh. I might have found my next album title.
In the movie of your life, you would be played by which actor?
Nick Jonas. He's an actor, right?
When you have downtime, you're most likely to spend it:
Getting down. Interpret that as you will.
It's happy hour during the week. You're at  ___________ drinking a ____________.
Your wit's end … lot.
It's a typical Saturday night. What are you doing?
Shaking sweat onto the front row.
What charitable organization is closest to your heart?
I am very proud of the work I'm able to do to raise money for cystic fibrosis research. The CF Concert Series will take place this year on November 6 and feature the great Ben Kweller as well as (second-round D Magazine WWF Tournament loser) Gordon Keith.
Get the D Brief Newsletter
Dallas' most important news stories of the week, delivered to your inbox each Sunday.