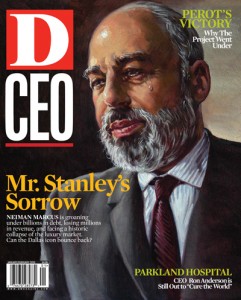 Have big luxury retailers like Neiman Marcus lost their focus? Former Neiman's exec Tony Briggle thinks so. In an in-depth look at Dallas' battered Neiman Marcus Group in the latest D CEO magazine, Briggle says: "You walk into the second floor of Neiman's and see racks and racks of $10,000 dresses marked down to $5,000–and pretty soon they begin to look like the $500 dresses you'd find at Dillard's. By compromising the way they display to customers, they're turning the customers off."
In the main D CEO story by Diana Kunde, a former business reporter at The Dallas Morning News, Neiman's current management style is compared to management under the late, great Stanley Marcus. (For much more on the legendary Mr. Stanley and Neiman's, BTW, check out a fascinating new book by Thomas E. Alexander, a former Neiman's executive VP. Alexander will talk with author/journalist Rena Peterson about his book, Stanley Marcus: The Relentless Reign of a Merchant Prince, on Jan. 31 at Fair Park.)
As Alexander, Briggle, and others have pointed out, Mr. Stanley was a tough taskmaster who pushed his staff to be creative, insisted on consistency, truly listened to customers, and worked tirelessly to make shopping at Neiman's a unique experience. Crazy thought: maybe the current regime should re-dedicate itself to his example.
Get the D Brief Newsletter
Dallas' most important news stories of the week, delivered to your inbox each Sunday.