Two Hours With The Irrepressible Mayor of Irving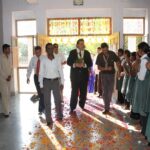 Irving Mayor Herbert Gears proudly tells people that The New York Times once called him a "combination of a Baptist preacher and a used-car salesman." You couldn't quite shake that image last night when the shoot-from-the-hip mayor delivered his fifth annual State of the City Address to a crowd of 600-plus at the Westin DFW Airport hotel. During a talk that lasted two hours–two hours!–Gears reviewed the city's many accomplishments, but made the presentation bearable with a delivery that would have done Larry the Cable Guy proud.
Gears described a trip he took last year to India, for example, augmenting his recollection with vacation-style slides. The trip, he explained, came about after he'd met some Indians in Irving with an international nonprofit called BAPS Charities. The mayor referred to the group simply as "BAPS," adding, "It stands for four really long words that you couldn't pronounce anyway."
During a meeting on the Indian trek with BAPS guru Pramukh Swami Maharaj–"he's like the Pope!" Gears said–he recalled scandalizing onlookers by playfully pinching the swami's cheeks. (Apparently that's just not done.)
The mayor then showed the crowd another photo (see above, with Gears in suit coat)–one that had him walking on rose petals that had been strewn in his path by his Indian hosts. "So, I've been working on the Irving city council" to strew rose petals in my path back here at home as well, Gears joked. "I told 'em, 'Hey, you guys better treat me better–look at this! And these are poor people!' "
At another point the mayor showed off the city's new logo, its distinguishing feature a line drawing of a horse's head atop the Irving name. Deputy Mayor Pro Tem "Rose Cannaday came up with the new logo," Gears said. "She told us if we didn't support this new logo, we would find one of them [horse's heads] in our bed. So, she knows how to get things done."
In between the quips, Gears described a city that's active on a number of fronts, including with several major highway projects. A $160 million convention center is under construction. A new, 5,000-plus-seat entertainment center is going up in Las Colinas in partnership with Live Nation. DART's Orange Line, and a huge transit-oriented development, are on the way.
The city lost the Dallas Cowboys to Arlington–Texas Stadium will be imploded later this year in a corporate promotion with Kraft–but it retains the team's headquarters in Valley Ranch, Gears stressed. It's also under increasing pressure from Hispanics, who claim discrimination by the city over various policing and political-districting issues. (The mayor let an old clip from WFAA-TV's Inside Politics show address that.)
In the end, the Times' description of Gears–part preacher, part car salesman–seemed spot-on. Some of his talk was devoted to explaining John 1:1 from the Bible, after all. ("In the beginning was the word of God," Gears intoned. "Words matter.") He even lived up to the car-dealer part. "I understand car dealers make a lot of money," Irving's irrepressible mayor said with a grin. "So I'll keep that in mind when I get out of this $600-a-month job."