Cowboys, Fireworks, and W Tout Big Thought, Ctd.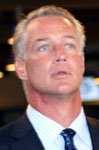 I also was at Cowboys Stadium this morning. My favorite moment came unexpectedly, at the end of former Dallas Cowboys great Daryl Johnston's speech that otherwise contained all the fun of a corporate mission statement.
Right at the end, he acknowledged the hundreds of elementary school students on hand, who sat Indian-style right in front of the stage. As he did that, the giant video screen above the field switched to a shot of the kids. As soon as they saw themselves, they began doing what any bunch of children would do — they waved their arms wildly in the air.
Without missing a beat, Johnston said to the crowd,  "That's the issue when you come to this amazing venue: Are you gonna watch the game or watch the screen?"
Right then, the tightly controlled choreography of the presentation was forgotten. We relaxed and shared a laugh. We felt human.  And soon it was back to business again.