Zakaria: Cable News Exaggerates Terrorism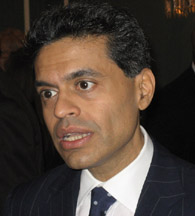 For a guy who makes some of his dough as a host on CNN, author and editor Fareed Zakaria had an interesting take on cable news in a talk to the World Affairs Council of Dallas/Fort Worth today. The subject came up when Zakaria (pictured) addressed the "amount of damage terrorism can do"–which he contends is relatively minimal. "The chance the average American has of dying in a terrorist attack is lower than dying in the bathroom," he said. But the media thrives on bad news, he went on, so terror acts are exaggerated to grab your attention. "They've got to fill 24 hours of news," Zakaria said, "and there ain't 24 hours of news."
His media criticism aside, Zakaria, the Indian-born editor of Newsweek International and the author of a new book called The Post-American World, had a surprisingly upbeat view of current affairs in his luncheon talk to about 1,000 people at the Fairmont Hotel.
Three decades of international progress, he said, can be credited to two things: the fall of the Soviet empire after its ill-fated invasion of Afghanistan, and Ronald Reagan's aggressive move to tame inflation in the early '80s. Those events, he said, set the stage for a period of global stability and growth that was shattered by last year's "great crash."
But even the downturn, Zakaria said, came about because of growth and prosperity: countries like China buying up U.S. treasuries, keeping credit cheap, fueling our consumer binge, leading to bubbles in stocks, technology and, finally, housing.
Now that the "free lunch" is over, he said, government spending is likely to turn things around. "Don't ever bet against governments," he said. "They are more powerful than markets. They can do whatever they want, and they will win."
Indeed, Zakaria said, he sees some "light at the end of the tunnel" already.
"We're seeing some stability in the financial industry, and some improvement in the credit markets," he said. "I think we're going through the worst recession since the Great Depression, but I don't think it will be as bad as the Depression. Unemployment hit 25 percent then, and we're not even in double digits yet."
Down the road, the U.S. economy and the nation's foreign policy are likely to operate with more checks and constraints, Zakaria said–which he sees as good things. "The world is changing very rapidly, but it will have enormous benefits for us," he said. "If we don't fight [the change], but embrace it, the U.S. will do fine."
As for terrorism? I think Zakaria–like the current administration–is saying we really don't have to worry about it much anymore.