In the fall and winter, glasses of bubbly whites and ice-cold trays of half-shells crowd restaurant tables. Oysters are in season, and they typically taste best between the months of November and April. By the time May rolls around, many hesitate to shuck an oyster or two.
That's because of a common misconception surrounding oysters.
Legend has it that eating oysters during months spelled without an "R" puts you at risk. Violate the rule and you'd either get a terrible oyster, one that appeared milky, or you'd end up in the bathroom. For me, this meant May through August was completely devoid of sweet and briny oysters. I felt strongly about this rule for a long time, even declaring to several friends at a dinner a few weeks ago that downing an oyster in late April or early September would be pushing it. One recent conversation changed my mind.
Mario Marquez, an aquaculture specialist with the Texas Sea Grant, says the "no summer oyster" myth stems from when the shellfish were grown in shallow summer waters, which made them more susceptible to vibrio, a bacteria that naturally occurs in coastal waters and is commonly associated with undercooked or raw seafood. In the early 1900s, harvested oysters left out in the sun often made people sick, so it was best to avoid them all summer long. Thus began the hard-and-fast rule.
"Then this thing came around and the rules changed," Marquez says. "That is called refrigeration."
"It is the most regulated product in the United States."

Mario Marquez, an aquaculture specialist with the Texas Sea Grant.
The invention of fridges meant oysters were kept cooler for longer, which made diners less likely to get sick if they ate half a dozen during the summer. Oysters just had to make it to the fridge fast enough. (It's "less likely" because there is always a risk when eating oysters or any raw food at any time of the year. That being said: Marquez says one should avoid oysters if pregnant, very young, elderly, or immunocompromised because of possible exposure to bacteria. Also see this D Magazine cover story from 2003, which is an investigation about two men who died after eating raw oysters.)
But refrigeration has been around for almost a century, and there are plenty of people who still avoid oysters in the summer. The difference now is regulation for oyster production is extremely strict, Marquez says.
"It is the most regulated product in the United States," he says. "The reason why is because it's raw and potentially cause harm if not taken care of correctly."
During the summer, oyster farmers must follow specific mandates when harvesting, like getting the bivalves to the fridge within an hour and keeping detailed documentation. The Texas Department of Health and Human Services often performs routine checks of the waters to ensure they're clean for farming, Marquez says. He's comfortable saying "they are safe" year-round.
Oyster Varieties
If you ever come across a "creamy" or watery oyster during the summer, it usually will be a diploid oyster, which is an oyster with two sets of chromosomes in each of its cells. Diploids become watery because they're preparing to spawn, an occurrence that usually happens when the waters are warm, Marquez says. Diploids are naturally occurring and are typically associated with being "wild."
Then there are triploid oysters, which is what most oyster farms throughout the U.S. use. Triploid oysters have three sets of chromosomes in each of their cells and they're usually sterile, which means they don't spawn or reproduce sexually. They also grow faster and are more consistent in taste and texture. Farms usually use triploid oysters because they can grow and develop during the summer months when diploid oysters may be spawning.
There are three main oysters served in the U.S.: East Coast, West Coast, and Gulf oysters. As nature's water filters, oysters tend to taste like the waters in which they grow. During the summer, most restaurants will serve oysters from the East Coast because the waters are cooler and they're less likely to breed bacteria. West Coast oysters, which taste brighter and cleaner because of Mount Olympus waters, are illegal to serve in Texas because they are considered invasive to Gulf oysters.
Gulf Coast oysters will be the freshest North Texans can get, but they don't have the best reputation. Most people associate the Gulf Coast waters with its history of pollution and contamination, but that's not the full picture.
Oyster Farming in Texas
In 2019, Texas became one of the last coastal states in the U.S. to legalize commercial oyster farming. Harvesting oyster reefs along the coast was allowed at the time but it was unpredictable; last year, Texas Parks and Wildlife opened the harvesting season with many bay closures for reef restoration efforts. Marquez's job is to help cultivate and support farmers to ensure the farming industry thrives. He helps with permitting, applying for loans, installing a farm, managing a fleet, and more. It's uncharted territory for the state's coastline.
"Some of the guys call it the wild, wild west," he says.
Within oyster farms in Texas, there's selective breeding for things like disease tolerance, salinity tolerance, presentation, and more, Marquez says. Many of the farms are experimenting with triploid and diploid oysters.
Texas currently has four oyster farmers, with another 14 applying for permits, Marquez says. One farmer is Hannah Kaplan, who runs Barrier Beauties out of east Galveston Bay. Kaplan is a Houstonian who left her full-time job to jump into the new industry in 2020.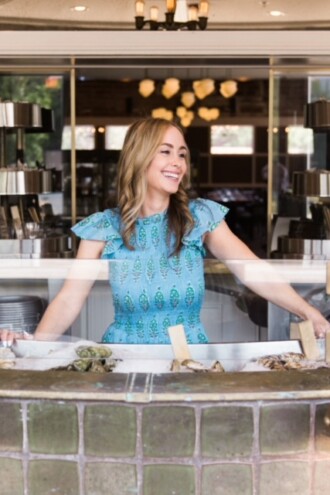 Barrier Beauties' oysters are briny, sweet, and a tiny bit creamy, Kaplan says, and her oysters are sized to meet the customer's demands. Most restaurants prefer petite, "boutique" oysters, she says. Kaplan's first harvest was about 150 oysters, and they all went to a restaurant called Pier 6 in San Leon.
Today her hatcheries span 10 acres of gulf waters where more than 1 million oysters grow in cages in the water. She's yielding between 5,000 to 10,000 oysters per harvest depending on the demand—and demand remains high even through the summer. Kaplan says she now distributes through Prestige Oysters, which serves restaurants throughout the state. She also sells to several concepts owned by Pappas Restaurants in Texas.
Barrier Beauties also provides oysters for Restaurant Beatrice, which was the first Dallas restaurant to partner with the woman-owned business. Beatrice, which centers much of its purpose and business model around sustainability, prioritizes working with local farmers, even down to where the oysters were sourced.
Chef Michelle Carpenter worked with Kaplan to teach the Beatrice staff about oysters, and the restaurant often uses them when oysters are in supply. Carpenter also said a marine biologist talked to the Beatrice staff about Gulf oysters specifically to educate them about the waters.
"Those farmed oysters in the Gulf, they're good, they're healthy—they're not dangerous," Carpenter says.
The oyster industry is growing in Texas, but it's also been misunderstood by consumers for years because of the summer myth, Kaplan says.
"Ninety percent of the oysters [customers are] eating are coming from farms," she says. "It's not really common knowledge."
Barrier Beauties' oysters don't spawn (that makes them triploids), so it's less likely for a customer to receive one that looks milky or overly creamy during the summer. When trained correctly, oyster farmers go through hours of courses to become certified. There are also "quite a few" health department regulations in place, and during the summer, Kaplan says the regulations are more stringent.
"The health department is very involved and if they ever see any kind of issue, they will do weekly testing," she says. "It's a very regulated industry."
"Some of the guys call it the wild, wild west."

Mario Marquez
I decided to try some oysters—in May, a month without an "R"—after talking to Marquez and Kaplan. I stopped by Rex's Seafood & Market and ordered a half-dozen mix of three Gulf oysters from the Texas coast and three Blue Point oysters from Connecticut, a personal favorite.
At a glance, the Gulf oyster shells were bigger and rockier than the Blue Point ones. The meat was also significantly larger and thicker than the dainty Blue Point.
After a squeeze of lemon, I swirled the oysters around their shells and slurped away. I did sit for about a minute and questioned my mortality after the first oyster—a Gulf one—but I persisted. The Gulf oysters were mild and a little more savory. The Blue Point oysters were saltier, which I liked, but it really comes down to preference.
Oysters to me are usually reserved for winter, and I do think they taste best around November or December. But after a day of letting the oysters settle, I'm pleased to say that I survived eating (almost) summer oysters, and I'll happily indulge all year round.
Where to Find Gulf Oysters in Dallas
Restaurant Beatrice
1111 N. Beckley Ave.
Half Shells & Fish City Grill
1415 E. Renner Rd., Ste. 260, Richardson.
2628 Long Prairie Rd., Flower Mound.
7201 Bishop Rd., Ste. E-4, Plano.
6617 Snider Plaza.
7170 Skillman St., Ste. 100.
10720 Preston Rd., Ste. 1006.
2750 E. Southlake Blvd., Ste. 130, Southlake.
1015 Watters Creek Blvd., Ste. 150, Allen.
Rex's Seafood & Market
920 S Harwood St., Ste. 150.
6713 W. Northwest Hwy.
S & D Oyster Company
2701 McKinney Ave.
Get the SideDish Newsletter
Dallas' hottest dining news, recipes, and reviews served up fresh to your inbox each week.
Author
Nataly Keomoungkhoun joined D Magazine as the online dining editor in 2022. She previously worked at the Dallas Morning News,…