The biggest news last month was the opening of Crown Block, the luxurious surf-and-turf restaurant that looms over the city from the top of the Reunion Tower. As we buzzed about Crown Block, there was a slew of new restaurant openings in Dallas-Fort Worth. That means there's more delicious food for you to discover and more for us at SideDish to write about.
In an effort for us to give you the latest news in one place, we've condensed recent restaurant openings in this post, ­plus a look into some delicious things we've tried.
The Highlights:
Dumplings and tacos from two North Texas staples and a "mind-boggling" chocolate chip cookie are among the delicious things we ate in April.
Three new restaurants in Dallas are serving more dumplings.
A "slutty" restaurant is coming to Deep Ellum.
Trompo has a new menu item: hot dogs!
What We Ate and Loved in April
Barsotti's: It's Carbone's, rebooted. I visited last week and will have a full First Bite column later this week. Can't wait for a full report? It's just about the same, but better-looking and with a longer menu. Skip the calamari, get the tortellini alla vodka. – Brian Reinhart
Hippos and Hashbrowns: This bakery just opened a new retail shop in Casa View, and it recently served me a mind-boggling chocolate chip cookie with wafer-thin chips stacked in layers in a sourdough batter. They're having a grand opening party on May 6! – B.R.
Jeng Chi: Jeng Chi is a staple in Richardson's Chinatown, and on one Saturday afternoon, a basket of steaming hot soup dumplings was calling my name. Inside each pinched dumpling pouch was a mound of ground pork and shrimp with a pool of delicious broth. The dumpling casing was thin but thick enough to pick up and place into my soup spoon. Paired with a slice of ginger and a dab of soy sauce = a satisfying meal. – Nataly Keomoungkhoun
Milagro Tacos Cantina: A recent lunch proved that Milagro's still got it. The smoked salmon taco was the winner for me. It has salmon wrapped in cheese that's been fried until golden on a flat top and topped with a hunk of avocado and fresh microgreens. I also had four other tacos: pulpo (grilled octopus), gobernador (shrimp), carne asada, and a daily fried fish taco. I had to take that last one to-go. – N.K.
Morgan's Ice Cream: The Strawberry Magic is some kind of witchcraft. The employee behind the counter said it was her favorite, and one bite told me all I needed to know. In the sweet, creamy strawberry ice cream are chunks of buttercake, or dollops of cake that added a buttery bite to each spoonful. To be honest, I caught myself looking for the cake as I was eating the ice cream. – N.K.
Quarter Acre: The May issue of D is in mailboxes across Dallas, and it includes a review of Quarter Acre. The review goes online in a week or two. Can't wait to read it? Maybe subscribe to get that early access next time. Can't wait to go? Make a reservation before everybody else reads the story. It will probably become one of your new go-tos, but even if it doesn't, you'll find it a refreshing change from the superficial, egomaniacal chain imports that are dominating Dallas' newcomers right now. – B.R. 
Vector Brewing: Quick update on my "beers of spring" list from a few weeks ago: Vector's Saison de Vil is truly majestic. If you like Jester King's style down in Austin, this is the closest a Dallas brewery has ever gotten to it. Brewed with experimental New Zealand hops, it has nothing to do with Cruella de Vil, except maybe its love of luxury. – B.R. 
Openings and Reopenings
Bamboo House: Wait times for Bamboo House have already exceeded an hour thanks to the hype around the restaurant's Peking duck. (The restaurant has already proclaimed on their sign that they have the best Peking duck in Dallas.) The menu includes Szechuan and Huaiyang cuisines, like bullfrog, spicy lamb spine, and beef tongue sauteed in numbing peppercorns. 2301 N Central Expy., Ste. 195., Plano.
Barsotti's (reopened): What was formerly Carbone's Fine Food and Wine has reopened to become Barsotti's Fine Food and Liqueurs. Barsotti's remodel includes a pretty paint job, a bigger Italian menu, and more spacious dining room. 4208 Oak Lawn Ave.
Coco Beach: A new beach-themed bar and grill in downtown Plano serving a mix of seafood dishes, burgers, and tropical cocktails. 1032 E. 15th St., Plano.
Hadramout: This Houston import with locations in Plano and Irving is, best I can tell, the first-ever Yemeni restaurant in the Dallas area. I don't know a lot about Yemeni food, but I'm excited to find out. 3825 W. Spring Creek Pkway., Plano. – B.R. 
La Esquina del DF: This taqueria sells street tacos, tacos alambre (tacos with steak, bacon, onions, bell peppers, and Oaxaca cheese—yum), tortas, and more. On Saturdays and Sundays, there's pozole, a pork stew; and menudo, a soup made with cow stomach. 13021 Coit Rd., Ste. 220.
Mister O1 Extraordinary Pizza: The Miami-based pizza shop arrived in Dallas last year with so much fanfare that it decided to open another location in Grapevine. It opens May 2 to serve its star-shaped pizzas, calzones, and salads. 129 S. Main St., Ste. 155, Grapevine. Its first location, in Oak Lawn, is at 3838 Oak Lawn Ave., Ste. P175.
Old 75 Beer Garden: A beer garden and venue in Richardson opened with "Matthew McConaughey backyard vibes," which owner Kirk Hermansen translates to cool and casual. Old 75 has an open lawn with backyard games, areas to sit and lounge, and cabanas for private parties. There are 34 beers and six specialty drinks on tap, and a menu inspired by South Texas and New Mexico. 740 S. Central Expy., Richardson.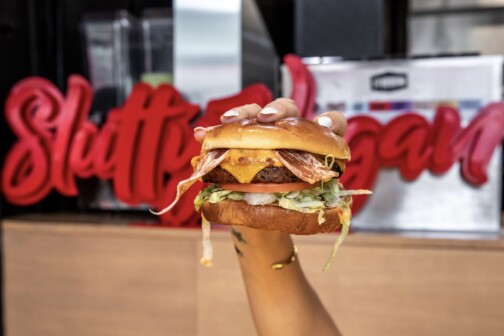 Slutty Vegan: Fast casual vegan restaurant Slutty Vegan will open a Dallas location this summer in Deep Ellum. The founder, Pinky Cole, started her plant-based restaurant in Atlanta on Instagram in 2018, where she was taking orders and making vegan burgers. It grew to 10 locations throughout the country. Menu items live up to the raunchy name. There's the One Night Stand, a burger with vegan bacon, cheese, tomato, lettuce, caramelized onions and "Slut Sauce"; and the Hollywood Hooker, a chopped Philly sandwich with jalapenos, bell peppers, onions, and more. 2707 Main St.
Steam Café: The menu is filled with dumplings, Hunan dishes, and wok-fried noodles and meats. A highlight we saw on Google: the garlic cucumber salad. 2528 Old Denton Rd., Ste. 170, Carrollton.
Steam Dumpling: A restaurant in Plano serving dumplings, various dim sum dishes, noodles with and without broth, and classics like kung pao chicken and Mongolian beef. 3131 Custer Rd., Ste. 182., Plano.
Sugar & Sage Bakery: Alison and Ashley Sage Weinstein, a mother-daughter duo, opened a bakery with cupcakes, cookies, brownies, and more in University Park last month. Coffee is sourced from Dallas' Noble Coyote Coffee Roasters, with options for drip, espresso, and French press. The bakery is led by chef Jill Bates, who will serve as executive pastry chef of Sugar & Sage. Chef Michael Laiskonis helped put together the bakery's menu. 4314 Lovers Ln.
New Menu Items
Trompo: Mexican hot dogs (!) start May 1. 337 Jefferson Blvd.
Monarch Dallas: A new happy hour menu includes $10 wines by the glass and new cocktails, like the Lemon Drop Martini (vodka, triple sec, and lemon with a sugar rim), and $2 Island Creek oysters from Massachusetts. Happy hour is Sunday through Friday from 5 p.m. to 6:30 p.m. 1401 Elm St., 49th Floor.
Oddfellows: The brunch menu has a new duck bacon sandwich, made with arugula, tomato, housemade duck bacon, a fried egg, and chipotle aioli on white bread. $18. 316 W. 7th St.
Rye: A new one for the sweet toothed-readers called the "Donut Deny This Dessert" comes with four dark chocolate-carrot and habanero doughnut holes with cayenne maple mousse, blackberry sauce, and cilantro. $14. 1920 Greenville Ave.
Get the SideDish Newsletter
Dallas' hottest dining news, recipes, and reviews served up fresh to your inbox each week.
Author
Nataly Keomoungkhoun joined D Magazine as the online dining editor in 2022. She previously worked at the Dallas Morning News,…