This year we were lucky enough to do a bit of traveling, which included heaping piles of brisket, endless coffee, and delicious tapas in cities across the country and the world. They were so good that we had to round up some of the best dishes we had that weren't in Dallas.
If you find yourself in Port Lavaca, New York City, or perhaps Nairobi sometime soon, put some of these eats on your list, as chronicled by dining critic Brian Reinhart and online dining editor Nataly Keomoungkhoun.
LaVaca BBQ in Port Lavaca, Texas
My best barbecue meal of 2022 was not in North Texas. Sorry! But if you're planning a BBQ road trip, you can do worse than to include LaVaca BBQ, southwest of Houston on the coast. With a strong Hispanic influence from pitmaster Kelly Nevarez, my tray here included not just top-tier brisket but a smoked tamal and creamed corn infused with jalapeño puree. (Yes, it has a sickly green color because of all the jalapeños. What's good for the belly isn't always good for the camera.) An unforgettable feast. – Brian Reinhart
Komé Sushi Kitchen in Austin
I spent a curious amount of time in Austin this year, and one thing that surprised me the most was the takeaway sushi from Komé Sushi Kitchen. Between April and May, Komé was doing takeout orders only, so my family ordered a bunch of rolls, bento boxes, and noodles. All of the dishes held up surprisingly well on the road. My dad said the soba noodles, served cold and dipped in a salty, chilled broth, were delicious. In fact, they were so delicious that he refused to let anyone else have a bite. (I got to try them the second time we ordered.) My favorite roll was the spicy tuna—simple but satisfying. – Nataly Keomoungkhoun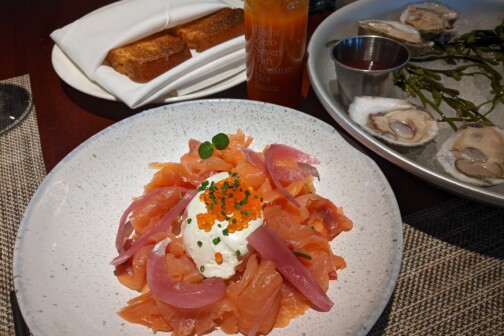 Brunch at Bludorn in Houston
Bludorn is the Houston-Seattle crossover I didn't know I needed. With West Coast polish and Gulf Coast ingredients, it's like nothing else. We plowed through hot-smoked salmon with trout roe and huge wedges of housemade toast (pictured), then shared an egg and cheese khachapuri, the Georgian bread that's becoming a trendy dish in many American cities. Bread service and salad were good, too, but the standouts at Bludorn were outstanding hospitality and the dining room, which is one of the most beautiful, relaxing spaces in Texas. You feel comfortably at home, but also like your home is a lot more stylish than you remembered. Perfect Sazerac cocktail, too. I drink Sazeracs for breakfast. Don't judge. – B.R.
Anything at JewBoy Burgers in Austin, Texas
If you asked me my favorite restaurant in the world, I would probably not answer JewBoy Burgers, but I would definitely think about it. There's the name, the irreverent attitude, and the proudly El Paso Jewish mentality. And then there's the menu, where you can get Hatch chiles, queso, pastrami, or latkes on your burger. The burgers are perfect smashed patties, and the chiles and cheese cling to them like hugs. Gosh, it's perfect. – B.R.
Kenyan coffee and tea in Kenya
I was in Kenya for two weeks, and when I arrived, I was told that the coffee and tea were a must-try. I was not disappointed. The coffee beans are grown at a high elevation, which means they develop at a slower pace and have more nutrients. Most of the beans in Kenya are grown in volcanic soil, and as a result, the brews have a strong acidic taste and intense, bright flavor. I would equate the taste to be almost like wine. The tea is bold and smooth, and we participated in afternoon tea every day—Kenya was an English colony from 1920 to 1963—and often ate biscuits to go along with it. We regrettably brought home only three bags of Dormans Coffee and one box of Kericho Gold tea. If you go, stock up. – N.K.
Pastries at Koffeteria in Houston
If I could choose to eat one takeout item from one Texas restaurant in the next five minutes, I might choose Koffeteria, which combines the most technically skilled European pastry-making in the state with the boldest Asian-American flavor ideas. Mapo tofu focaccia? It was good. Gumbo danish? It's amazing. The pistachio baklava croissant? Mind-boggling. I just looked at their menu and now they have something called an "Eggroll Smashburger." What. Order your breakfast the night before to prevent disappointment. – B.R.
Sitting at kitchen counters in Portland, Oregon
On a spring break trip to Oregon, delayed from a planned trip in March 2020, our two best meals were sitting at the bar, watching the kitchen cook. Always sit at the bar of an open kitchen. Tables stink! Anyway, if you journey to Portland, you simply must get Spanish and Basque tapas at Urdaneta, a bar so good I'm permanently ruined on the Texas tapas scene. Down the street, there's a secret underground wine bar where mustachioed hipsters will pour you a glass without telling you what it is, if you want. In a tie with Urdaneta for favorite meal is an irreverent French bistro called St. Jack, where they poke their thumbs in the eyes of conservative French classics. Think the irreverent fun energy of The Charles, but without all the pretentious people or dressing up. Plus, you can sit at the open kitchen. Coolness. – B.R.
KFC in Nairobi, Kenya
OK, hear me out: international fast food is so good. My husband has a habit of trying international fast food (specifically McDonald's), but we couldn't find any in Nairobi so we resorted to Colonel Sanders. It took about 10 minutes to make because the kitchen was making the chicken to order. We didn't mind at all, and we were impressed with what we received: a combo of fried chicken with fries and a sandwich with a fried chicken patty and hashbrowns instead of buns. The sandwich wasn't really my vibe, but the chicken was some of the crispiest, juiciest fast-food chicken I've ever had. And in that moment, it solidified us as true Americans. – N.K.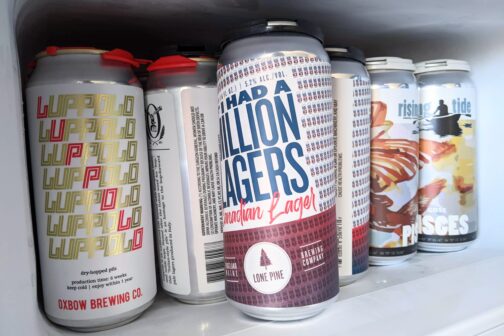 All the beer in Maine
Texas is a great beer state. California and Oregon are great beer states. But wow, was I sleeping on Maine. That place is amazing! I could drink to an early state of incompetence there. It's nice to see Oxbow Brewing products showing up at Central Market, so you can find out for yourselves. But to experience the full effect, you really must visit Portland, which has something like a brewery for every five houses. I didn't count too closely because I was averaging four beers a day. They are all startlingly good. I even got a column out of it. – B.R.
Oven-roasted pheasant from Farm in Palm Springs, California
Farm is an adorable French restaurant in downtown Palm Springs, and while it's mostly known for its brunch, the dinners are just as stellar. They're seasonal and prix-fixe. In August, Farm offered a roasted pheasant with spaghetti squash, sauteed rapini, and a brandy porcini mushroom sauce. The pheasant, which is honestly one of the best and tastiest birds, was juicy and topped with just the right amount of lemon and herbs. The key part was the spaghetti squash, which offered up a carb-like and necessary vegetable element to the dish. – N.K.
Halloween in New York City at Le Bernardin and Atoboy
Here is how I spent my Halloween day this year: a noon reservation at Le Bernardin and a 6:30 p.m. dinner reservation at Atoboy. This was a day of eating I will never forget, the closest I've come to a full day of utopian pigout bliss. What made it great was how different the two meals were. Le Bernardin is formal French perfection, with so much of the satisfaction coming from the perfect execution and careful plating. My memory is stuck on the sole with slivers of green olive and toasted almonds, and the best lobster I've ever tasted. Atoboy's excitement is in the ideas, and in the joy of seeing Korean food treated with Le Bernardin-like obsession and care. Our meal there was full of incredible surprises. To work up an appetite between the two, we had to take the subway to the far side of Central Park and walk the five miles back. Worth it. – B.R.
Get the SideDish Newsletter
Dallas' hottest dining news, recipes, and reviews served up fresh to your inbox each week.
Authors
Brian Reinhart became D Magazine's dining critic in 2022 after six years of writing about restaurants for the Dallas Observer and the Dallas Morning News.
Nataly Keomoungkhoun joined D Magazine as the online dining editor in 2022. She previously worked at the Dallas Morning News,…