John Erickson is a sixth grader at Ignite Middle School in Dallas.
First things first: I don't really eat macaroni and cheese. But I enjoy making it just the same, mostly because it's kind of a family recipe.
And when I say family recipe, I mean that it's been around since before the Constitution. My great-great-great-great-great-great (there may be too many greats in here) grandfather, in fact, is Thomas Jefferson, and my recipe comes from his dinner table in Monticello.
During the Revolutionary War, Thomas Jefferson went to France. He also took his enslaved cook, James Hemings, who studied cooking there. Hemings brought macaroni and cheese to America, and Jefferson frequently asked for it to be served.
I always knew that Jefferson used enslaved labor at Monticello, and that the Hemings family is part of that legacy, even though they didn't want to be. I also know that people give Jefferson a lot of credit for bringing macaroni and cheese to the country, which isn't exactly correct. We serve this at Thanksgiving because it's part of our family's history, but also because we want to remember that coming to this country and building this country wasn't the same experience for everyone. James Hemings learned to make macaroni and cheese, but the guy who enslaved him gets the credit, and even learning to cook some of the best food in America didn't change the fact that he didn't have a choice about that.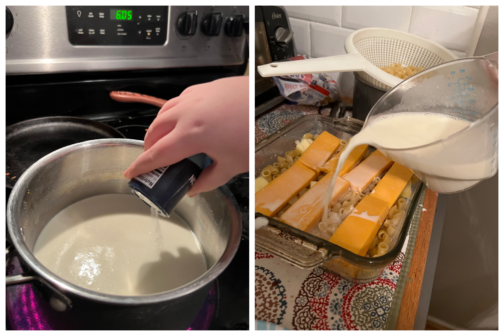 I didn't know why this recipe was really special—honestly, I kind of pictured Thomas Jefferson eating Easy Mac—until I watched an episode of a show called High on the Hog with my mom, and saw them making Hemings' version, standing in the Monticello kitchen. I asked my mom if we could try to make it, and she helped me find the recipe.
At Monticello, it was called Macaroni Pie, and my mom explained that it is different from a lot of macaroni and cheese recipes because it doesn't require you to make a flour-based cheese sauce. This recipe is actually very easy, and you only need five ingredients or so—six if you count seasonings.
The elbow macaroni is cooked in equal parts milk and water, and you save some of that in a measuring cup. Then you layer the pasta with cheese and butter, pouring a little of the milk and water mixture over it each time. Then you bake it. My mom says our version is adapted from The Virginia Housewife, and was adapted from Hemings' original recipe by Mary Randolph.
Recipe: Macaroni Pie
3 cups whole milk
3 cups water
12 oz. elbow macaroni
½ teaspoon each salt and pepper
2 tablespoons unsalted butter, cut into small pieces
6 oz. freshly grated cheddar cheese
2 oz. parmesan cheese
Preheat the oven to 375°F.
In a large pot, bring the milk and water to a boil. Add the macaroni, stir well, and return to a boil; then reduce the heat and cook the pasta until tender (about 8 minutes or according to the instructions on your box), stirring occasionally. Drain the pasta but reserve about 1/2 cup of the cooking liquid. Add the salt to the pasta and blend well.
Butter a 1½-quart casserole dish. Place one-third of the macaroni in the dish and top with one-third of the butter pieces and one-third of the cheddar cheese. Pour one-third of the reserved cooking liquid over the top. Repeat with two more layers of macaroni topped with butter and cheese, drizzling cooking liquid over each layer. Sprinkle the parmesan cheese over the top.
Bake uncovered, for about 20 minutes, until golden brown.
Get the SideDish Newsletter
Dallas' hottest dining news, recipes, and reviews served up fresh to your inbox each week.
Author