The historic façade is hard to miss. Toussaint Brasserie's black marble exterior and ornate brass windows beg passersby to look within. On any given day, you might spy AT&T executives grabbing a power lunch, or downtown urbanites grabbing a post-work cocktail at the bar. At night, theatre aficionados fill tables before strolling over to the nearby Majestic.
Toussaint Brasserie officially opened February 25 inside the Renaissance Saint Elm hotel. It's since hit a niche with downtown locals seeking a sophisticated yet casual dinner service. If you take the hotel entrance near the valet stand, which is arguably the best entrance, you're greeted by stunning Art Deco chandeliers, rare smiles, and lavish golden elevator doors. And, if you aren't careful, you might start refering to everyone there as "old sport" or "chaps." You've been warned.
Inside, expect French fare in brasserie fashion. Steak tartare pair with pea tendrils and carrot coulis; cheesy raclette joins forces with cured meats such as smoky ham and sausage from Rosewood Ranches. Elsewhere on the menu, plats du jour outline a rotating list of succulent dishes, from a traditional cassoulet to a coq au vin with a rich wine sauce and mushrooms served on a bed of creamy mashed potatoes. For more casual dishes, the menu includes a po'boy with Cajun remoulade, a burger, and a zesty shrimp cocktail.
The outlier is the influence of Asian flavors, as seen in a spicy pork belly ramen (Wednesdays only) and a pork belly banh mi on a French baguette. A little out of left field, but will satisfying non-French food cravings.
Inspired by Allen Toussaint, a New Orleans performer and songwriter who made waves in the blues and rhythm scene in the 1950s, the drinks menu takes cues from the cocktail capital of America. Take the Nola-Groni, a spin on a Negroni with gin, Suze, Peychaud Apertivo, and your choice of dry white vermouth or an extra dash of gin. The .30-06, a reference to the famous Winchester rifle, is made with tequila, pamplemousse liqueur, grapefruit, and sea salt. It's like a Greyhound high-fived a Paloma.
The drink list also contains champagne aplenty, globe-trotting reds, crisp rosés, Loire Valley whites, and more. Beers on tap include Dallas favorites: Deep Ellum Dallas Blonde, Community Mosaic IPA, Community Texas Style Bock. And, perhaps most impressively, there's thoughtful attention to low and no-alcohol beverages.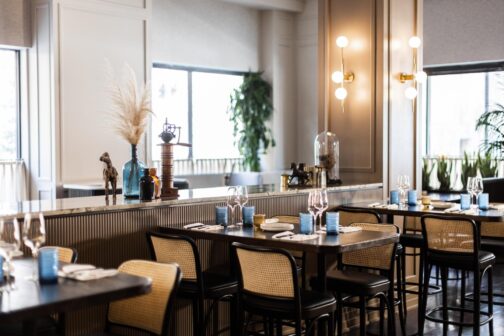 The design is the brainchild of Droese Raney, a local architectural firm well known for designing local hotspots such as Jose on Lovers Lane and Park House in Highland Park Village, with a distinct palette of blue, gray, wood, and marble. The 3,200 square foot restaurant features a 16-seat bar, additional coffee bar, brass taps, and a wall of antique art with a few pieces from hotel owner John Kirtland's private collection.
Come springtime, look forward to outdoor seating along Elm Street along with an extensive brunch menu rolling out in April. Despite there not being an official dress code, I'd advise against getting too comfortable unless you'd want to stick out like Nick Carraway with his lone invitation.
Will Toussaint Brasserie be the next downtown destination restaurant? Not quite yet. Having only been open for less than a month, one cannot expect perfection. (The coq au vin's flavor profile was a bit muddled upon first taste.) That said, you're looking for a swanky spot with upscale undertones and warm dinner service, Toussaint Brasserie will suffice.
Get the SideDish Newsletter
Dallas' hottest dining news, recipes, and reviews served up fresh to your inbox each week.