Deep Fried Dynasty airs every Tuesday at 9 p.m. on A&E. Come back here every week for Alice Laussade's recaps. Read the preview here.
---
There are people in Dallas who have a lot of power. People who own football teams and private jets. People who live in fancy neighborhoods where the mansions are made of marble shiplap and rose gold dreams. But they don't have that Christi Erpillo power. When Fernie's Funnel Cakes suffered the worst supply chain issue imaginable—a missing doughnut delivery—who had the power to pick up the phone and quickly replace the 30,000 doughnuts she needed? Christi.
This week on Deep Fried Dynasty… Christi has that doughnut power. When she heard she didn't get her delivery, did she scream-cry and go hide in the Nordstrom Spa? No. No, she didn't. She just rolled her eyes and got on the phone. 
And Christi's power is twofold: It's one thing to have the power to get 30,000 doughnuts delivered to you whenever you want them. It's quite another to have the mental fortitude to fry those doughnuts and sell them to others rather than staying in bed eating 1,000 doughnuts and low-key Jabba-The-Hut-giggling about how awesome you are while all the commoners who can't get phone-doughnuts are suffering through their phone-doughnutless lives. 
"I have a really good feeling about this doughnut," Christi says. And she's right. For now, her doughnut problems are solved, and her booth at the State Fair of Texas lives to fight another toffee-sprinkled day.
Meanwhile, things aren't going great at the Gulf Coast Grill, home of the Deep Fried I-35 brought to you by Gretchen Hurley and Clint Probst. (Any relation to Survivor's Jeff Probst? Because, if so, we need to get Survivor: State Fair of Texas in the works immediately. This is not a joke. We don't joke about Survivor. Or Jeff Probst.) They got a not-so-great review of the Deep Fried I-35 from the Dallas Morning News. 
Who knew brisket and canned peaches wouldn't be everyone's favorite? It appears that the number of people who tried to love Deep Fried I-35 is equal to the number of people who tried to love I-35. 
Things seem to be on a downturn for everyone. Over at Chef Cassy's Creations, home of the fried greens, staffing issues are causing inconsistencies in her product that are costing her a small fortune. The Stiffler's get hit with a TABC violation for serving alcohol to a minor. Brent and Juan Reaves at Smokey John's Bar-B-Que are extremely shorthanded. 
After the Reaves brothers call everyone they can think of, they reach out to Abel "Fried Jesus" Gonzales to save the fried day. They ask Abel if he can spare an employee or two to come help them out for the day, and Abel says simply, "I can work for you."
This is when you know you have been following the fried food at the State Fair of Texas for too long and that you are way too invested in these stories, because this is the moment you tear up at the screen. Abel only got his start at the State Fair of Texas thanks to Juan and Brent's dad, Smokey John. These guys have known each other forever, and to see Abel work a day behind the counter at Smokey John's making jokes with Brent and Juan, and saying he'd only work for them if they paid him in turkey legs was the true fair family kind of story that you were hoping to see between slow-motion powdered sugar dustings on this show. On his way out of their booth, Brent and Juan thank Abel, and he just replies, "Any time you need me? Turkey leg." Whether it's set up for the show or not, the parents of these kids would be so proud.
But then, something happens on the television screen that makes everything else completely disappear. Nothing else matters. Not even one bit.
Time stops when there's a guy in a motorized La-Z-Boy armchair zipping across the screen. It truly is the Great State Fair of Texas.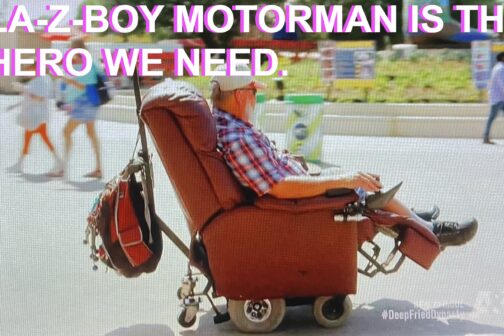 We need to know everything about this person. And this chair. Immediately. Yesterday! Did he commission this art piece? Does he take it off any sweet jumps? Does a La-Z-Boy become more lazy or less lazy when it's motorized? 
Does he pronounce it "pecan" or "pecahn" or "puhcawn or "peecan?" He looks like the kind of guy who yells, "It's MATCHBOX TWENTY!" whenever someone's like, "What is this?" (Spoiler alert: It's raspberry jam.) We all need him in our friend group. He is suddenly the best thing about the fair. Forever. Without question. If you see him, you have good luck for 1,000 years.
Can't wait to see if he shows up in the next episode. He is now the Where's Waldo of Deep Fried Dynasty.
Get the SideDish Newsletter
Dallas' hottest dining news, recipes, and reviews served up fresh to your inbox each week.
Author