People everywhere are ordering tamales. There is something magical about the smell that speaks of December. But blink and those tamales will be gone. It is the holidays, when offerings are limited or sell out quickly.
This year, though, amid supply chain delays and skeleton staffing, tamales may be even harder to come by. This NBC 5 report may have us believe such things. But we're remaining hopeful and, more importantly, ordering tamales ASAP. Keep in mind it's the holidays, so some offerings may be limited. (For the record, no entity on this list reported a masa shortage.)
John Hernandez was born and raised in a small town outside of Houston. He learned tamale-making from his mother and grandmother, who opened a TexMex restaurant in 1983. It's his grandmother—who, it should be noted, lived to be 100 years old—who taught him to feel the masa to know it was right and to whom he pays homage with his "Abuela's" tamale made with ground beef and pork with red chiles. Later, what started as a side-hustle turned into Casa Masa.
How to get them: Look for Casa Masa on Instagram, where you can preorder and track pop-ups at places like Encina, Peticolas Brewing Company, and Double Wide. Also look for salsas, ranchero beans, and quesos.
Off South Hampton Road in Oak Cliff, this panaderia sells abuelita-approved tamales made from scratch. This time of year, they certainly go fast. Take home some tamales de puerco, tamales de pollo, rajas (poblano with melty queso), frijoles, and tamales de res (beef).
How to get them: Beat everyone to the last dozen tamales before they're sold out for the day, 2478 W Illinois Ave.
Olivia Lopez stands out for her tamales crafted with nixtamalized heirloom corn, which is to say kernels that have been soaked in a lye solution to release the outer layer, rendering them tender and easier to grind. A layer of white-corn masa cradles the plant-based filling: a sweet potato purée peeks shyly out from under a heft of vegetables, like rajas, but amped up with golden raisins and slivered toasted almonds as well as carrots, diced and sautéed. It's heaven, a marvel.
That we can get such tamales, be it a blue-corn version filled with a pork verde or chicken rojo in yellow corn masa, means gold. Don't skip the accompanying sauces. A deep, oily red one and a roasted tomato sauce that's bright, energetic, and feisty with lime and garlic are stunning.
How to get them: Place an order via Instagram or find Lopez at a few local holiday pop-ups.
The roving tamal vendor launched in 2020 and is going strong in its second year As we've written before, Yes Yes Tamales is the brainchild of Yesenia Lopez, who is named after a '70s Mexican soap opera character and is now a 21st-century masa peddler. With a mother from Durango and a father from Zacatecas, she makes them the way her mother taught her. Lopez was until recently vegetarian, and so the traditional queso fresco and poblano pepper or black bean tamales are simple but stunning. (Indeed it's one of our favorite bites of 2021.)
Hot to get them: Order online and get them delivered to you door. The harder way to get them: cook them at home. Thankfully, Lopez shared her poblano and queso tamal recipe with us.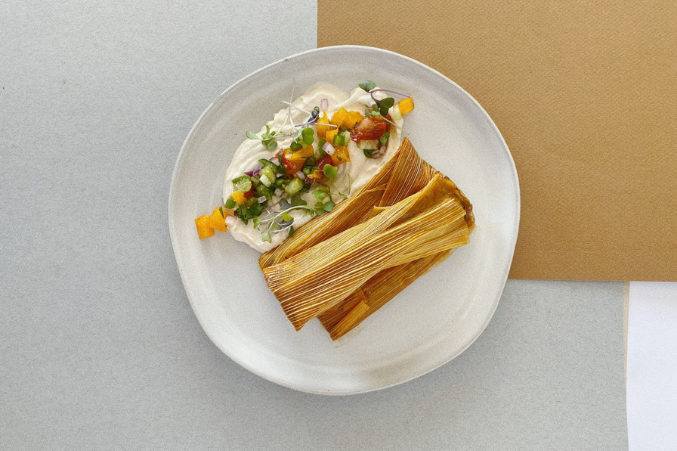 The Tamale Company began with a trio during the 2008 recession: Liz Plimmer-Fernandez, husband Israel Fernandez, and father Richard Plimmer. The five core tamale flavors have stayed the same: shredded chicken with tomatillo and jalapeño; ancho chile–spiced beef tenderloin or pork; a cheese blend with jalapeño and poblano; or smooth black bean and corn. They use only shredded meats and aim for balance in every bite. "The key to good tamales is consistent proportions," Plimmer-Fernandez insists.
How to get them: Order from The Tamale Company online. Or visit The Bodega at 626 S. Cedar Ridge Dr., Duncanville.
Here, find classic flavors, like beef with guajillo sauce or a pork and jalapeño tamale that packs just enough heat.
How to get them: La Popular is currently accepting limited pre-holiday orders. Act fast.
A Dallas institution with a history stretching back to WWII, this family business manipulates masa like few others. The vegetarian tamales are on hiatus, but everything else—pork, beef, chicken, pork-jalapeño and beef-jalapeño—is good to go.
How to get them: Order and pick up now through Christmas.
And if ever there were a tamale to start a swoon it's the one from Along Came Tamale that's thick with blueberries. Dessert tamales from the sweets-focused company also include apple, chocolate chip, cinnamon raisin, and pineapple. For those who favor the savory, there's pork, beans and corn, and chile tamales, too.
How to get them: Order online for local pick up or delivery.
Cantina Laredo locations in Addison and Frisco have house-made tamales to-go for your holiday needs. Both chicken and beef tamales are available at $16.95 per dozen and come frozen with reheating instructions.
How to get them: Call to order (Addison: 972-458-0962, Frisco: 214-618-9860) and pick up before Christmas Eve.
Get the SideDish Newsletter
Dallas' hottest dining news, recipes, and reviews served up fresh to your inbox each week.