As Jack Frost begins to nip at our noses, we're cozying up with beers of heft and character. Ones bearing spicy moments and toasty chocolate flavors.
Winter brews
—deep gold to dark amber and mahogany, with notes of caramel, molasses, nuts, and toffee—help us confront chilly weather.
In the spirit of supporting small, local businesses, drink responsibly. By which we mean sample them all. As the weather wends chillier, let's keep things jolly, local, and bright.
Sporting Turtle Hazelnut Chocolate Milk Stout
Milk Stout
|
4.6% ABV, 20 IBUs
With a
Great American Beer Festival 2020 win
under its belt and, even more impressive, a
Best Patios 2021 accolade
, White Rock Alehouse is, in a phrase, crushing it. While this stout is a deep, deep brown, it's not as bitter as one might assume. With fairly low alcohol content and bitterness, the Sporting Turtle has pure liquid cacao and hazelnut, which begets chocolatey, buttery flavors with more than a hint of coconut. Still not convinced? You also can't go wrong with a pint of the award-winning White Rocktoberfest.
…And You Will Know Us By the Trail of Bread
Lager: Kvass-Style Farmhouse, Smoked Beer
|
3.9% ABV, 19 IBUs
If the name of the beer didn't give you a clue, let me help: looks like we have some Trail of Dead fans manning the mash tuns at Vector Brewing. Or perhaps they have the login to the Untappd account. I digress—this criminally underrated brewery in Lake Highlands uses peach, cherry, and pecan wood to achieve a smoky, kvass-style farmhouse lager. Vector sources its two-row barley locally and crams this smoked beer with nearly 200 pounds of house-made sourdough bread. It's a must-try for the inquisitive beer drinker.
Name Drop
Stout: Imperial / Double
|
13% ABV, 65 IBUs

Clocking in at 13 percent ABV, this Imperial Stout with cacao nibs from Five Mile Chocolate and coffee beans from Oak Cliff Coffee Roasters is potent. Expect a robust, full-bodied stout. It's an imperial, after all! Put another way, it's intense with roasty, malty character. You might want to save this for the end of the meal alongside some similarly strong cheeses or a simple slice of plain cheesecake.
Look What You Did, You Little Jerk
Stout: Imperial / Double Pastry
|
10% ABV, IBU N/A
An imperial whose name's
inspired by this scene
in the Christmas classic 
Home Alone 
is as sweet as Kevin McCallister's older brother Buzz is awful. Celestial Beerworks, which was named Best Brewery in this year's
Best of Big D feature
, offers a double pastry. It's a lesser-seen category that's gaining traction in the craft beer world. Beer website
hopculture.com
describes a pastry stout thusly:
"Most commonly it refers to a stout that is brewed to be intentionally sweet and is often made with the addition of plenty of sugary ingredients. The end goal is typically to brew a beer that mimics the flavor–and sometimes appearance–of dessert."
It might not be sessionable like a pale ale, but, hey, it's the holidays—a time for major indulgence.
Peter's Porter
Brown Porter
|
6.2% ABV, 20 IBUs

Count this Deep Ellum brewery as yet another Great American Beer Festival champ. This year, Westlake took home the gold in the Brown Porter category, besting 56 other entries. What else is there to say, really? GABF judges know their hops from their head retention! Seek out this porter at the Westlake taproom or grab a single 16-ounce can of it to go.
Café Au Lait
Chicory Coffee Milk Stout
|
7% ABV, 40 IBUs

On Rotation, a fairly new arrival in the Design District, loads its tap list with its own brews, as well as local and non-local beers. This one, a milk stout based on the famous New Orleans chicory coffee drink, the café au lait, boasts its namesake's rich-and-roasty flavors with a backbone of earthy hops.
Wintervention
Winter Ale
|
10% ABV, 45 IBUs
For Wintervention, a spiced winter ale, Peticolas takes its dark strong ale and embellishes it with nutmeg, allspice, cinnamon, ginger—the flavors you'd expect in pumpkin pie or gingersnap cookies. Brewery founder Michael Peticolas uses primarily English crisp pale malt for the rich mouthfeel. At 10 percent ABV, "it has all the flavors of the holiday," and spices take the aromatic role that hops might. "[But it's] not all spice like some other spice beers," Peticolas says. "It's the proportion." —
Eve Hill-Agnus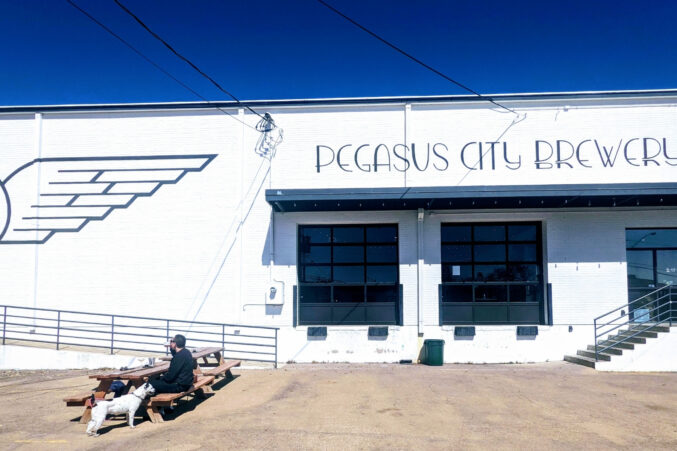 Imperial Sixth Floor
Imperial Porter
| 11.5% ABV, 60 IBUs
Pegasus took one of its core beers, an easy porter called Sixth Floor, and imperialized it with more body, more coffee aroma, and more depth—okay, more ABV, too. Still, it retains balance and a smooth mouthfeel. Available on tap at Pegasus City's downtown and Design District locations, or grab a 750ml bottle to go.
Deep Winter
Golden Porter
 |
7.3% ABV, 25 IBU

Returning for its namesake season, Deep Winter is a golden porter with coffee on the nose, but a light, honey-gold color and soft, creamy mouthfeel. The balanced bitterness on the finish speaks more to the cacao nibs than the coffee with which it is infused.
Winterstellar
Winter Warmer Ale
| 7.4% ABV, 30 IBUs
As promised, this ale warms your winter chills with malty and roasty notes sure to keep the frostbite at bay. Available in cans and on draft at the Denton taproom.
Oaty McOatface
Oatmeal Stout
| 7.5% ABV, 27 IBUs
A first for Texas Ale Project: an oatmeal stout brewed with flaked oats, chocolate, and honey malt (among others). All told, here's a robust, rich stout that's sitting pretty with a good amount of impact without the double-digit ABV. (Available draft only.)
Milky McStoutface
Milk Stout |
4.5% ABV

As beer writer Matt Abendschein
reported for SideDish
: Right off the I-35 and 183 feeder road may just be one of Dallas' best hidden gems. Don't be fooled by the makeshift equipment or industrial look of the indoor space when you walk in,
Outfit Brewing
is fermenting some of the best beer in Dallas. While perhaps better known for its hazy-style IPAs, Outfit makes a mean milk stout too. And by "mean" we mean very nice.
Oddverse
Barrel-Aged Stout
|
10% ABV
After it's aged in Union Horse Rye whiskey barrels for two years and then bottle-conditioned with hazelnut, coconut, cocoa nibs, and vanilla, Oddverse comes out tasting like a boozy macaroon cookie. (Beer 101: After fermenting and aging in barrels, the beer is conditioned in bottles, which is to say, it gets carbonated.)
Odd Muse just celebrated its second anniversary
and may have some bottles left after the party. Good luck and happy drinking!
Get the SideDish Newsletter
Dallas' hottest dining news, recipes, and reviews served up fresh to your inbox each week.