A few weeks after it opened, I sat at Written by the Seasons in the Bishop Arts District with a plate of the most vibrant pile of roasted rainbow carrots. They rested against charred, chili-spiked red cabbage to which a lively beet puree lent Technicolor flair. Next to it came squares of some of the best focaccia I've ever had—from a recipe by co-owner Hailey Nutt's younger sister, who runs a B&B.
The family feeling runs strong in this restaurant co-owned by Nutt, Brenton Phillips, and Tripp Russ, a frequenter of kitty-corner shop Tribal All Day Café, which Nutt and Phillips own. (Each owner, in fact, covers a section each night in the dining room.) Dennis Kelley is in the kitchen, a chef the duo met when they were selling juice at the farmers market. Kelley's name is no doubt familiar from his cooking at Lark on the Park and, briefly, Up on Knox.
The brilliant carrots and cabbage are as lithe and vivid as anything the team sends out of the kitchen in this place. The menu is seasonal, flavor-rich, and produce-forward while accordion doors blur the line between outside and inside.
Theirs is also a story of patience.
In December 2019, Michael Nazarian, who owns the development company Exxir and is Tribal's landlord, approached Nutt and Phillips about a new space near theirs, tucked behind a pretty courtyard. But they were busy scouting places for a second Tribal location.
When the pandemic struck, the now-teeming streets and sidewalks of Bishop Arts were desolate. They shifted plans. By July, they were keen to open the neighborhood spot as a sit-down, dinner-service restaurant that they had long imagined but put on pause. They'd been through uncertainty when they opened Tribal in 2014 as the first spot in a block of construction rubble that would slowly fill with shops. Just as it had then, building out the restaurant took time.
By October, the Written by the Seasons team was putting paper over the windows at Tribal in the evenings and tasting recipes. For months. A spring menu and then a summer menu, both unused.
Despite the TABC sign in the window, they shelved it all eventually, weathering labor and lumber shortages and delays with the city regarding permitting—until the feeling was that they might never open at all. Phillips was laughing maniacally so as not to cry with frustration.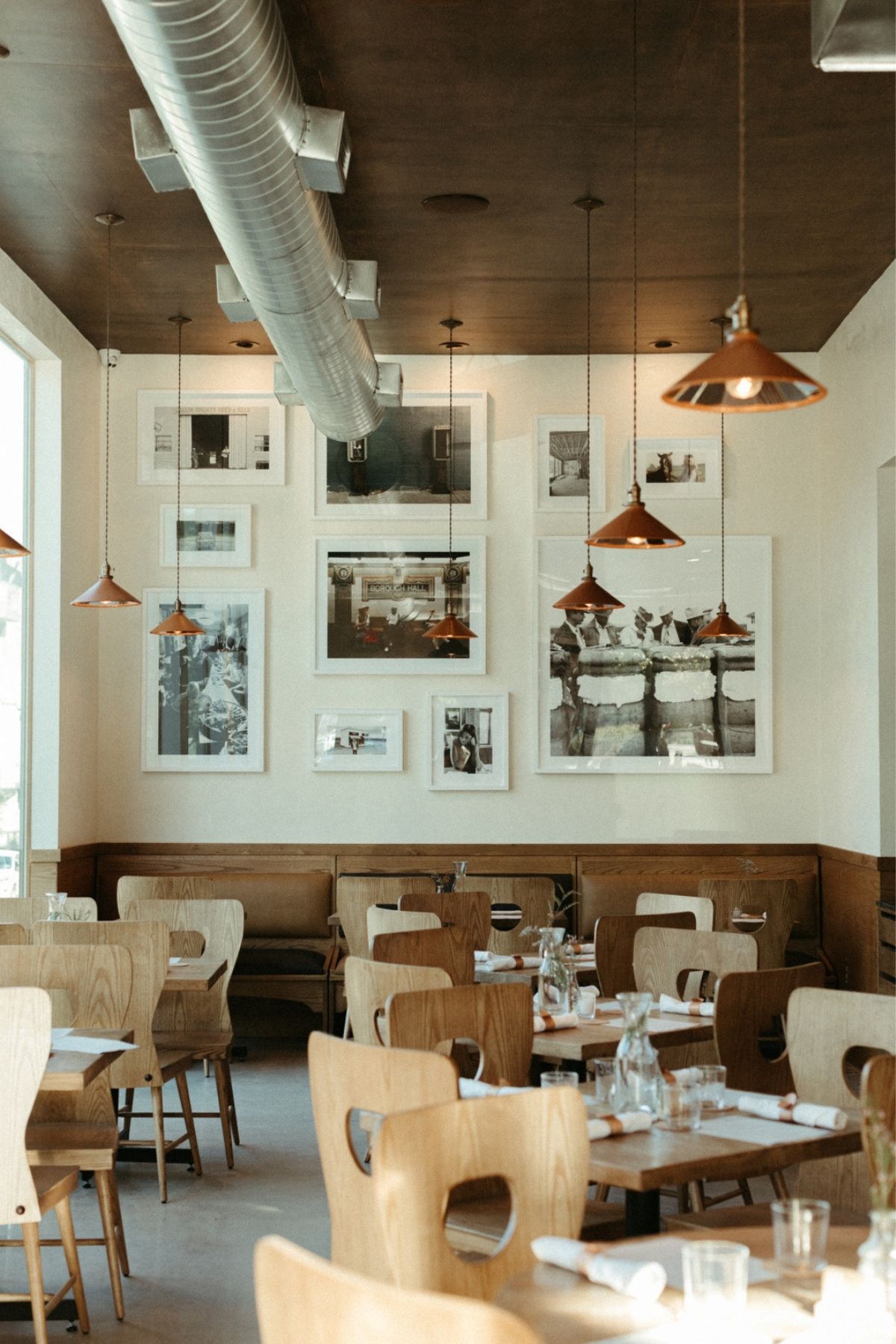 One year later, that beet yogurt dish is on the menu.
As are desserts by Rosmery Menendez (also of Tribal), which are unlike most and forward-thinking.
I found the pleasure of a Sardinian cannonau on a wine list that includes an orange wine and a dolcetto from Southold Farm and Cellar—the rogue winery on a bluff above Hill Country that propelled a trip to our wine country last year and a whole wine package. There's a wine from the Jura region of France and a rosy pet-nat pinot grigio, all funky rose-colored bubbles. All of these are hard to find outside a few of our city's wine lists, though they shouldn't be. Champagne awaits, but bubbles mostly come from more off-the-well-worn-path locales like Alsace and South Africa. I see Written's wine selection as one of the most spirited and lively in the city. (Two-thirds of the list are natural.)
Kelley brings vegetable-centric dishes (say, a simple salad) and centers the menu on seafood, with the exception of one 44 Farms steak. Think yellowfin crudo with flavors of coconut, ginger, and lime or boquerones—white anchovies—with herbs or clams in miso and white wine broth.
I had arcs of roasted pumpkin bathing in the rich warmth of brown butter decked with sage leaves and scattered with pecans—an autumnal hymn. Cauliflower rice is a confetti mingled with house-made kimchi and a fried egg on top, oozing beautifully. (Tip: Whatever you get, order the focaccia so you can mop the plate.)
Combinations make intuitive sense. They feel like the kind of thing where a chef anticipated our saying, "This is the way I actually eat."
Cocktails use Tribal juice, like the beet-apple-lime-ginger concoction that jives with tequila, and West Dallas' Manhattan Project beers headline almost exclusively.
In desserts, a dragonfruit-pear upside down cake illustrates Menendez's penchant for light fun. As does a cashew cream-based vegan cacao dessert. Or a coconut-turmeric deconstructed pie; boldly coconut, the insinuating turmeric not too sweet.
Do I love it? Yes. Why? It's new and vibrant and we need more of that.
The goal seems to be what they're dubbing "elegance without formality." Phillips wants you to be able to come from Black Swan yoga studio down the street for vegan coconut-braised carrots with dukka spice.
There's a certain poetry woven throughout in menu descriptions that lean lyrical with phrases like "seared till sunset" and "carrying us into fall." These drifts of poetry feel fresh rather than forced. They remind me of the notoriously abstruse dish names of Atelier Crenn in San Francisco.
Not long ago, I was at a rooftop bar in Brooklyn, eating crispy leeks with hazelnuts and sipping natural wine; this is the closest thing to it.
Kelley moved from Los Angeles with his wife, pastry chef Melody Bishop, and before that worked in San Francisco, flush with produce. I appreciate that he achieves his point through simple means: four or five things on a plate, but really good, down to the olive oil and the salt, he told me later. That means to me that he's thinking from a place of directness and clarity.
Or, as Phillips said, "Be you, because the rest of the world is taken." I'll be curious to see where that motto leads them and how they evolve—presumably with the seasons.
Get the SideDish Newsletter
Dallas' hottest dining news, recipes, and reviews served up fresh to your inbox each week.
Author
Eve Hill-Agnus was D Magazine's dining critic from 2014-2021. She has roots in France and California and during her time at D wrote…