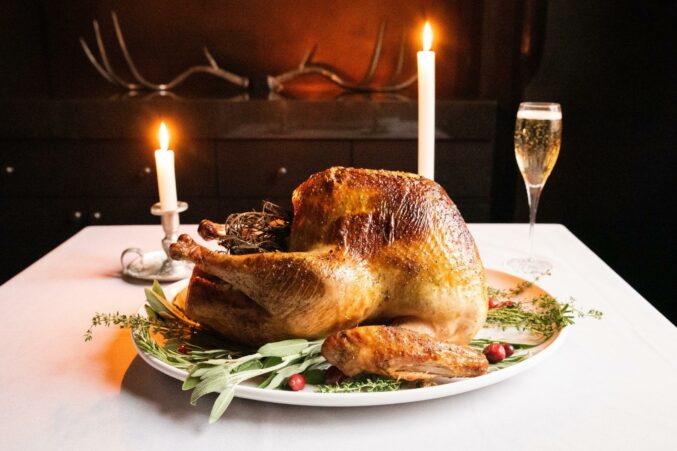 The Ultimate Dallas Thanksgiving Guide: Dine-In, Takeout, and Desserts
Whether you want to head to a restaurant or eat inside the comfort of your own home this year, we have you covered. But don't delay!
Thanksgiving is just around the corner, and if you've yet to get your turkey day affairs in order, it's not too late. Don't dally, though. Book those dinners or reserve those meals, stat.
Lunch or Dinner
Restaurants serving Thanksgiving meals.
Bacchus Kitchen and Bar
The Hotel Vin restaurant in Grapevine has a four-course feast that feeds four: seasonal harvest salad, butternut squash bisque, herby turkey with truffle gravy, sausage-stuffed roulade, green bean casserole, sweet potatoes with coconut streusel, and a seasonal pie flight. Reservations are required available for 3, 4 and 7 p.m. time slots.
City Hall Bistro
Inside the Adolphus Hotel downtown, turkey breast is roasted with truffles and comes with giblet gravy and cranberry sauce. The prix fixe menu ($65) also includes butternut squash bisque, pear salad, herby prime rib (in lieu of turkey), wood-roasted delicata squash with mushroom stuffing, and plenty of sides: buttermilk mashed potatoes, green bean almondine, cornbread stuffing, and brussels sprouts. For dessert, pecan orpumpkin pie. $65, make your reservation here.
Commons Club
The Virgin Hotel offers a feast for four or more: roasted leek and potato croquette, bruleed sweet potato lollipops, fall greens with goat cheese and roasted pumpkin, bourbon-braised pork belly, roasted turkey roulade, and pumpkin pavê with shortbread and dulce de leche. $95, make your reservation here.
Ellie's
Menu highlights include the garlic and sage turkey breast with truffled haricots verts & chanterelle mushroom casserole, "dark meat stuffing," garlic mashed potatoes, and chocolate pecan pie with bourbon-salted caramel ice cream. A la carte, reservations recommended.
Elm & Good
Head to Deep Ellum for a Gobble 'Til You Wobble Thanksgiving meal at Graham Dodd's restaurant inside the Kimpton Pittman Hotel. It's a three-course set menu— Yukon mash with sage gravy, roast turkey breast with confit leg, pumpkin chowder with pancetta, plus more—for lunch. 11 a.m. to 3 p.m. Reserve your spot here.
Fearing's
Three-course dinner (or lunch!) at Dean Fearing's Ritz-Carlton restaurant. Here's just a sampling of the menu: roasted butternut squash soup with pheasant confit, pan-seared Nantucket Bay scallops with roasted pumpkin tortellini, chicken-fried Lockhart quail, tangerine-glazed turkey, jalapeño-cranberry relish, maple bourbon pecan pie. $135 ($85 for vegetarian option, $45 for children under 12). Details here.
Gorji
Choose from a three- or four-course prix fixe menu with options such as: roasted garlic and Bulgarian feta with pita, romaine and kale caesar, grilled turkey breast or bone-in pork chop, langoustine tails with cognac sauce, smashed potatoes, Australian sea bass, and 28-day aged prime beef tenderloin. Plus, choice of dessert. $115, takeout (4 to 6 p.m.) or dine in (6 to 8 p.m.). Reserve your seat.
Harper's
Thanksgiving tagine filled with smoked turkey breast, braised thigh, and pearl couscous, plus sourdough stuffing, green beans, roasted butternut squash, crispy sage, cranberry–preserved lemon turkey jus on the side. Located in Deep Ellum's the Epic development. $42, dine in only.
Monarch
Aside from already decadent menu that sits in the downtown skyline, there will be black truffle natural turkey, sage gravy, brioche stuffing with buttered leeks, sweet potato gnocchi, green beans, and more. For dessert: pumpkin pie with pecan ice cream, chocolate leaves, and candied pecans. $75, 2 to 8 p.m. Reservations required.
Norma's Cafe
Get your classic supper here with a choice of roasted or smoked sliced turkey breast, whole spiral glazed ham, or whole smoked turkey (serves eight to 10), plus two quarts of dressing, one quart of giblet gravy, one quart each of mashed potatoes and green beans, cranberry sauce, one dozen rolls, and a 10-inch pumpkin pie. $119.99
Petra and the Beast
Thanksgiving dinner in true Misti Norris fashion means miso-glazed turkey breast and wings, plus smoked legs; smoked beef fat focaccia with green Szechuan koji butter; fancy broccoli-cheese casserole; chocolate pecan pie for dessert, and much more. $200 (serves two to four), $400 (serves four to six). Pick up Nov. 24 & 25.
Stirr
Select your choice of starter, main, two sides, and a dessert from the Thanksgiving menu (poblano corn chowder, Cajun fried turkey with giblet gravy, garlic mash, smoked cheddar-jalapeño cornbread, just to name a few). $32.99, dine in 11 a.m. to 2 a.m. or takeout with orders placed by Nov. 22.
Truluck's
The three-course feast starts with, of course, a bit of seafood (lobster bisque or choice of salad), then gets into the more traditional fare (herb roasted turkey breast, creamed spinach). You can even get seconds for an extra 25 bucks. $59 ($25 for kids 12 and younger), 11 a.m. to 8 p.m. More details and reservation info here.
Yardbird
The Uptown eatery with a strong poultry repertoire will tackle turkey, which comes with traditional sides and giblet gravy (all for $36). For a departure from the usual suspects, order shareable sides like lobster mac and cheese, melted leek and potato gratin, biscuit stuffing, and spiced pumpkin pie with gingersnap crust for dessert. A la carte, Thanksgiving menu details here.
Brunch
Because, really, Thanksgiving is an all-day food marathon.
The Crescent Club
The Uptown hotel restaurant is hosting its annual Thanksgiving brunch, which entails a buffet of snow crab claws, shucked oysters, and herb-roasted prime rib alongside classics like turkey, potatoes, green bean casserole, and pecan pie. $125, $60 for kids 12 and under, add endless mimosas for $25, details here.
LAW
Why wait till dinner to tuck into a five-course, prix fixe menu? The answer is you shouldn't. Inside the Las Colinas Four Seasons, enjoy such dishes as honey-glazed ham benedict, traditional roast turkey, sweet potato tortellini, or herb-crusted lamb. $105 and includes two mimosas or Bloody Marys. 10 a.m. to 2:30 p.m.
Meddlesome Moth
The Moth's Thanksgiving Plate ($25) consists of sous-vide and fried turkey, brioche-chestnut stuffing, sweet potato puree with curried cashews, bourbon cranberry relish, and cornbread muffins with some sorghum fanciness. Some regular brunch items available. Reservations recommended. 10 a.m. to 3 p.m.
The Main Shebang
Where to get your star protein, be it traditional turkey or a standing rib roast.
Back in 2018, we highlighted some of the very best butchers around. That guide, except for a closure, still stands as a great primer on where to get prime cuts. Get your orders in pronto.
Turkey Takeout (and More)
Serve up a feast at home—you just don't have to cook it all there.
Al Biernat's
Skip the stress and snatch up turkey (12-14 pounds) with gravy or smoked half-spiral slice ham (7-8 pounds) for $99. Al Biernat's Meat Market also has prime rib, filet mignon, and chateaubriand. Side dishes include garlic smashed potatoes, rolled, creamed corn, lobster or mushroom risotto, cornbread dressing, and more. Order by Nov. 22 for pick up on Nov. 24.
Babb Brothers BBQ
Whole turkeys in the realm of 20- to 22-pounds ($85), plus sides like collard greens, bourbon corn, fried okra, and potato salad (each are $12 and feed six people). Order by Nov. 20, pick up Nov. 24, 1 to 4 p.m.
Bacchus Kitchen and Bar
The Hotel Vin restaurant has a four-course feast that feeds four: butternut squash bisque, herby turkey with truffle gravy, sausage-stuffed roulade, sweet potatoes with coconut streusel, and a seasonal pie flight. $100 (serves two), $200 (serves four), order by Nov. 22, pick up between noon and 2 p.m. on Nov. 25.
Bam's Vegan
This holiday meal from chef Brandon Waller serves at least eight to 10 people. The holiday package includes Creole jackfruit pot roast tossed with roasted onion, garlic, carrots, potatoes; creamy house mac topped with french onion bread crumbs; sweet Southern yams, and banana agave cornbread. $150. Pick up Nov. 24, noon to 4 p.m. All items come packaged with reheating instructions. Order online or reach out to [email protected] for any questions.
Commons Club
The restaurant at the Virgin Dallas Hotel is cooking up a takeaway feast: 12- to 14-pound pecan-smoked turkey, mashed potatoes, cornbread stuffing, roasted Brussels sprouts, and more. Starts at $130 to serve four. Place your order by Nov. 22.
Cooper's Meat Market & Steakhouse
The holiday and wine pairing menu is vast, but includes hits: boneless rib roast, deep-fried whole turkey, New Braunfels smokehouse ham, and even turducken (the turkey-duck-chicken trifecta). There are plenty of sides and desserts to round out your feast. Order for delivery or pick-up.
The Crescent Club
A three-course meal that feeds up to 10 people and takes out all the guesswork: pear salad with Texas goat cheese, garlic Yukon gold potatoes, herby brioche stuffing, organic whole turkey with traditional turkey gravy, plus, of course, pie. $325, pick up Nov. 23 & 24, more details here.
Eataly Dallas
Be it pasture-raised turkey or Snake River Farm heritage ham, or salumi and formaggi platters, the NorthPark marketplace has your holiday needs covered. Preorder by Nov. 19, and pick up Nov. 23-25.
Eatzi's Market & Bakery
This market has the classics covered: oven-roasted turkey breast, green bean casserole, butter-whipped potatoes, cranberry sauce, and pumpkin pie. For something slightly kicked up a notch, get the jalapeño corn bread or cauliflower gruyere gratin. Order by Nov. 23 for pick up Nov. 18–24 at any Eatzi location.
Dickey's Barbecue Pit
Enjoy two Texas sized meals that will feed up to 12 people. The world's largest barbecue chain is featuring new offerings including Garlic Peppercorn Prime Rib, Bourbon Pecan Pie, and mac n' cheese. Barbecue lovers can choose between two packages this holiday season, The Complete Feast (serves 10-12) or Dinner Feast (serves eight to 10) for heat and eat. They select the type of meat, receive sides, gravy buttery rolls and dessert.
Georgie's
Twelve-pound roasted heritage turkey, which is to say: this ain't Butterball. Plus, gravy, cranberry sauce, stuffing, Georgie's country mash, roasted Brussels sprouts, stecca, choice of pie and a bottle of chardonnay and pinot noir.
$400, feeds four. Order by Nov. 17. Details here. 
La Casita Bakeshop
This Richardson bakery does more than just sweets. For Thanksgiving, it's going savory with a full dinner spread: whole turkey, sweet potato casserole, mashed potatoes, green bean casserole, stuffing, choice of pie, can of cranberry sauce, and a dozen fresh dinner rolls. $300, serves 10, select "Thanksgiving 2021" for your order location.
Lochland's Food and Spirits
The cozy pub in the Lake Highlands and Lochwood neighborhoods, hence the name, has shepherd's pie (a vegan version is available, too) that comes with salad or jalapeño-avocado soup. Optional: cocktails, beer, and wine to-go. $150-$170, serves 10, order by Nov. 21.
Lockhart Smokehouse
Fully smoked hams, turkeys, briskets, and prime rib served along side green bean casseroles, mac and cheese, alongside s'mores bread pudding and peach cobbler for dessert. $38–$210.
Loro
Eight-course package to-go: post oak–smoked turkey, sage and turkey gravy with miso, smoked apricot chutney, creamed spinach and arugula, toasted brioche stuffing with Thai-style sausage, confit marble potatoes, and more. $190, feeds four to six, preorder online only, pick up on Nov. 24.
Nature's Plate
Another vegan-friendly approach to Thanksgiving with a menu of veggies-stuffed "roast" (a.k.a. more veg), meatless meatloaf with gravy, mashed potatoes with mushroom gravy, cornbread dressing, and cheesy broccoli rice. Also available a la carte, with extra options, such as meatless meatloaf with gravy, baked sweet potatoes, cranberry-rhubarb sauce, rosemary biscuits, and dessert. Holiday dinner for four is $75. Order by Nov. 19 at 7 p.m. for scheduled pickup in Lake Highlands, Oak Cliff, Denton, or $5 delivery fee for Dallas-area burbs.
Norma's Cafe
The Thanksgiving dinner menu lists roasted or smoked sliced turkey breast, whole spiral-cut ham, and whole smoked turkey as the main, with quarts of dressing, giblet gravy, mashed potatoes, green beans, cranberry sauce, a dozen rolls, and pumpkin pie. The catch being this dinner spread serves up to 10 mouths, which may be way more servings than you need (all for $119). Norma's does deliver on the homemade cornbread, though ($4.99 for a dozen muffins).
Pecan Lodge
A perpetual favorite for Thanksgiving, the Deep Ellum barbecue joint has apricot-glazed ham, smoked turkey, whole brisket, pulled pork, and brisket tamales, and plenty of hearty sides to satisfy the whole family. Preorder here.
Smokey John's Bar-B-Que
Dressing-stuffed turkey legs will steal the show at your dinner this year ($34.95 for two, $69.95 for four, order by Nov. 17). There are also small ($129.95, feeds six) or large ($179.95, feeds 12) family meals, which include: smoked turkey, dressing, gravy, cranberry sauce, dinner rolls, and pie. Order by Nov. 19.
III Forks, Silver Fox
Spice-rubbed turkey meal pack: "Grandma's gravy," cranberry-orange relish, sausage and sage cornbread dressing, creamed potatoes, and more. Option to add dessert ($50) or salad ($26). $160, serves up to four, order from III Forks or Silver Fox by Nov. 19 and pick up on Nov. 24.
Truluck's
Bring home an oven-ready, herbed-up, and whole Amish turkey, plus cranberry sauce, stuffing, gravy, broccoli casserole, mashed potatoes, rolls, and whole pecan and pumpkin pie. $300, serves four to six, preorder by Nov. 19, pick up on Nov. 23 & 24, more details here.
Yardbird
Plenty of options at this Uptown spot where you can preorder a meal that feeds anywhere from two to 12 people. Turkey with giblet gravy, mashed potatoes, sage, and celery stuffing, biscuits, and more. Tired of turkey? Order 24 pieces of Yardbird's signature 27-hour brined then fried chicken. Add pie for $40. $225–$635.
Desserts
Making your own pie from scratch isn't a virtue. (Get it from the pros, trust us.)
Al Biernat's
Al's Famous Coconut Cream Pie, chocolate pecan pie, and pumpkin pie. $35–$50, order by Nov. 22
Cades Cakes
Cowboys sugar cookie cake, pumpkin gingersnap pie, brownie s'mores pie, everything pie, caramel pecan pie, and fall M&M cookie cake. $45 each, pick up only.
Emporium Pies
Buttercream Gang, Drop Dead Gourgeous, French silk pie, and many more to populate the table (or the kitchen counter because you've run out of room). Order for local pick up or delivery.
Kessler Baking Studio
Beautiful lineup of shortbread cookies, holiday bundt cakes and breads, and pecan-studded sweets everyone will appreciate when they can't look at another slice of pumpkin pie. Details here.
La Casita Bakeshop
Pumpkin pie, winter grapefruit tart, pecan praline pumpkin pie, chocolate hazelnut tart, and brown butter apple pie. Order here.