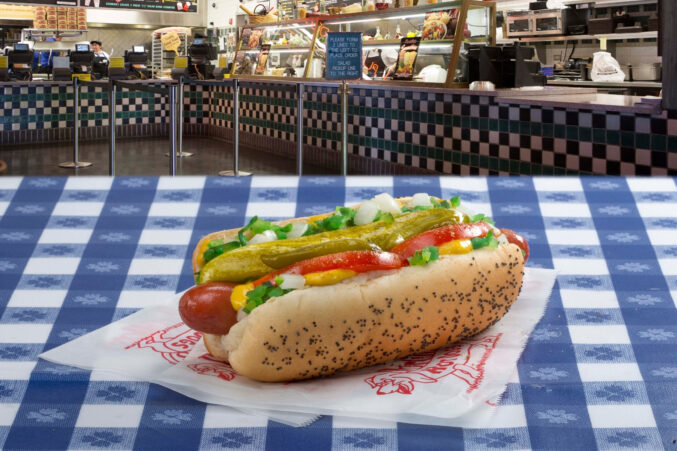 News Bites: Tex-Mex Returns to Former El Fenix Space and Famous Chicago Dog Plots Texas Flagship
SideDish's weekly digest of need-to-know dining happenings in Dallas.
Welcome to SideDish's weekly dispatch of need-to-know News Bites, from quiet closures to opening updates and everything in between.
A Tex-Mex Revival
There may folks out there who remember (not that this Seattle transplant dining editor can claim such knowledge) Casa Rosa, the Park Cities Tex-Mex restaurant that reigned from 1981 into the early aughts. Founder Gilbert Cuellar Jr., who has since opened restaurants such as Cuellar's Fajita Ranch and TK under the El Chico restaurant brand, tells Dallas CultureMap that he plans to bring Casa Rosa back. The new address? Another place famous for Tex-Mex: a former El Fenix at 5622 Lemmon Avenue that was built in 1961.
"But I got a call from a real estate person, who asked if I wanted to see this restaurant space that had closed. When we got there, I was amazed it was the El Fenix space. I love old buildings like that, steeped in history. It was a request from the landlord, who asked if we could put Casa Rosa there, because she had enjoyed going to the Inwood Village restaurant all those years."
The goal is open early next year.
Famous Chicago Dog Marks Its Territory in Texas
An iconic Chicago hot dog chain, Portillo's, went public this month, which marks its expansion campaign into new areas. According to QSR Magazine, "But to the shipping point, Portillo's has 67 stores in nine states, yet in the past five years, has shipped 2.7 million sandwiches (Italian beef, sausages and hot dogs) via its direct-to-consumer shipping channel across all 50 states. And Texas happens to be the No. 1 landing spot. In turn, Portillo's will open a flagship in the Dallas suburbs." Ipso facto, a Portillo's is coming to North Texas and plans for its Texas debut to happen in 2022.
Wining in the Cedars
A new wine bar and lounge has landed in the Cedars by way of a few business-pros-turned-wine-connoisseurs. Originally from Oak Cliff, Doland McGown, Theo Kirk, Lyle Matthis, and Verlin Taylor wanted a place akin to a "Cheers spot for the neighborhood," reports the Dallas Morning News. So they opened Distinctive Wines at 1110 S. Akard Street. The Black-owned wine bar occupies a former Piggy Wiggy grocery stores of the 1920s era, so there's historic charm baked into the now-sleek lounge. Expect a growing lineup of events with local chefs, food and wine pairings, and weekend brunches. (CultureMap sent word first.)
What Else Is Up in Dallas Dining?
The health-conscious shaved ice shop SnowBaby has closed in Lakewood. The store's lease was up, but there's no telling if it will be making a comeback somewhere else anytime soon (DMN). Also on the eastside, Dallas Bike Works will soon have its own coffee shop: Pull Through Coffee Bar. Pull up to the White Rock Lake-adjacent bike shop and order an espresso at a walk-up (bike-up?) window to fuel the trek 'round the lake (DMN). There's also plenty going on in Plano lately. With a food truck origin story, Bell's Sweet Factory now has a proper brick and mortar at 2109 West Parker Road. Dig into some the Cajun that made fans out of Megan Thee Stallion and Dak Prescott. Dave's Hot Chicken, which clamored onto the spicy bird scene in last year, brings its second DFW location to 8315 Preston Road in Plano this Friday, October 29.