Unless you've been on a media blackout, you probably already know that Texas Monthly released its latest list of Top 50 Barbecue Joints today. And if this is news to you, I'm ever-honored to be the bearer of good, delicious dispatches.
The list, which makes an appearance every four years, is Texas Monthly barbecue editor Daniel Vaughn's accounting of the state's vast and varied barbecue scene, one that has seen a lot of transformation and growth since the last list was published. After Vaughn and a committee of 34 tasters visited 411 barbecue joints, logging thousands of miles and countless calories, the survey of what's going on in Texas 'cue today seems as diverse as the pitmasters making it.
"…in the past half decade or so, we've begun to notice that the winds of change are growing quite gusty," says the In cities and towns across the state, new joints have been opening, and young, ambitious pitmasters have been getting into the game …. What distinguishes the Texas barbecue scene today? In a word: surprises. In another word: variety. We're talking bacon burnt ends, beef cheeks, birria, blueberry-and-Gouda sausage, brisket-topped elote, and guava-glazed pork ribs. And those are just the meat offerings."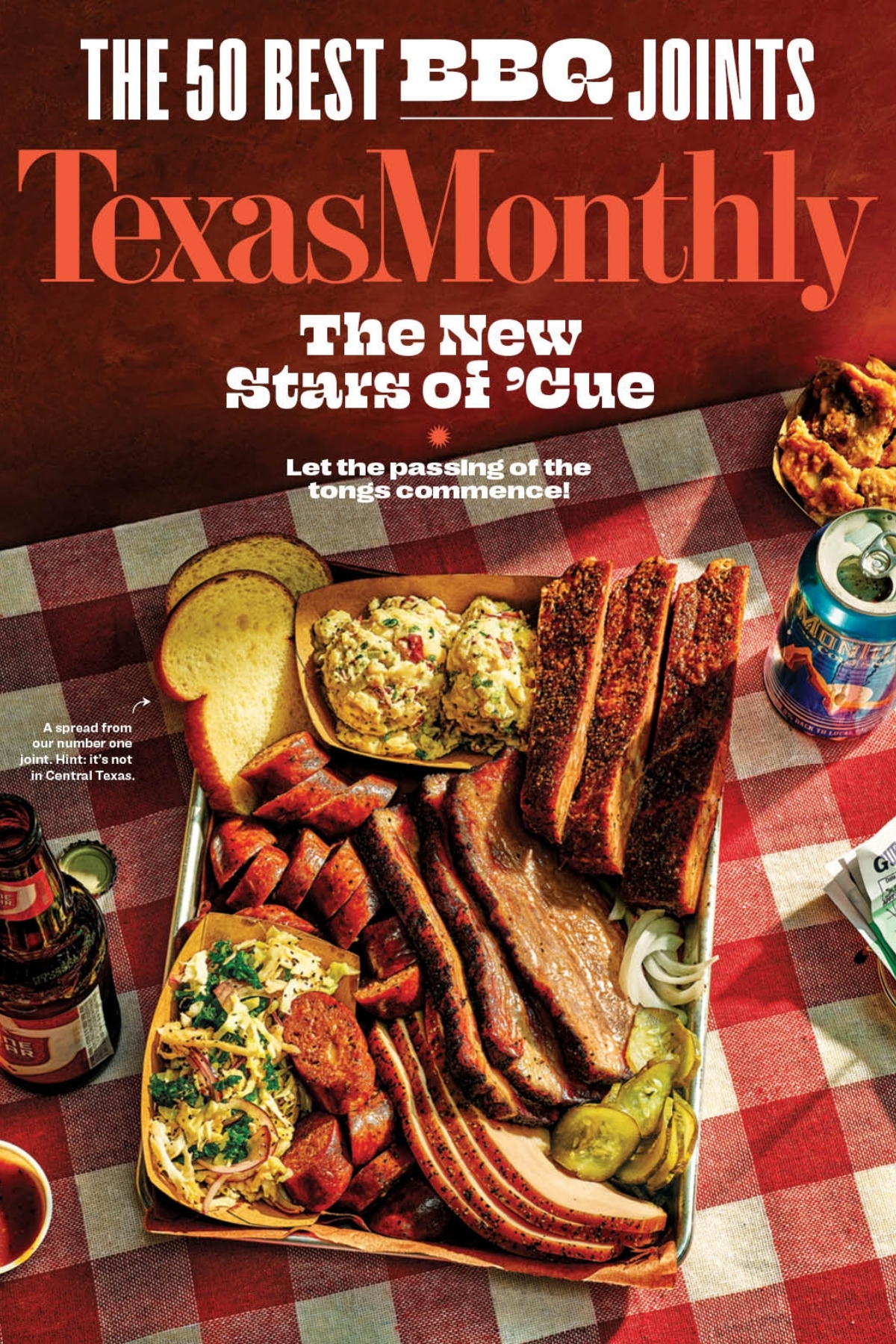 So how did Dallas-Fort Worth do? Let's see.
Six Dallas spots received praise: Cattleack Barbeque notched an impressively high 6th place, while Slow Bone, Smokey Joe's BBQ, and Terry Black's all made it into the top 50, and Oak'd BBQ and Pecan Lodge received honorable mentions.
Outside of Dallas proper, many of our favorite North Texas smoked meat purveyors made the cut. Hutchins BBQ, as seen in our "How to Spend a Day in Frisco" article, placed in the top 50. (Which is to say, we also know good 'cue when we taste it.) Ditto, Hurtado Barbecue out of Arlington and Grand Prairie's Zavala's Barbecue.
In Fort Worth, Panther City BBQ secured 10th place. Meanwhile fellow Funky Town joints Dayne's Craft Barbecue and Smoke-A-Holics BBQ made it within the top 50. But it's newcomer Goldee's that came out on the very top at number one.
Earlier this spring, we published Daniel Walker's Goldee's gospel. That these young pitmasters who were slinging perfectly done barbecue—no trend-chasing, no gimmicks—out of a red house in Fort Worth were the real deal.
It's a menu full of Central Texas barbecue standards presented in their purest, most ideal form. You will not find a finer brisket in Texas. A bold claim, indeed, but true. They burn only Texas post oak, aged for eight months, to yield a perfectly moist, smokey, and peppery brisket. The pork ribs exhibit the perfect tenderness. The sausage is all made in house and comes in standard and jalapeño-cheddar. Both are excellent. And the beans! Those glorious beans. Spicy, saucy, and flecked with bits of brisket. There are no better beans on earth. Also noteworthy, they bake their own bread daily.
Even in our own 50 Best Restaurants in Dallas, which we updated in early September after a long hiatus, Cattleack Barbecue landed high on the list and ahead of Pecan Lodge. It was a controversial move, but one we obviously stand by no matter what. That Cattleack nabbed the number six spot on TM's Top 50 is—ok, a little more than validating for us, but more importantly—a testament to amazing meats (hello, marvelously moist brisket with a black peppercorn bark) coming out of the Dallas joint. Of course we will not tolerate any Pecan Lodge slander here. (And the longtime top of Dallas' barbecue pyramid does make an appearance on a list of 50 honorable mentions.)
Still, with 11 DFW barbecue joints on the top 50—that's 22 percent North Texas representation—we can confidently say what we've long known: we have the meats. Oops, that's an Arby's slogan. But the same sentiment applies! Cheers to the winner. Now, who's hungry for some smoked sausage and brisket-y beans?
Get the SideDish Newsletter
Dallas' hottest dining news, recipes, and reviews served up fresh to your inbox each week.