I'm rather particular about burritos. (If you are too, this list is obviously for you.) Being a California girl—on my non-French maternal side—I'm fond of all the Golden State styles. I love a Mission-style burrito, from my days dwelling near San Francisco, when I prowled Dolores and Mission to handle the heft of overstuffed blimps wrapped tightly in foil. I've dallied deeply with L.A.'s style, purchased from food trucks or fancy Silver Lake coffee shops, and with the iconic San Diego-style, melding meat, beans, cheese, and potatoes (later, French fries, which you know as the Cali). In Texas, I've come to love the heftier, stick-to-your-ribs, meat-and-potatoes or guisado styles hailing from Northern Mexico, from whence our flour tortilla tradition comes.
Here are the beautifully crafted colossi about which I'm not technically California dreamin' but dreaming nonetheless, including decadent, creamy, satisfying, unbelievably flavorful vegan ones, breakfast versions, and burritos that mimic phở. Okay, full disclosure—one is in Fort Worth.
I know burritos are, for some, a subject that launches fierce debate and ferocious loyalty. All kinds of price points and all sorts of options abound. Without further ado, a few burritos worth their weight in gold.
One of Nick Badovinus's Mission-style burritos (yes, Cali transplants, that's calling to you) at Desert Racer makes smoked chicken its muse. (Also, you read the menu description right, it boasts a crispy flauta tucked inside.) Within its depths, smashed avocado and lime crema (with its delicate hint of lime) make a mess of things—in the best possible way—with black beans, a bright slaw, pico, and Spanish rice. The smoke lingers. Try the poke-style—with sushi rice and ahi tuna—or rollicking weekend brunch burritos that smash together pancakes, waffles, or French toast with hash browns and maybe cinnamon sugar or jalapeño-kissed maple syrup. The Baja-inspired playground isn't afraid to roll like that.
There is not much to say here, other than the fact that this is one our city's best taquerias, and that Ismael and Olmy Sanchez also happen to make a very good burrito. It is better than it has to be at first blush and just as good the next seven times you order it. The Cali burrito, the lone one on the menu, is overstuffed and super creamy, bringing comfort through rice, pinto beans that hold their shape, and grilled chicken.
I vividly remember the first time the quartet of women behind Filipino-inspired pop-up concept Bahay brought out their chicken tocino brunch burrito, headlined by outstanding seared-to-order chicken thighs marinated in pineapple juice and Filipino banana ketchup. Bordered by garlic rice, a chunky tomato ensalada, and a fried egg, it's a Filipino breakfast to-go.
Note: Check for future pop-ups on their website or Instagram page.
If you're in the mood for seafood, the spicy shrimp burrito, Burrito de Camarones La Diabla, is your siren song. Bouncy shrimp, perfectly seasoned Spanish rice, lettuce, tomato, and avocado fill the gargantuan, beautifully griddled megalith to the brim. One man, a singular regular, orders and takes away 10 burritos at the beginning of the week—or so the story goes. I believe it. I get it.
If you want something that's essentially steak, beans, potatoes, and cheese, it's here. In the way the cheese melts (and in its elemental simplicity) it's like a quesadilla. Four round, black-cushioned stools outside make you feel like you're at the counter of a diner. The surprise is that some of the best fajita steak is hiding in a simple bean-steak-potato-cheese at a 24-hour window-order stand on a stretch of Northwest Highway. (Not to be confused with the unrelated El Tacaso on Westmoreland Road in West Dallas.)
There are excellent options from this gas station in Far North Dallas, which also offers "for amusement only; no cash payment" slot machines should you want to while your time playing while you wait. Pick the carne guisado, hearty beef tips in a flavorful gravy with round, mellow flavor. The South of the Border is all the comforts of fluffy scrambled eggs, bacon, hunks of ham, peppers, onions, and a nice amount of heat. Or opt for hunky strands of barbacoa with scallions. Montes is one of only a few places that make its own tortillas.
A stalwart of the breakfast taco scene, La Victoria in Old East Dallas attracts early-morning pre-workers or weekend warriors for hardy handfuls that create a collision between chorizo, sausage, bacon, ham—all your breakfast favorites—or refried bean or potato with scrambled eggs. Scale up with specials. Keep adding on (avocado, sour cream) for ultimate customization. Go on over of a morning; they close at 2 p.m. Stop by next-door Ruby's Sno-Balls for a two-fer. (As an astute reader pointed out, that will have to be a 2022 wish.)
It could seem gimmicky, but is actually quite amazing: The phorrito is full of noodles, bean sprouts, mint, and a choice of chicken, beef, or tofu. A streak of hoisin sauce boldly announces the game. Once you get over the cognitive disconnect, the power move: a chili oil-slicked dipping broth. Add a fried egg to mine, please. Those in the know toggle between this and the ramenrito.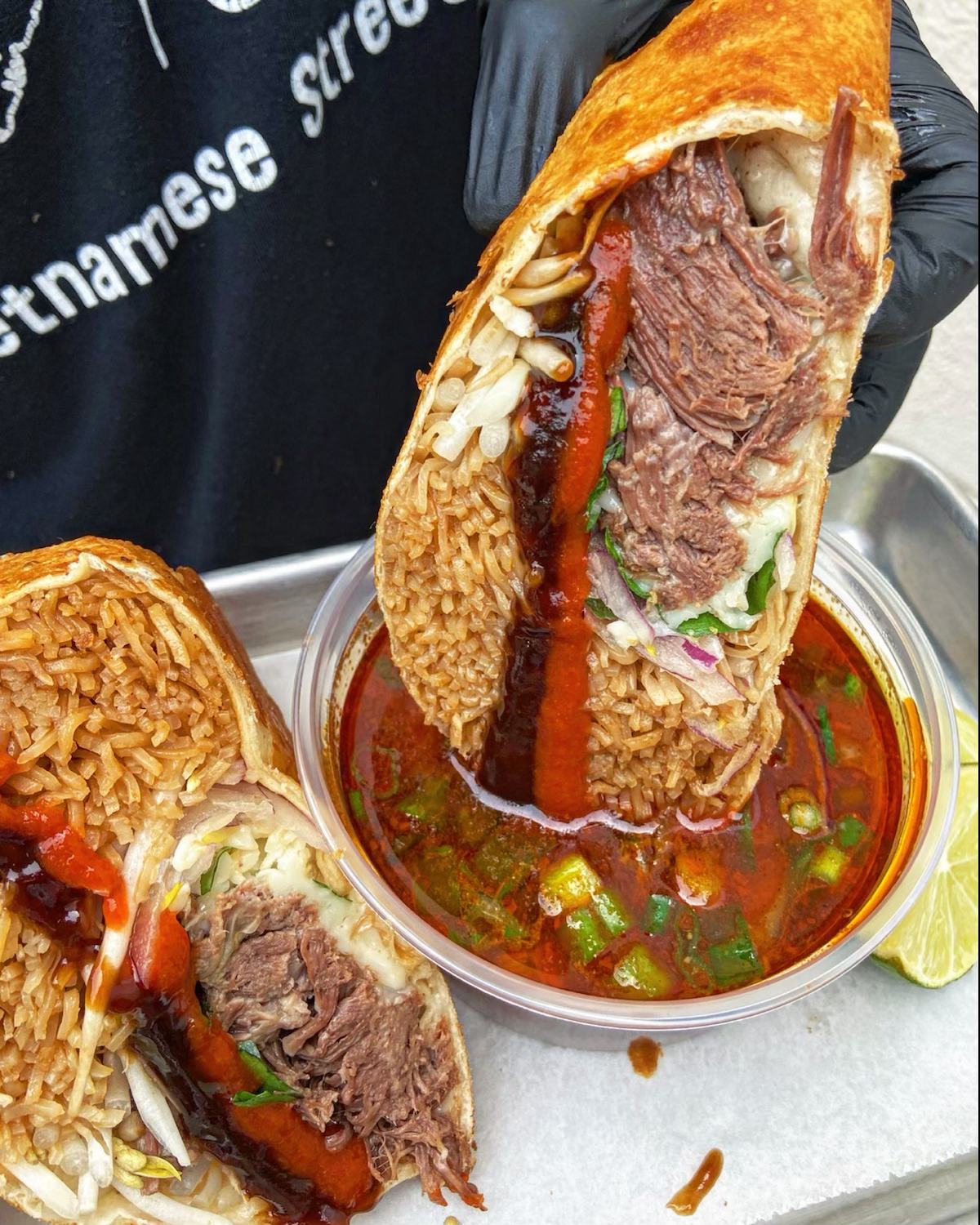 Yes, other places have chimichangas, but not vegan ones. Certainly, I love the upscale, imaginative chimichangas from Las Palmas and Desert Racer, but I admire of greater technical difficulty of crafting a vegan one, slathered in bright-yellow faux queso and red and green salsas. The insides swell with a high-octane tumble of chipotle-spiced jackfruit, Spanish rice, and a cloud of velvety refried black beans. Is it messy? Yes. Is it impossible to finish? Absolutely. It's also totally delicious.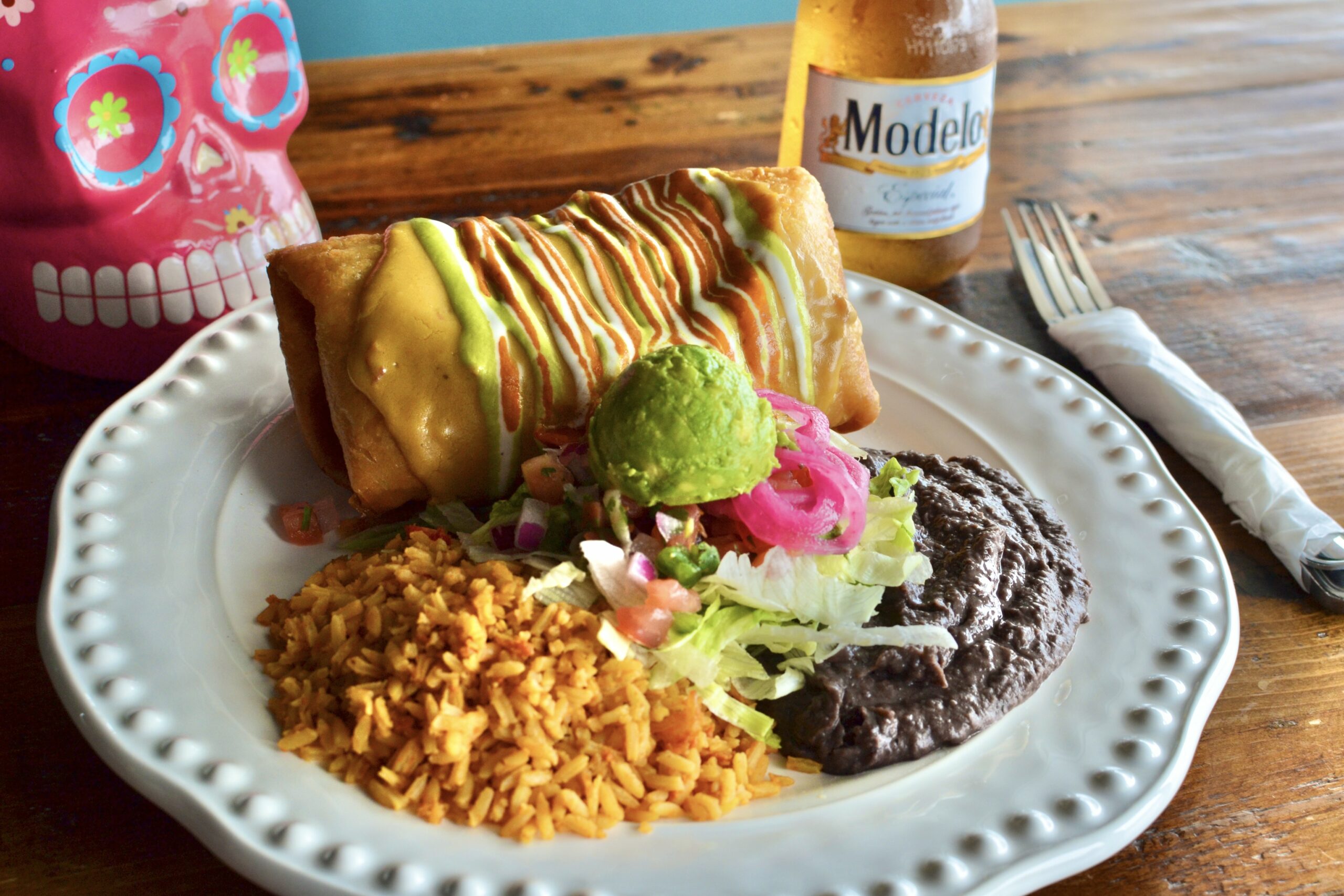 Even with distance, I can't get it out of my mind. My clutch burrito when I'm in Fort Worth is the pastor-pineapple from the entirely vegan side of Mariachi's menu. Say what you like about destination dining trips, I make them for this one. The smoky warmth of al pastor-style seitan, zipped through and balanced with the welcome tart-sweetness of pineapple and rippled with vegan cheese, cashew-chipotle crema, pico, and lettuce hits the spot. It's my go-to.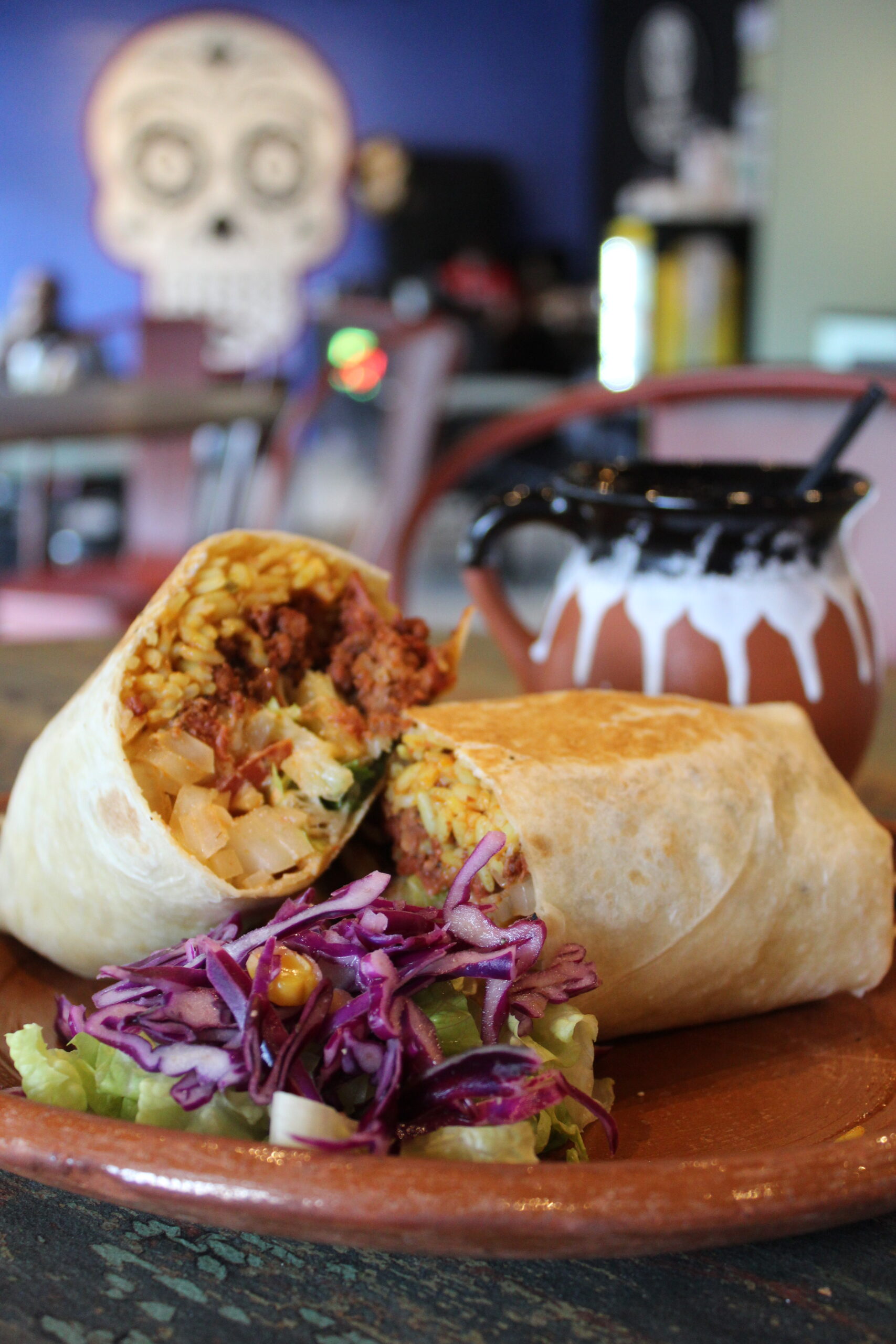 Get the SideDish Newsletter
Dallas' hottest dining news, recipes, and reviews served up fresh to your inbox each week.