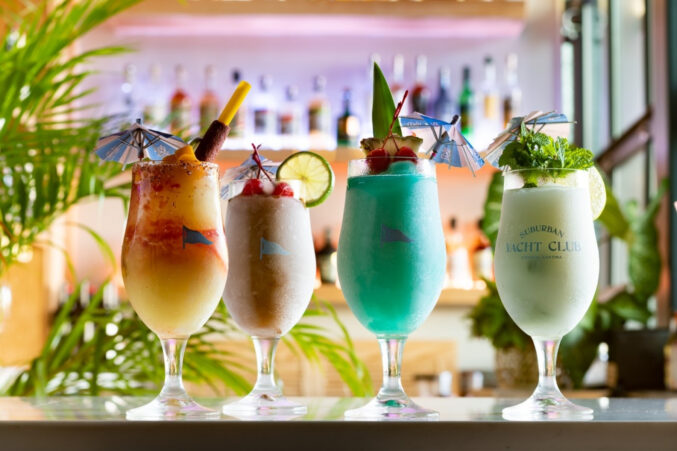 News Bites: Brian Luscher Is At It Again and Dakota's Reopens September 13
SideDish's weekly digest of need-to-know dining happenings in Dallas.
Welcome to SideDish's weekly dispatch of need-to-know News Bites, from quiet closures to opening updates and everything in between—and back to coronavirus updates!
Land, ho! Suburban Yacht Club Moors in Plano.
There was a bit of a lull after Brian Luscher closed The Grape in October 2019. Then he joined 33 Restaurant Group (Cadillac Pizza Pub, Taverna Rossa, The Yard) as culinary director later that same year. And now, boom, Luscher and 33 Restaurant Group director of operations Kristin Wisniewski are bringing a new restaurant to harbor at The Boardwalk at Granite Park. (If you call something a yacht club, I will make all of the sailing puns. I am not sorry.) Suburban Yacht Club opened September 7 with "laidback SoCal vibes" reminiscent of San Diego. Food and drink wise that means Baja-style beer-battered fish tacos, ceviche, Flamin' Hot Cheetos elote, burgers, and more. Tropical cocktails include sangrias on tap, shareable Scorpion Bowls from the tiki genre, as well as frozen libations like a mangonada marg. Brian Pappalardo, formerly of The Grape, will helm the Suburban Yacht Club galley.
Dakota's Is Back
In less than a week, the downtown steakhouse will return in its refreshed iteration. Under the new ownership of Meredith McEneny, Dakota's has undergone a kitchen renovation and menu updates via chef Ji Kang (Sloane's Corner, Pizza Leila, two of McEneny's husband Tim's restaurants). Kang has beefed up the amount of sides on the menu and added mains like lobster and king crab rigatoni, beef Wellington, and, for lunch, steak frites for $19.84, a reference to the restaurant's debut year. Much like the five-tiered granite waterfall, Dakota's classic steakhouse charm is very much still intact. Reservations are open.
East Meets North Texas
The Harwood Hospitality Group recently announced its newest concept to hit the Harwood District/Victory Park area: Elephant East. Slated to open sometime this fall, the "Pan-Asian-inspired" restaurant, bar, and lounge endeavors to tell "a story of heritage, life, and adventure from Bangkok to Bali" through its shared plate menu. Speaking of which, highlights include Singapore noodles with house-cured ham, pork bao, and fried sesame-mochi doughnuts called goma dango. To accompany such dishes are cocktails, like matcha green tea mojito and an Asian Old-Fashioned, which I'm guessing is made with Japanese whisky. The executive chef leading the charge is Thomas Griffin, who will pull from his family heritage and life in Asia for the menu.
Second Rodeo Brewing Opens in Fort Worth
The folks behind Truck Yard will open a brewpub at the Fort Worth Stockyards on September 16. It will be the latest drinkery to call the ever-growing Mule Alley food and drink destination home. The aptly named brewery will occupy a large swath of real estate: 14,000 square feet of event space and the Bar Garden, which is an enclosed patio with a retractable roof, an entertainment stage, a small dance floor, and seating throughout. Obviously there will be plenty of Second Rodeo beer to drink alongside other local brews and cocktails. As for the food, per the press release, "Dig into dressed up cheesesteaks and chicken wings, unapologetically served with 'nothing organic.'"