Penicillin's potential as a drug was discovered by chance in 1928 by Brit bacteriologist Alexander Fleming, at St. Mary's Hospital in London, when he noticed that bacteria did not grow around the mold on an agar plate. Penicillin the cocktail was created on a whim in the early aughts by Australian bartender Sam Ross, at the famed Milk & Honey in New York, when he decided to get creative with a shipment of The Peat Monster, a blended Scotch whiskey from Compass Box.
The cocktail he created was a play on the Gold Rush, a popular new bourbon cocktail (also invented at Milk & Honey) that was made with honey syrup and fresh lemon juice — basically a Whiskey Sour with honey instead of simple syrup. Ross added some ginger syrup to the honey and poured a floater of the smoky Peat Monster on top and called it the Penicillin. No need to hold your nose to make the medicine go down: the peat smoke was an enticement to imbibe, and the honey served as the spoonful of sugar.
Ross' cure for all ills is, unsurprisingly, experiencing a bit of a comeback in the pandemic era. Just a few weeks ago, while in New York for the U.S. Open, I had a Tokyo Penicillin at The Attic, an oyster and cocktail bar in Flushing Queens, that used Japanese instead of Scotch whiskey. Earlier this week at a Benriach whiskey tasting and Scottish-inspired food pairing at Petra & the Beast, I was treated to an even better — and much more complex — variation by Iluggy Recinos, the beverage director for Exxir Hospitality, which includes such local watering holes as Paradiso, Tejas, Botanist, and Mermaid. Recinos, who hails from Los Angeles, has worked with Ross, and cited him as the inspiration for what he dubbed the Ross on Haskell.
"Samuell Ross was the creator of the original Penicillin cocktail due to us celebrating National Penicillin Allergy Day," Recinos says, referring to the annual September 28 holiday on Fleming's birthday that encourages people to get tested for a penicillin allergy. "Sam set the bar high with this drink, so I wanted to add layers all while keeping his originality yet amplifying each ingredient. I am a big fan of working with teas in my cocktail — they add true layers of flavor to any style of cocktail you are trying to achieve. I am a huge fan of Chinese and Thai food — especially spicy food — so adding this love of flavors to the cocktail really worked in terms of harmony and balance. Thank you Sam Ross for the gift of the Penicillin! The cocktail is a true gem, and so is he."
Recinos' cocktail takes advantage of both Benriach's Original Ten — which has trace amounts of smoke but plenty of honey, ripe pear, and vanilla notes — and the Speyside scotch's Smoky Ten — which tastes sort of like drinking the original while cozied up in a plaid wool wingback  chair in front of a blazing applewood and oak fire. He also adds local notes, with Cultured Cup tea infusions, local honey, and a sprig of lemon balm fresh from chef Misti Norris' garden. Because the complexity of the Ross on Haskell may be daunting, I've included a simpler version. Let's start there.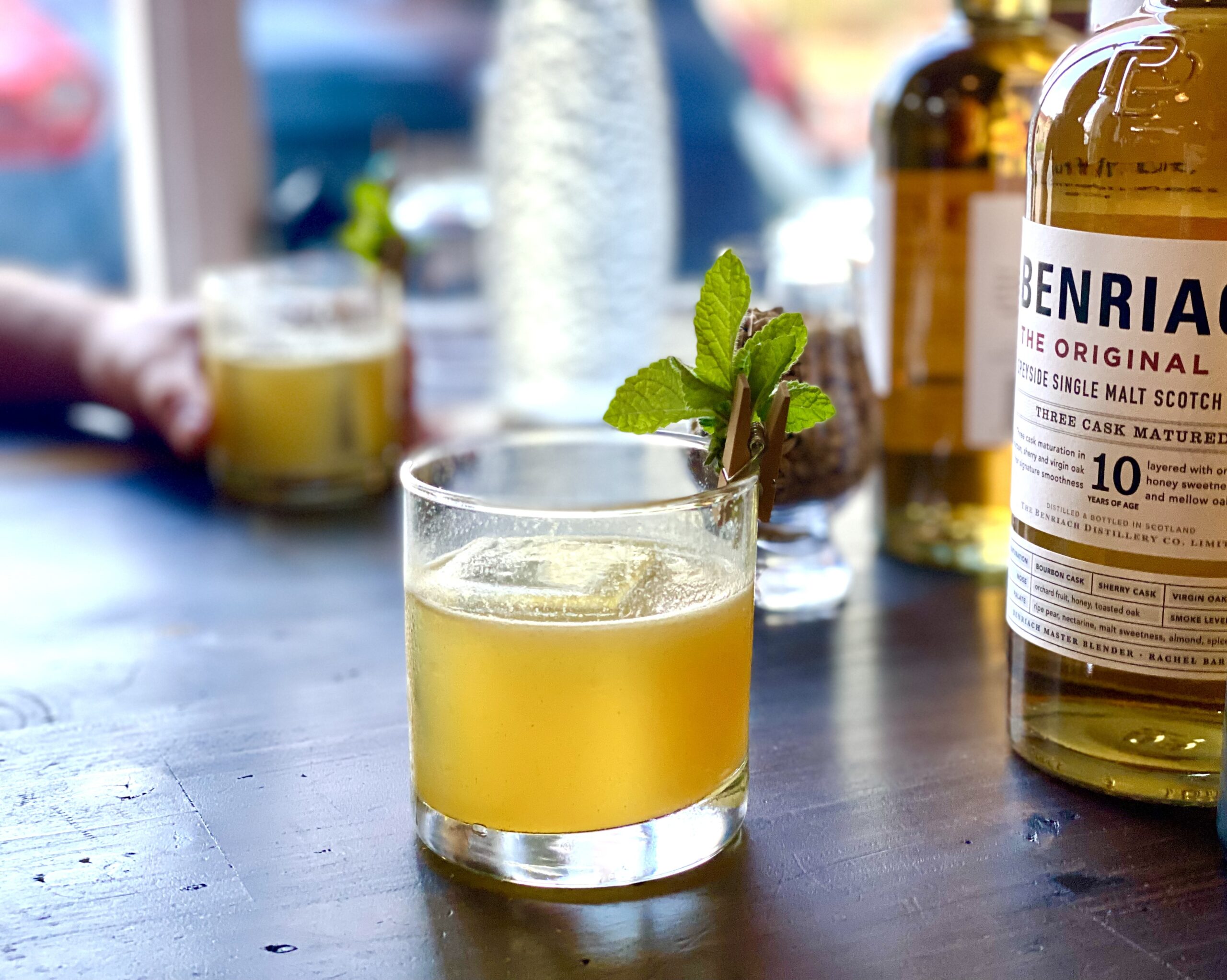 Recipes
The Benriach Penicillin
Keep things simple with Benriach's signature Penicillin. If you order Cheeky's or another pre-made honey-ginger syrup, the hardest thing you'll have to do is juice the lemon. 
Ingredients:
2 ounces Benriach The Original Ten
3/4 ounce fresh lemon juice
3/4 ounce honey-ginger syrup
1/4 ounce Benriach The Smoky Ten
Candied ginger
Directions:
Combine The Original Ten, lemon juice, and honey-ginger syrup in a shaker with ice and shake vigorously. Strain into a rocks glass over ice. Top with The Smoky Ten. Garnish with a piece of candied ginger.
The Ross on Haskell
Flex your cocktail muscles with Iluggy Recinos' elaborate, layered take on Ross' classic cocktail. The results will be worth your while.
Ginger-Turmeric Syrup:
Recinos juices ginger, strains out the pulp, and weighs the final product. In an immersion blender, he adds an equal amount of evaporated cane sugar to the ginger juice and a quarter amount of powdered tumeric and blends.
Lemongrass-Honey Syrup:
He brings two cups of honey to a boil to burn it a bit, and then adds one cup of water, stirring to dissolve the honey. He then adds 4 medium-sized pieces of lemongrass, a teaspoon of pink peppercorns, the zest of one medium lemon, and a pinch of kosher salt. Pour into a jar and let infuse for about 10 hours, then strain out the solids.
Citrus-Infused Benriach Original Ten:
Peel the citrus skin of 1 grapefruit, 4 mandarin oranges, 2 oranges, and 3 blood oranges with minimal pith, and infuse them with a bottle of Benriach Original Ten for 24 hours.
Tea-Infused Benriach Smoky Ten:
Infuses 3 tablespoons of The Cultured Cup's Russian Caravan tea in 20 ounces of Benriach Smoky Ten and lets it sit for about 15 hours. Pour into a food-safe spritzer bottle.
To Make the Cocktail:
1/2 ounce Ginger-Turmeric Syrup
1/2 ounce Lemongrass-Honey Syrup
3/4 ounce fresh lemon juice
2 ounces Citrus-Infused Benriach Original Ten
Tea-Infused Benriach Smoky Ten mist
Fresh lemon balm sprig
Combine the first four ingredients in a shaker over ice; shake gently and not too long. Double strain over ice in a double Old-Fashioned glass. Garnish with lemon balm sprig and mist to taste with Tea-Infused Benriach Smoky Ten.
Get the SideDish Newsletter
Dallas' hottest dining news, recipes, and reviews served up fresh to your inbox each week.