The proliferation of zero alcohol beverages—booze free aperitifs, canned spritzes sans plonk, distilled spirits minus the liquor—is now a booming faction of the drinks market. Last year,
alcohol sales rose significantly
during the early stages of the pandemic. According to a study published in the
Journal of the American Medical Association
,
binge drinking shot up
14 percent overall and 41 percent among women. Alternatively, many other made lifestyle changes, which included cutting back, or entirely removing, their alcohol consumption. Going sober, though, doesn't have to mean foregoing fun. That, at least, is certainly the case for Dawn Maire and Jaime Coulter, two Dallas natives who founded
Starla Wines
.
"I was by myself [one night], enjoying a delicious meal and wanting a really good glass of white wine with it, and the only way to do that was to have wine with alcohol," Maire says
.
"And I'm not anti-alcohol, but I do mostly live a sober lifestyle and wanted something that tasted really delicious and would complement my meal, and have that experience that a good glass of wine brings to a meal."
For people like Maire who longed for the activity of wine drinking—a complement to a meal, a wind-down sipper—without the subsequent hangovers or effects on one's liver, there were few palatable options. When she set out to cut down on the vino, says Maire, "[I] tried every non-alcoholic wine out there [that] I could get my hands on. And they were terrible, terrible." 
Starla Wines is Maire and Coulter's answer to alcohol free wine fit for meals and parties that actually tastes good. The entrepreneurial duo (Coulter recently launched her luxury fashion boutique, La Vie Style House and Maire previously worked in real estate, advertising, and even served as the president of PooPourri), created Starla after they both began limiting their wine intake.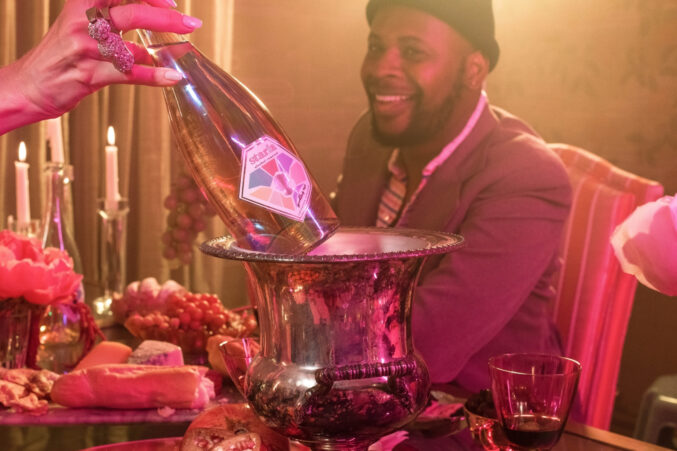 "[I] tried every non-alcoholic wine out there… And they were terrible, terrible." 
The Starla team sources grapes from farms all over California. The fermenting process is the same process one would use to make any other wine. After fermentation, they remove the alcohol using a cone technology "basically spins the alcohol out," says Maire. (Starla has partnered with de-alcoholizing technology group BevZero for this process.) Maire insists that using this spinning technology, as opposed to removing the alcohol via heat, allows for the same flavor, body, and mouthfeel as a traditional wine. After the spinning process, each serving contains less than 1 percent alcohol, which is about the same rate as kombucha. Another plus? Each contains only five calories and no carbs.
As of now, there are three varietals. Sauvignon blanc contains notes of wild honeysuckle, rosemary, pear, and lemon balm, per Starla's website.  Suggested pairings include "roasted pork, green lentils, and video calls." A red blend consists of dark cherry, blackberry, bergamot, and black pepper flavors. As for the sparkling rosé, it promises "dry and bright botanicals of strawberry blossom, citrus, lychee, and mineral" to drink with  "creamy risotto, French fries, and 2 a.m. cravings."
Maire and Coulter sought out to make a product that was "intentionally feminine" to speak to the sensibility of a woman's lifestyle: something fun and festive, but not in cliched "pink packages." The bottles, which you can
purchase online
, are minimalist in design and labeled with pastel-colored shapes. 
Starla Wines has been in the works since before the pandemic. While you can only purchase Starla Wines online for now, Maire and Coulter hope to expand and become a household name. But like all wines, good things take time to mature. They plan to take a slow and steady approach as consumers are starting to shift toward sober lifestyles. "A lot of people are starting the process [of cutting out alcohol when they're] younger," Maire says. "Good for them. Maybe I'm late to the party, but started it nonetheless."
Maire and Coulter said noticing how people were drinking during quarantine further energized them in the creative process.
"Hearing and seeing what was going on in the world made me want to flip the script, and it is an ingrained script: 'You will drink alcohol,'" Maire says. "But seeing people want to change was super motivating for me."
Get the SideDish Newsletter
Dallas' hottest dining news, recipes, and reviews served up fresh to your inbox each week.