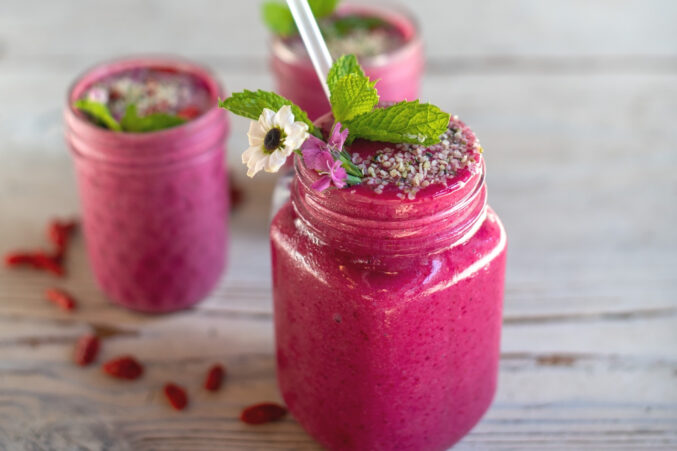 Pink Drinks in Dallas That Brighten Our Day
A handful of libations—some with stories, all with pizzazz—for when we want the world to feel rosy.
A few years ago, we began heralding the dawn of millenial pink. Now it's everywhere. Call it the weather; call it the cultural zeitgeist. We're surfing all the pink cosmic waves.
Tribal All Day Café
The Dreamy Dragon with dragon fruit, banana, coconut butter, aloe vera juice, date (for a little extra sweetness), and almond milk was one of the first pink drinks that turned our heads and had us doing envious double-takes. The coconut butter richness is part of what makes it dreamy.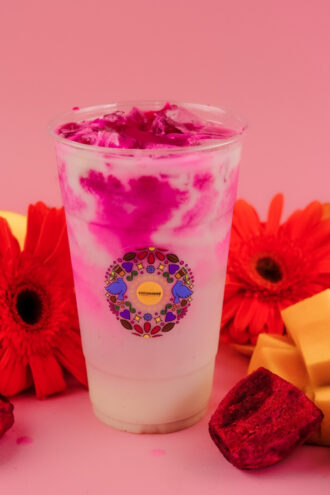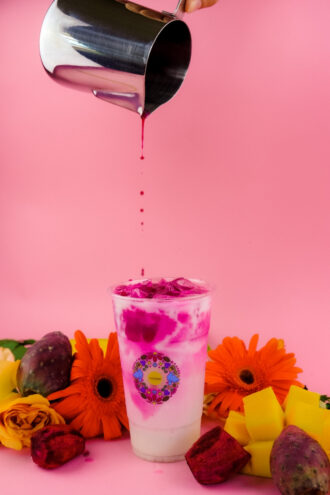 CocoAndré
At the chocolate shop and horchateria CocoAndré, you'll find a prickly pear horchata, a seasonal variation on their rice-and-canela drink.
Chocolatier Andrea Pedraza is the mother in the mother-daughter duo. She grew up in a desert town near San Luis Potosí, where prickly pear abounds. After the cactus blossoms of pink, yellow, and orange comes the juice-packed fruit. "When they are in bloom, they're the most beautiful and delicate," Andrea once told me. "The colors!"
The Pedraza family peels the prickly pears and purees the pulp in-house to make the magenta-colored drink.
"Have you ever cut them on the side of the road, when there's a breeze . . .?" daughter Cindy's father would ask his children, highlighting the lengths to which one would go for the spiny fruit whose invisible barbs waft on the wind. "You don't know hardship 'til you've cut a tuna outside in the wind," Cindy reports he would say. Now the summer sipper is a reminder of home.
Sandwich Hag
Reyna Duong has begun delving into Vietnamese coffee through "milk coffee" drinks with a lighter profile and more subtle aromas than her heart-thumping cà phê sữa đá, which spools dark coffee with ribbons of condensed milk. It's all part of her effort to shine light on the world's second-largest producer.
The refreshing, mauve-hued hibiscus cà phê sữa đá milk coffee blends a phin-drip brew with creamy condensed milk infused with local Sterling Tea's strawberry-, hibiscus-, and cherry-laced herbal tea. It tastes like a berry meets a chocolate lava cake.
For the coffee, Duong turns to Phin Coffee Club, a Vietnamese-American-owned Austin-based business that sources ethically from Vietnam. Those deep chocolate notes arise from the beans.
"When I opened the bag, it smelled like dark chocolate chips or a brownie," she says.
The Gem
For years now, we've been able to power up with the female-owned juice bar's Sparkle Berry smoothie that whirls blueberry, strawberry, banana, mango, and pomegranate juice with housemade hemp milk. That deep shade is from the vitamin-packed pom bomb.
Ka-Tip Thai Street Food
It's only fitting that Ka-Tip, our impresario of Thai street food, would peddle wan yen, a variety of nam kang sai (shaved ice).
George Kaiho's creation, set to debut this week in time for Bangkok-leaning sweltering summer heat, sports a slushy pink top of fluffy ice with squiggles of jellies and corn. Treasures at the bottom of the cup can include lotus or palm seed, candied taro or jackfruit, or the black-and-white eyes of basil seeds. It's cold-creamy-crunchy-delicious, and classic garnet-colored sala syrup lends its pink hue. In Thailand, sala syrup also stains the iconic "pink milk" or "pinky milk" drink.