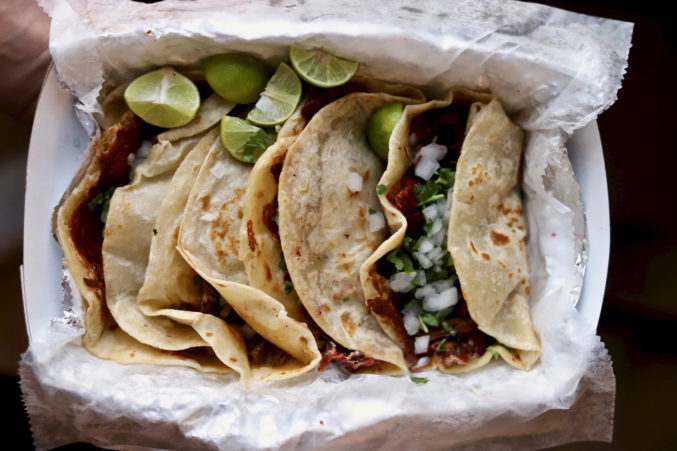 News Bites: Trompo's New Taqueria Arrives and Another Lawsuit for Vandelay
SideDish's weekly digest of need-to-know dining happenings in Dallas.
Welcome to SideDish's weekly dispatch of need-to-know News Bites, from quiet closures to opening updates and everything in between—and back to coronavirus updates!
Trompo Comes to Old East Dallas
The Bishop Arts taqueria has chosen the other side of the Trinity for a second location at 4201 East Gaston Avenue. Now, not far from the likes of Petra and the Beast and right next to an El Rancho Supermercado, find cult favorites like the Gringa quesadilla of bright red trompo pork with both oozy and melty cheese. It's open officially this Friday, August 13 from 5 p.m. to 9 p.m.
Big Tex Choice Awards Names Finalists
A 55-foot-size yeehaw to the 10 finalists announced this year. We tasted them all and have our winning picks. Here's what we think and the full rundown of fried goods.
Another Employee Drops a Lawsuit on Vandelay
At the end of July, we shared news of a former Drake's employee, Glenn Govias, who is suing the Dallas restaurant group Vandelay Hospitality and alleging it operates with a culture that is "shot through with racism, sexism, homophobia, and outright disdain for its employees." Now word comes from a Dallas Morning News report that another employee has filed a lawsuit, with presumably more filings to come. "Dallas attorney Levi McCathern said he plans to bring as many as three more similar lawsuits against [Hunter] Pond's company," reads the DMN article, in which Vandelay CEO Hunter Pond denies unfair treatment and calls the claims "ridiculous and not true."
Val's Cheesecakes Exits the Exchange Hall
The AT&T Discovery District's food hall is filling out nicely. Revolver Taco Lounge opened its outpost there this summer. Other local favorites like Monkey King Noodle Co., The Dock, and La Duni are on board to occupy the Exchange Hall's cafeteria corridors. Valerie Jean-Bart of Val's Cheesecake's, another food haller, tells the Dallas Observer that he's out after he ran out of cheesecake and Exchange management put out products to sell from his counter that weren't his. The way the situation was handled, or mishandled rather, was too much for Jean-Bart.
Chip's Old School Brings Oak Cliff Another Burger Joint
From Bishop Arts to Beckley Avenue: Chip's Old School Burgers will soon open a second location. Per the Observer, the burger joint will takeover the former Local Press and Brew space, which closed in May 2019, at 1605 North Beckley Avenue. No word yet on an opening date.
Ellen's Makes National News
The downtown Dallas diner has made national news for the sign on its front door:"HERE WE GO AGAIN. Masks are required except while seated at your table." It goes on to offer name-calling suggestions, such as "sheeple", in anticipation of an angry response. Ellen's owner Joe Groves told CBS DFW, "I'm not gonna put up with it anymore. People come in, they want to berate me, or berate one of my employees, they're not gonna do it for two seconds and they're out the door." Given the rising COVID cases, Groves wants to do what he can to keep everyone safe. He says he's received positive feedback, too.