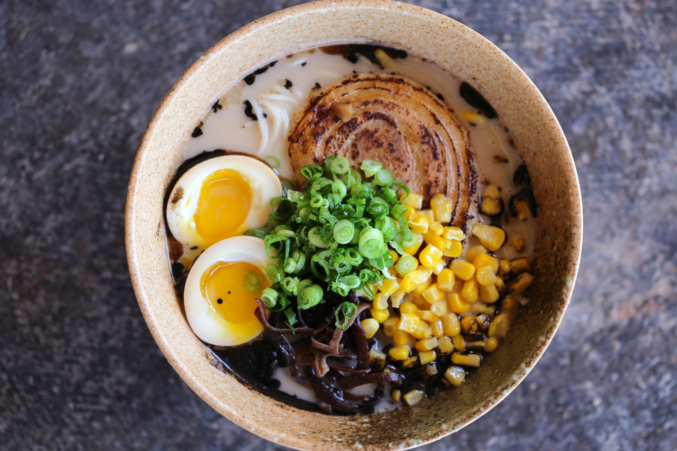 Five Steamy Soups for a Rainy, Steamy Day in Dallas
It's a wet, humid one out there. May as well embrace it with pork broth ramen and deep red pozole.
Is it maybe reaching 90 degrees today? Quite possibly. Is it currently a sauna outside? Oh, most definitely. So you may be wondering, Soup—why? Hear me out. It's steamy out, so you may as well embrace it. Like goes with like; it's science.
Pozole Rojo
I could swim laps in this bowl of crimson soup, whose deep red hue comes from a smoky ancho-guajillo pepper base. The stewed pork isn't tough but tender. The hominy holds its shape. There's not too much fatty oil floating at the top, which makes each slurp full of flavor.
Veggie or Tonkotsu Ramen
Dallas is not short on ramen shops, indeed we could do a whole listicle of some of the very best. Many, like Wabi House, have a heavenly tonkotsu ramen that boasts a rich and creamy pork bone broth base.
Noodle Soups
You truly cannot go wrong with any of this Lower Greenville restaurant's brothy dishes. The banh canh is a specialty here; the pork-based broth is cooked for 18 hours, distilling porcine richness into a lush broth which is served with clear tapioca noodles, grilled ham, char siu, and shrimp. As an egg noodle fan, I adore the mi hoanh thanh, a wonton noodle soup with soft-cooked quail eggs, shrimp cake, and char siu. The pho and bun bo hue are also two stellar soups.
Nikutama
Thick, bouncy, chewy, tender—such are the Sanuki-style noodles at Marugame Udon in Carrollton. Noodle masters make fresh udon by hand behind the glass at the start of the order line, where you can choose your dish from simple (the kake, which is noodles in dashi for less than $6) to the Nikutama, a Marugame favorite that's made with sweet-savory beef and a luscious egg.
Chilled Soup
Okay, for the anti-soupers out there who refuse a steamy bowl, there's another option. Homewood's summertime soup will make you want to do things, bad things, like lick the ceramic vessel clean as though nobody's watching (but we're watching, we see you table four). Recently, in peak peach season, there was a chilled peach soup with a little spice and beautiful crab. That may very well be good and gone. There's also a chilled corn soup, with yet more crab, bacon, and jalapeño. Whatever chilled soup they're serving, we're eating. You would do well to follow suit if a cool bowl is more your speed.