Atlas could so easily fall into the category of bar that's best described as "overly committed to theme." Despite its travel concept, Atlas manages to evoke a welcoming neighborhood bar vibe that anyone could walk into, no itinerary needed.
I wrote about the forthcoming opening in January; Atlas comes from Dan Bui, who opened Krio with Connie Cheng in 2020. As with Krio's bar program, Bui has again brought in beverage pro Jesse Powell (previously of Parliament, currently Black Provisions) to develop Atlas' drink menu, which stands on its own next to some of the city's best cocktail lineups. Each drink I've tried is balanced yet impactful, delivering everything its description promises. Behind the bar resides some of best barkeeps in Dallas, like bar manager Reid Lewis (Billy Can Can, Reveler's Hall), a longtime local bartender who knows her way around the back bar. Others have slung drinks at Neighborhood Services, Macellaio, Midnight Rambler, and Nick and Sam's, to name a few.
On the menu, find a section of "World Drinks," which breaks down into "Well Traveled" and includes common global libations like the pisco sour and Singapore sling. There are "Local Stops" that include tipples that represent closer climes, like Driftwood's sotol-spirited Rugged Flower with tamarind, fresno, and muddled cukes. The menu makes room for "Chopin Martinis," whether you prefer yours dirty, dry, or James Bond style. My favorite is the final "Layover" section of shot-and-a-beer combos, where you'll find Illegal joven mezcal and Tecate from Mexico or Bendt whiskey and Lone Star for, well, you know where.
If you like coconut flavors, the Nomad is solid choice. It consists of vodka, makrut lime, coconut milk, lavender (but not too much), and wine. Anything under Local Stops is playful and delicious. Then there's Can You Dig It?, a drink of vodka, Fernet-banana whip, espresso, and edible dirt—chocolate crumbles—that is the boozy manifestation of those gummy worm pudding cups you'd get as a kid.
Looking for something off menu—and off-kilter? There's the, uh, elegantly named Whistling Butthole: a shot of half Fernet and half banana liqueur invented by Powell, who is a madman for this one. (It even earned Atlas coveted Fernet Branca coins.) Order it by shrilling like a slide whistle or, fine, be boring and simply request it like normal. It's wonderfully fun and surprising offering considering Bui's original description of Atlas as a nerdy yet slightly erudite bar. There are heaps of cocktail nerdiness, a good amount of worldly flavor, and a touch of upscale with none of the usual snobbery. Sure there are lots of books and a portrait of Edgar Allen Poe by the bathrooms, but otherwise, this is a bar where you'd feel comfortable in cocktail attire or a soccer jersey—I'm serious, I've spotted both and neither looked out of place in the moody, dim-lit den of Atlas.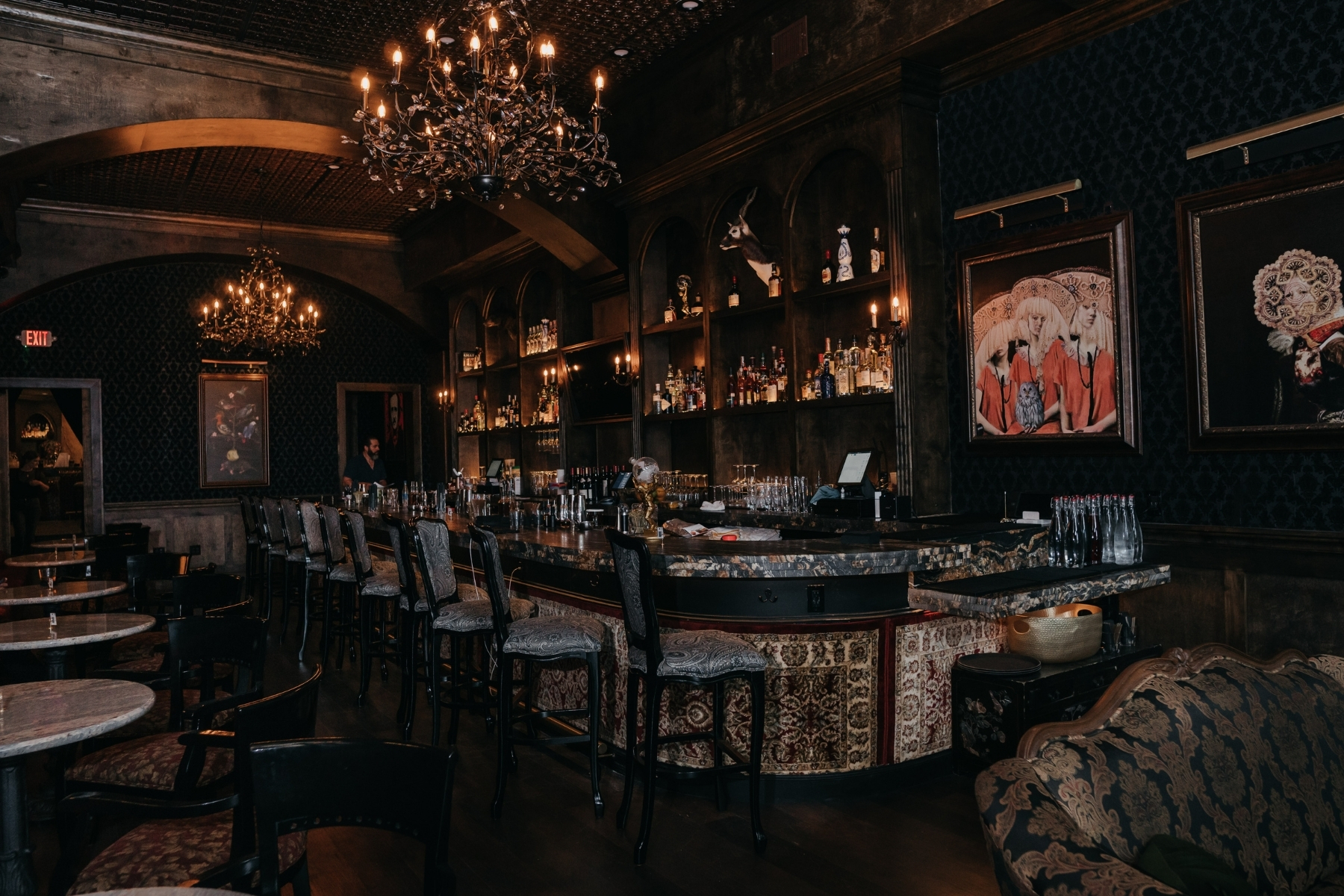 Here, you'll also find a little speakeasy—ah yes, the bar trend that refuses to die—tucked in the back behind a bookcase (though on busy nights, the book-door is fully swung open). As for bar food, it's a short but mighty snack list since the kitchen is the size of closet. The Cuban sandwich is a bar favorite and I've seen quite a few charcuterie boards go around the room, too. The beef pho, Bui's own recipe, provides perfect hangover-staving sustenance after one too many rounds.
Atlas may be thinking globally, but this Bishop Arts bar inspires us to drink locally.
Get the SideDish Newsletter
Dallas' hottest dining news, recipes, and reviews served up fresh to your inbox each week.
Author
Rosin Saez is the online dining editor for D Magazine's food blog SideDish. She hails from Seattle, Washington, where she…