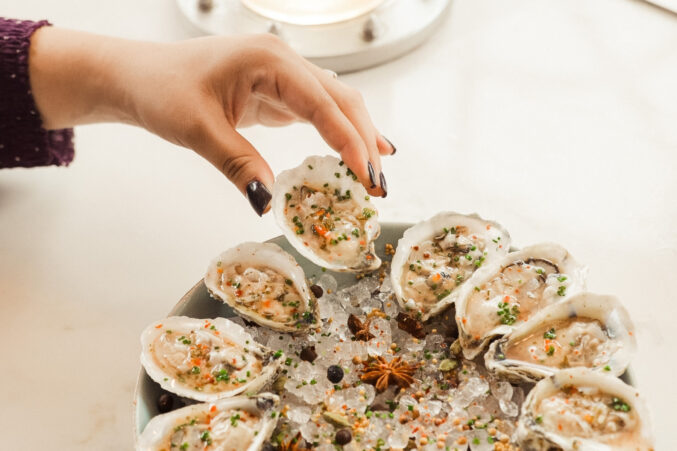 News Bites: Tijuana-Style Street Food, Oysters and Champagne, Plus a Goodbye to Wild About Harry's
SideDish's weekly digest of need-to-know dining happenings in Dallas.
Welcome to SideDish's weekly dispatch of need-to-know News Bites, from quiet closures to opening updates and everything in between.
Milagro in Trinity Groves
The latest restaurant from Jesus Carmona of Tacos Mariachi fame has arrived at 440 Singleton Boulevard, suite 100. It opened July 6 with a focus on Tijuana-style street food—mahi mahi birria tacos, pork al pipil tacos—as well Sinaloa-style ceviche and veggie bowls. For Carmona, this is like a homecoming. Last March, Tacos Mariachi permanently closed its Lowest Greenville taqueria, leaving that stretch of Greenville Avenue without its tender pulpo tacos. So Carmona then focused on opening his Bishop Arts restaurant and bar Chimichurri. Now the Tacos Mariachi owner will return to West Dallas, where six years ago he once served Baja-style tacos three blocks from Trinity Groves. Here, the taquero can bring back some of the Mariachi spirit while offering something new. 
Carmona is bringing in James Slater, his Chimichurri bar manager, to run the bar program here too. Whereas Slater plays with intriguing vermouths and fun bitter flavors at Chimichurri, at Milagros things will lean vibrant: Think tequila and mezcal with freshly squeezed juices and 32-ounce caguamas of ice-cold Mexican beer. Also, Mariachi's famous cucumber lemonade will make a comeback. Milagro is open Tuesday through Sunday.
Bivalves in Bishop Arts
Adjacent to, and sibling of, Paradiso and Botanist Bar, Mermaid Raw Bar & Champagne Room will open on July 12. Expect a similar tropical sensibility here (but more "South-Beach-meets- Boca vibe," per a press release), where chef Nick Hurry's raw bar menu centers on oysters that "are selected from programs focused on quality and sustainability" he says. That could mean meaty Murder Point oysters with a Fresno emulsion or nice briny bivalves from Cape Hatteras, North Carolina topped with a grapefruit-lavender mignonette. They're preordered a week in advance to make sure they can be harvested and shipped as fresh as possible. Also on the raw bar menu: stone fruit and tuna crudo, butter-poached lobster tail, crab and melon consommé, and hamachi crudo. 
To drink, look for cocktails that play nice with seafood. And, per the name, expect a small menu of bubbles, rosé, and skin-contact wine.
Korean Fried Chicken in Asia Times Square
The Grand Prairie dining and retail center has been growing exponentially. Its latest restaurant is CM Chicken, AKA Choong Man Chicken, a Korean fried chicken chain, reports Dallas Morning News. Said fried bird can come with sauces like garlic soy, red-hot peppery, spicy garlic, and curry. CM wings are fried then baked for the ultimate crunch. It sounds like a fine KFC (Korean fried chicken, to be clear) addition to a huge plaza with everything from omakase to dim sum.
No Wild About Harry's in Knox-Henderson
As I shared in last week's News Bites, the local favorite for frozen custard and good times closed as of July 4. Sydney Coley-Berglund, president of operations and daughter of the late founder, Harry Mead Coley Jr., told DMN that "there is nowhere to go" in the continuously, rapidly changing neighborhood where they had already relocated to avoid the wrecking ball of development in 2018. They're looking for another location (again), but have not lined up a lease just yet.