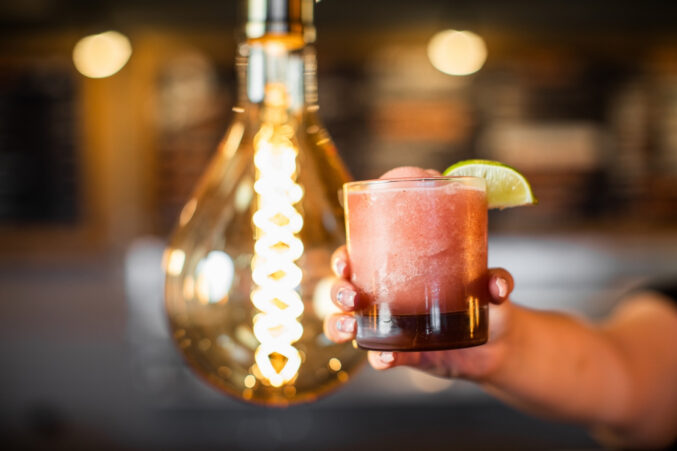 Where to Raise a Glass to National Rosé Day in Dallas
We love rosé chilled in a glass or frozen into a heat-quenching slush any ol' time. But June 12 is a good day, too (because deals).
National Rosé Day, a time-honored holiday surely, arrives June 12. It couldn't have come at a better time, when the balmy Texas climes warrant something crisp, cool, and preferably pink. Enter rosé, summertime's blush-hued quencher.
In Dallas, home of the 7-Eleven Slurpee and birthplace of the frozen marg, frosé (a portmanteau of frozen and rosé) is a shoe-in on the slushed drink roster.
So whether it's an elegant glass of rosato you require or a chuggable cup of the frozen stuff, get thee to some local spots. Some are proffering deals for the holiday while others are great at giving us rosé year-round.
The Lower Greenville outpost will be pouring Segura Viudas brut rosé for six smackaroos. It's participating in Dallasites101's fourth annual Rosé Wine Walk this Saturday from noon to 5 p.m. The walk starts at Libertine Bar, and tickets are $15 per person.
The buzzy brunch destination in Bishop Arts has a delightful frosé—available to-go in a Capri Sun-like pouch!
The wine lover's haven of course serves rosé, but don't sleep on the frozé, here made with rosé, Lillet Rosé aperitif, and strawberries to soften the acidity.
This Lakewood spot is obviously known for its titular dish, but another staple is the long-perfected frosé. For Saturday, Palmer's has a pint of frosé for $5 (usually $9) and just one buck for smaller portion only available on Saturday. If you'd rather go big, you can order frosé by the quart, pitcher, half-gallon, or gallon ($35–$60).
Sip up a four-glass flight consisting of "fresh and fruity" Chateau Minuty rosé from Provence for $15.
Ida's Frosé punches up the slushy concoction with pineapple, strawberry, lime, and orange curaçao, whose sweetness combats the tarter qualities.
Also on the Greenville Avenue rosé trek, Leela's will have $5 glasses of still rosé for walkers.
The bottle shop on Ross Avenue is a treasure trove of beverages of all sorts—zero-proof aperitifs, local whiskeys, craft brews, and, of course, natty wines, for which Bar & Garden is known. Right now, though, it's rosé season. From picnic-perfect rose pet-nats to skin-contact rosatos that taste of watermelon and early-season strawberries. 
Poke pairs with frosé which the restaurant is bringing back just in time for the season. There's also rosé by the glass for those who like to keep things classic.
Out in the Irving area, this gastropub is celebrating the pink drink with half-priced bottles of rosé all Saturday long from brunch till close.