Amid the plethora of seasonal produce—Comeback Creek Farm's strawberries and the first heirloom tomatoes—and the crushing heat of (almost) early summer, I was seeking a delicacy that's more elusive. Something that, for me, conjures taste-memories. At Georgie, I found a dish recently that felt like something I'd see in Europe, exactly as beautifully, exactly now.
Across the Atlantic, this season, late April through June, would be the time of white asparagus. Imagine marble-topped tables and a glass of crisp, dry Reisling. Think of Europeans eating the ivory-hued spears, in fact, like a rite of summer.
White asparagus is earthed up, the stalks mounded with soil, so they emerge pale from want of the sunlight that provokes chlorophyll production in their green cousins and creates a grassy flavor. The flavor here is milder and a tiny bit nutty, the texture buttery. With its meticulous production methods, it's considered the pinnacle of luxury.
In Germany or France, white asparagus would be served with a light-as-air sabayon or mayonnaise or hollandaise. It might make an appearance alongside salmon or a potted terrine of pâté, anchoring a meal that involved a crusty loaf of bread. In Dallas, we've got a few chefs getting creative.
[img-credit align="aligncenter" id="853085″ width="400″]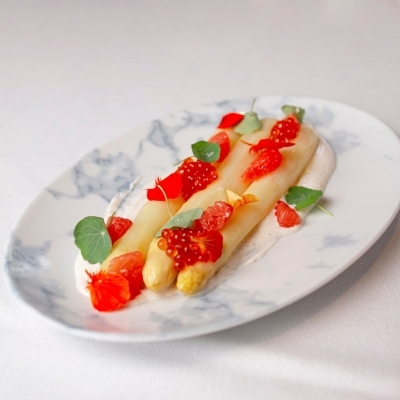 [/img-credit]
Here, at Georgie last week, I sat at one of the bistro tables outside the posh steakhouse and dipped in. The ivory spears were steamed to tenderness. There were suprèmes of grapefruit that matched the glowing orange of trout roe scattered like pearls, and peppery nasturtium leaves and petals that dotted the landscape. "They're so fat!" my dining companion said. And indeed, they usually are, something you cut with a knife and fork, rather than lift between fingers. The spears nestled on a gentle sauce, nutty with toasted caraway. It was cool and perfect. It was a tiny summer symphony.
At Mot Hai Ba in Victory Park, the menu until very recently offered buttery brioche served with a chicken-liver mousse accented with white-asparagus compote and a crispy chicken skin crumble on top. Although supply from its producer in France lapsed, the team pickled the last stalks and we can look forward to pickled white asparagus in a few months.
As we carom towards triple digits, the white spears will be on Georgie's summer menu—as long as its fleeting season lasts. If you've never tried the delicacy, do so while it's here. Add it to your list of chilled soups and other icy glories.
White asparagus always reminds me of renewal, and this year even more so, these stalks emerging, as bit like we are, from the earth. I'm wishing, in this heat, we could shelter there a little longer.
Get the SideDish Newsletter
Dallas' hottest dining news, recipes, and reviews served up fresh to your inbox each week.