Victoria Revenko Is the Queen of Borscht in Dallas
A Ukrainian couple shares their story and culture through a quintessential soup kit.
Victoria Revenko remembers when she moved to North Texas with her husband from Ukraine and found a dearth of the Eastern European specialties she craved. Yes, there was Russian Banya in Carrolton, a sauna with a restaurant, Volga, that served a scattering (like a Soviet compilation) of Georgian, Ukrainian, and Russian dishes. And A Taste of Europe in Arlington with a beautiful honey cake and tables covered in red and white tile. In the Polish deli in Southlake called European in Texas, sausages line a case. But as an expat from Zaporijia in eastern Ukraine who had been a foreign exchange student here in her youth, she didn't find enough of the one thing that drew her more than any other, like a lodestar.
Specifically, what she was looking for was comforting borscht and pierogis, but she kept coming up empty-fisted. And so Revenko took matters into her own hands. Which is how she became the queen of borscht in our city.
Initially, she and her husband Oleksii (who goes by Alex in Texas) set up a stand and served borscht at the Dallas Farmers Market, and for a glorious moment last spring, we could find it ladled into paper bowls with a dollop of sour cream and fresh dill alongside hand-shaped, street food-style pierogi that enfolded cheese and potato. (The soup was vegan, so everyone could partake, for maximum borscht enjoyment.) But the pandemic hit, and along with it soup ladling vanished. How could they continue to share their national treasure? they wondered. They landed on the idea of dehydrating it into a pantry staple under the name Cooking Borscht.
To Victoria, borscht is life's blood, elemental.
Yet it's not everyone who has a history that runs as deep. Oleksii comes from a family of borscht recipe collectors, particularly his father. Everywhere he traveled—across Ukraine, Russia, and the Baltic countries—his father amassed varieties, like a culinary borscht ethnographer. He asked people for their troves and wrote them down, ultimately collecting more than 1,500 recipes. This cache fueled a blog that Victoria and her husband kept as a passion project.
The reason the Revenkos chose Dallas in 2017 when they left an eastern Ukraine torn by strife was simple: "Our city is pretty close to the frontlines. And we didn't know." The future unclear, "We were uprooting. So it doesn't really matter if it's 20 miles or 20,000," Victoria says. They brought their love of borscht with them. To Victoria, it's endless.
There are the classic red borschts, which are so well known, an icon of the beety soup. But also white borscht and the green bell peppers of a summer borscht made with fewer potatoes, which is lighter and served chilled. There is sauerkraut borscht (Victoria's favorite) made with cabbage preserved for the winter; mushroom borscht from forested and mountainous western Ukraine; and a light fish borscht with tiny smelt and beans from the region by the Black Sea where Oleksii's grandmother lives. Some borscht is zesty with sorrel, while others are served hearty with sausages or smoked meats—a whole world besides the standard beet-red variety.
"For every Ukrainian, borscht is more than soup, it's more than comfort food," Victoria says. "It's the feeling of home. It's that feeling when you're at the bus stop and it's cold and [you think of coming home to] this bowl that's piping hot with sour cream. It's more than just tasty food. It's a ritual." This is what she wanted to share.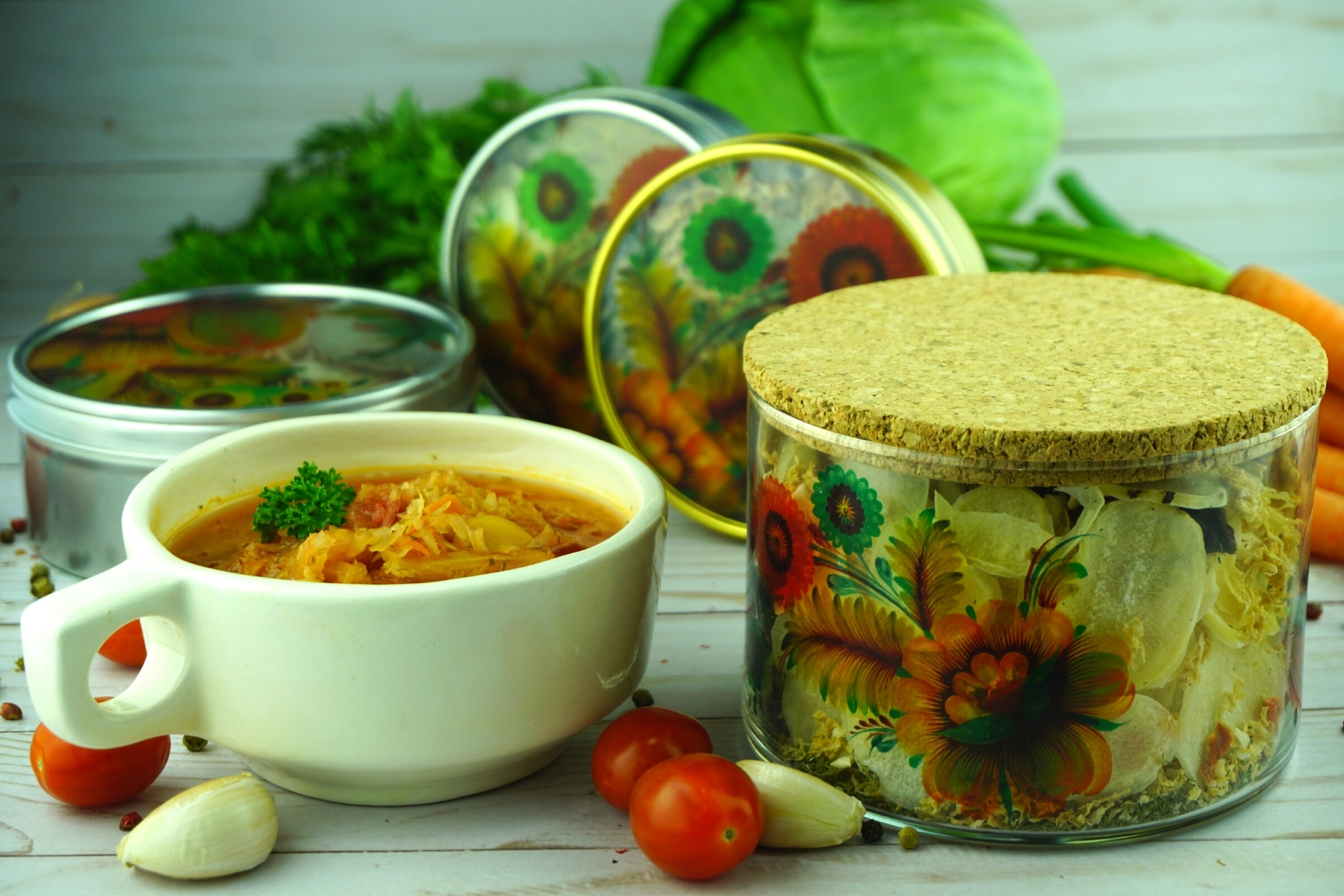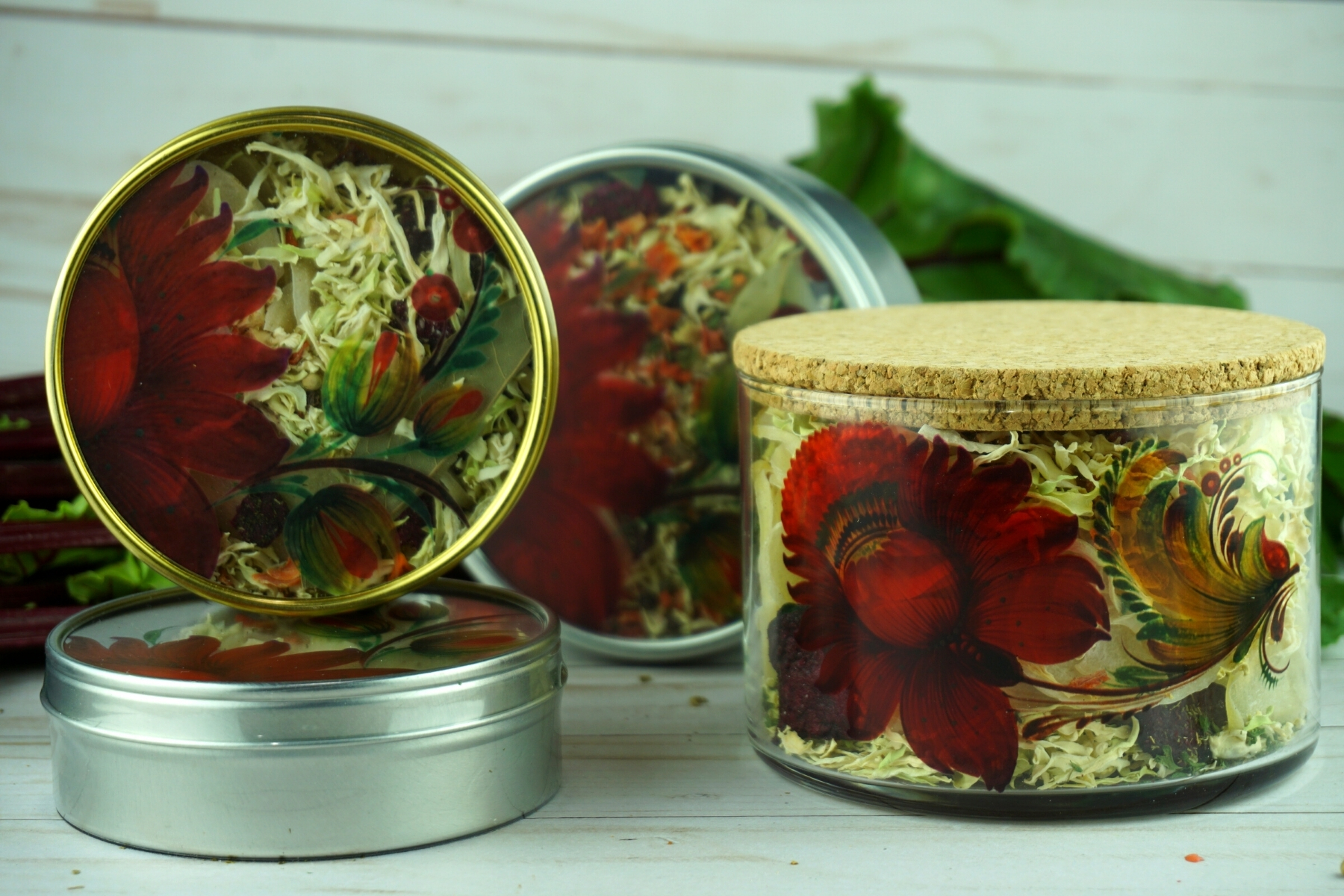 At home, you can simmer and dream of spring, summer, fall, winter in Ukraine. If you want to follow Victoria's lead, eat it with cured pork and a piece of sweet onion.
Usually, it takes hours to prepare, Revenko says, simmering bone broth until it's rich and thick, peeling and cutting six or seven vegetables and cooking them separately in an elaborate multi-step process. She wanted to take the labor out of it for customers.
To make the dehydrated soup kits, they buy local produce, cut, portion, dehydrate, and package it themselves. For the packaging, "We wanted the container to convey the Ukrainian culture," Revenko says. So they commissioned a Ukrainian artist who specializes in petrykivka, a style of folk art that has been declared an Intangible Cultural Heritage by UNESCO—the whorls of stylized floral and animal designs intwined.
Every flower on the glass jars or tins has significance—red flowers for the classic beet soup, green for the bell pepper version, yellow for the summer soup.
This—all of it—is the heritage they wanted to celebrate.