Jose Gonzalez doesn't care much for "Cinco de Drinko" or any iteration of the marg-heavy holiday that doesn't honor the history behind it. Gonzalez and fellow bar industry comrades Saul Avil Hernandez and Orlando Trejo together form the Dallas collective Los Tlacuaches. And they have shared the story of the Battle of Puebla through cocktails. (If you're wondering, no, no salt-rimmed 'ritas here.)
Los Tlacuaches started popping up three years at Las Almas Rotas. They skipped last year's event for obvious reasons. Now, they're bringing their Batalla de Puebla cocktail pop-up to Ayahuasca Cantina this May 5, from 7 p.m. until midnight.
 "I was done with Drinko de Mayo or Cinco de Drinko, whatever you call it, and [wanted to] reclaim the actual celebratory victory that it was," says Gonzalez, who works in wine distribution but formerly was lead bartender at Midnight Rambler.
To set the historic tone, the bar is usually transformed somewhat into a battlefield scene. The Los Tlacuaches crew dons military garb that represents the Mexican soldiers of that era who, in 1862, defeated an attack by the French army in Puebla, Mexico. Gonzalez spent many hours researching the battle, a moment in Mexican history that many outside of Puebla don't grow up learning about. More than anything, he came away with an appreciation for "the Mexican fighting spirit," he says.
"It was this army of misfits and farmers and wives of farmers—they're in sandals, using shovels against the 'invincible army' if you will—who were able to beat them," Gonzalez says.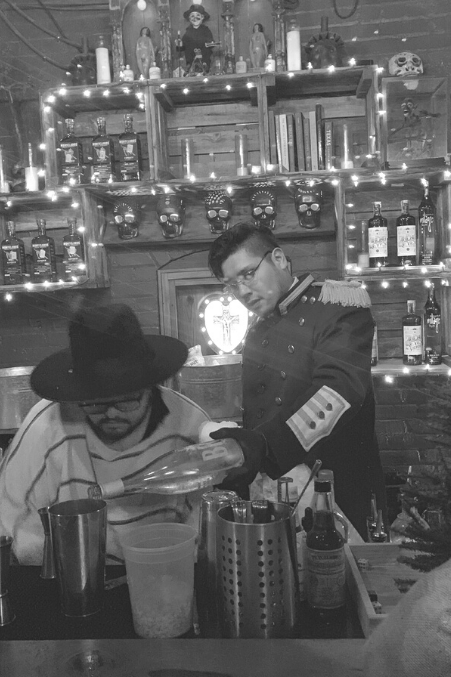 So Gonzalez and his cohort tell a bit of history through the menu. This year, they have a lineup of four distinct drinks. One is a nod to Benito Juárez, the first indigenous Mexican president, and it's a boozy spin on tejate, a (typically) non-alcoholic drink of maize and cacao traditionally made in Oaxaca. Everything in the cup is native to Mexico—specifically from Oaxaca, with the cacao coming from Chiapas—from the mamay pits, cacao, and corn all ground by molcajete and fortified with piloncillo syrup for a "for a tiny bit more depth and some spice," says Gonzalez.
Another cocktail, dubbed "The Tejano," is a white paloma, a riff on the original using clear ingredients (in lieu of blush-hued grapefruit, a grapefruit-flavored facsimile). It's an ode to Ignacio Zaragoza, who was born in the Mexican Texas village of La Bahía (now present-day Goliad, Texas), the general who led the Mexican army that rebuffed the French in Puebla. 
A third drink is inspired by stories of women in the military at that time, known as las soldaderas, and the elite infantry branch of the army, the Zapadores. It's mango concentrate topped with Champagne—basically France and Mexico colliding together in a glass.
Finally, Los Tlacuaches is bringing back a popular cocktail they've made for previous pop-ups that takes flavor cues from chile en nogada. This one's a batched clarified milk punch, which is an old-school technique that uses a milk wash to pull out the bitterness from alcohol (it dates back to the 1700s, further emphasizing the history component to this whole pop-up). Theirs is made with Uruapan Charanda rum from Michoacan, then in comes poblano juice, walnut orgeat, and Cocchi Torino vermouth to bring out the nuttiness.
Come thirsty, just not for the usual Cinco de Mayo drink lineup you may be used to. Gonzalez, Hernandez, and Trejo, who's a bar back at Ayahuasca Cantina alongside bar owner and sotol savant Mauricio Gallegos, promise to pour you something much more interesting.
View this post on Instagram
Get the SideDish Newsletter
Dallas' hottest dining news, recipes, and reviews served up fresh to your inbox each week.