Sandwiches are the greatest thing since sliced bread, for obvious reasons. They can be behemoths, stacked so tall the size makes your jaw ache just looking at them. On the flip side—as in the butt end of the loaf nobody wants—sandwiches can underwhelm. For the purposes of this round-up, we're looking at ones that satisfy without fuss or highfalutin ingredients or a big price tag.
Now I feel we should be clear about something. The purpose of this handy sandwich summary is to shout out some places making meals that feel affordable to most—not "cheap" as in cheaply made, but these won't break the bank. That's not to say that really good ingredients and even better business models mean food is, well, frankly more expensive. Labor and responsibly sourced goods mean paying fair prices. This is a great thing! So, yes, some of the loveliest sandwiches in town may clock in at well over 10 bucks—$15, even, or nearly $20!
Here, we're talking midday lunch break fodder. Okay, allow me to Rick Roll myself already and just get to it.
As you might have surmised by the sandwich name, Slow Bone's Pit is a bundle of tender-yet-crisp meat ends and stray pieces squished between toasted challah buns. I love this for scratching that barbecue itch without going to town on a full-on meat platter. Not a sandwich, but still important, maybe the most important: the cornbread pudding is the best thing to happen inside of a aluminum cup. It comes warm, with a honey sweetness so good you'd want to inhale five of these desserts.
I can't think of an easier way to build a really good picnic basket than a quick trip to Jimmy's. Outside of the nine-inch muffuletta, Jimmy's sandwiches don't break that 10 dollar threshold. The mozzarella and prosciutto on focaccia welded together by glugs of flavorful olive oil is a simple yet satisfying go-to panino. Hot, made-to-order sandwiches are still on hiatus, but the deli case is packed with ones that are ready to go.
Sons of a Guanajuato baker, Raul and Martin Solis opened their first sandwich shop in a former Dairy Queen near the Texas Theatre. The neighborhood favorite is the milanesa, a fresh-baked bolillo topped with crispy yet tender slices of breaded pork shoulder. Use the house hot sauce sparingly.
Is this an affordable sandwich list if there's no Quoc Bao? (I think you can guess the answer to that question.) At less than four bucks, Quoc Bao's bánh mìs are a fantastic deal, and, yes, you can buy three bánh mì and get one free. Since this is a working bakery, the baguettes are the freshest—even other places like Sandwich Hag uses them for their bánh mì. You can't really go wrong with the barbecue pork's sweet-smoky action, but aren't you getting three more sandwiches to try them all, anyway?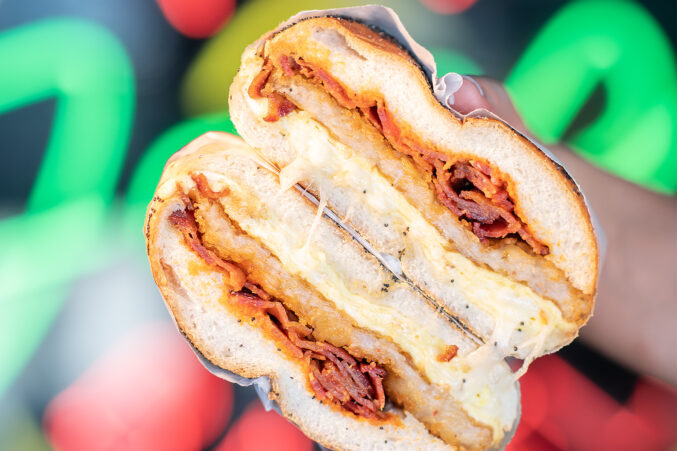 The University Park deli's catapult launch into popularity is fueled as much by the serious deliciousness of the bagels as it is by the sheer picture-worthiness of its brimming sandwiches. Take Shug's bacon, egg, and cheese wedged into a kaiser roll. Although this perfect trinity needs no revisions, you can add ketchup, a hash brown patty (do it), or make it spicy (absolutely, yes). If it's not breakfast you're looking for, the chicken cutlets menu alone is worth eating your way through (each one is $10 before tax and such). Start with the chicken parm cutlet.
Green Mater Sandwich from the Market at Bonton Farms
This fried green tomato sandwich is summertime in between two toasted sliced of sourdough. The buttermilk-dredged and cornmeal-coated rounds of green tomato are fried to perfection—not oily, just a golden exterior bearing bright tomatoes within. A smear of house-made pimento cheese, plus tufts of arugula and strikingly purple pickled red onions round out this sandwich. For $8, it's light but impactful lunch. If you require something with a little more protein oomph, the catfish po'boy (only $8.50) is likewise delicious.
The Original at Antoine's Foods
There is no more ubiquitous sandwich from a local chain in Houston than the Antone's original: ham, salami, provolone, cabbage chow-chow, dill pickles, and mayo between a pillowy, crusty loaf from Royal Bakery in Montrose. It's been a staple in the city for more than half a century. You can even find it pre-made in grocery stores. And it's been damn hard to find something in Dallas that takes me back to my childhood. That is, until I drove past Antoine's Foods on Harry Hines near Market Center. The bread isn't from Royal, but the sandwich is basically a facsimile of what I grew up with. And you can't beat the price: $5.41 after tax, with a can of Pepsi, and your choice of chips. It, too, has been here since the 1960s. And I don't know how connected Antoine's has ever been with the chain I grew up with, but if you look, you can still see the old logo behind the register. And the sandwiches immediately take me back. — Matt Goodman
Chicken Tinga Torta at Las Almas Rotas
When done right, chicken tinga is a saucy song of chipotles and tomatoes. And Las Almas does it absolutely right. Whereas some chicken tinga taste like it could be stewed for hours longer, the tinga torta here is a loving punch in the mouth. Wedges of avocado adds a creaminess to each bite. Continue punching yourself in the mouth, flavor wise, through whatever flights of mezcal the pros behind the bar recommend.
 

View this post on Instagram

 
This is your reminder that simplicity is often best. Take the jambon beurre: gentle folds of ham, tender provolone cheese, and fresh butter, all cozied into a baguette made right at Village Baking Co. Lunch accomplished! (The veg sandwich at this Dallas boulangerie is another good choice for those skipping meat.)
Goodfriend's Shroom N Rye
Some people complain about the prices of Goodfriend's sandwiches. OK. But take one gloriously messy bite of their $10 mushroom pastrami & rye—a vegetarian take on a Reuben with portobello mushroom "pastrami," Swiss cheese, house-made sauerkraut, and Million Island dressing on marble rye—and you'll be throwing your wallet at the cooks.
Great American Hero's The Super Hero
There's a line that stretches from this sandwich drive-thru for a reason, or three: convenient, tasty, and big sandwiches for around $9. Okay, the massive list of subs and heros probably clog the line, too, but they know how to move a queue along. Here, it's really about whatever sandwich mood you're in. Get something hot like the marinara-sauced chicken parmigiana with melted mozz, or a crisp, pressed Cuban. For cold cuts, I like the Super Hero, which is stuffed NY deli style (that's triple meat) with Genoa salami, pastrami, baked ham, bologna, capicola, and pepperoni.
Get the SideDish Newsletter
Dallas' hottest dining news, recipes, and reviews served up fresh to your inbox each week.