If you've been to Japan, you've seen them in 7-Eleven stores or on the menus of izakayas. They offer eye candy, beckoning you with the comfort of rice (often) and the promise of an umami hug. I had started seeing items that belong to the undersung category of Japanese comfort foods here in Dallas on my Instagram feed, and it stopped me in my tracks. The onigiri rice balls, each bearing its own simple filling or seasoning. The omelets called omurice, swirled into a disheveled yet still impeccably tidy mound.
We can thank the pandemic and the proliferation of pop-up businesses catering to our desires. In this topsy-turvy time, a trio of entrepreneurs—representing two businesses—saw an opportunity and had dreamed for a while about following the muse of the comfort foods of Japan and bringing them closer. They saw Sandoitchi, the sando sensation, rise to prominence. And they waded in with their own creations, specialties worthy of being cult-status favorites. They're making the best, most thrilling Japanese comfort food around, which we can all use right now.
Inu-san Onigiri
Nathan Bounphisai works magic with onigiri, pretty bundles of which there are scores of versions in Japan, each folding a special filling or seasoning into rice. His come with a flap of nori and a showering of furikake, a crunchy, nutty umami-bomb scattering of toasted sesame seeds, nori flakes, and seasonings made to complement the filling inside.
Though each Inu-san Onigiri pop-up menu is different, you can rely on the classic tuna filling with a sprinkling of bonito flakes, a clever one-two punch of umami playfulness. Fresh Atlantic salmon pairs with a pink salmon furikake sprinkling and yuzu sauce (it's a bestseller). Or you'll find blushing tart umeboshi (salted plum) and lotus root, a classic vegetarian option in Japan. The egg and slow-roasted chashu is an example of yaki onigiri: grilled so a glaze of miso and egg yolk crisps and caramelizes into a crust over an open flame while the inside stays tender and soft.
I bite into one, and it's all the comfort of warm rice and seasoning in classic flavors. All my memories of my Japanese stepmother's onigiri, cupped in the hand, come flooding back. He's done a beautiful job. You, too, can cup them in your hand, marveling at the wonders of nori and rice.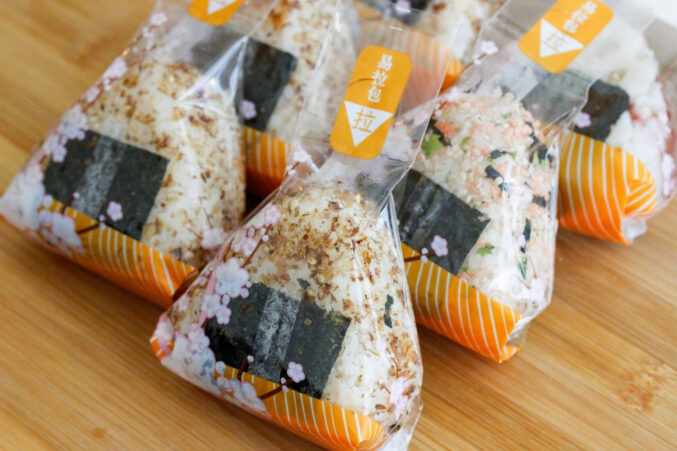 He loved the simplicity and the rice as canvas. Obsession had prompted a study of many onigiri in Los Angeles, New York, and Japan. And his best friend helped him develop the recipes, bringing the perspective of a Japanese-American former sushi chef. (This best friend lives in Atlanta, from which Bounphisai also hails, which is why you'll see Inu-san pop-ups in that city, as well as in Houston, a stronghold of family and friends.)
"One day, I thought Why don't we have that here?" Bounphisai says. He wanted to bring Japanese savors people know and cherish, but also add a creative twist.
A small team of four makes the triangles, hand-shaping up to 300 in a morning for each pop-up. They've grown since September. And his inspiration and imagination run before him, suggesting new combinations, like the new ebi mayo—spicy tempura shrimp, sticking jauntily up from its bed of rice.
But the package design matters, too. He's started designing themes for each pop-up, like the fey pink and red cherry blossoms at a recent one; he's working on a 7-Eleven line, with tabs that mimic the Japanese convenience-store look. Such product design was his day job until he bundled it into Inu-san.
It's "a little weird and exciting" to be 23 years old and helming a business, he says. He simply continues to poetically pursue his rice ball snacks.
Order Inu-san Onigiri from its website. Those new to onigiri or preorder popups can gander the thorough FAQ. Pick up locations vary. 
Okaeri Cafe
Business partners Michelle Pepping and Gene Tran are also turning to the comforting repertoire of Japanese street food.
Among the offerings of Okaeri Cafe, they make Japanese curry, topping-be-swizzled okonomiyaki pancakes, and chicken katsu. They've recently dipped into the wild craze of hotto doggu, a boisterous portmanteau mash-up of cult-status comfort foods: hot dogs in buns freighted with the flurries of okonomiyaki or bright red kimchi or a tangle of yakisoba, soft folds of gyu (beef) dip, dry curry, or fried tofu. You recognize them immediately as snack food—like a taco, a vehicle for so many things.
Pepping owns the Cajun crawfish spot Tasty Tails in Richardson, which is the locale from which you pick up the ghost kitchen–based Okaeri fare that arose during the pandemic.
"I always knew I wanted to open my own coffee shop," Pepping says. For two years, she and Tran worked together in their kitchen on recipes and were imagining a brick and mortar. When, as for many people, the pandemic stymied that plan, they switched tactics.
For me, the key to understanding Okaeri was the omurice and giant onigiri called onigirazu. To achieve the swirls of the omurice, they twirl the eggs with chopsticks—thousands of eggs went into the R&D. It's a yoshoku dish, Japanized versions of Western food, like hamburger patties doused with Bulldog sauce and spaghetti drenched in ketchup and tussled with hot dog, that gained traction during the Meiji era. A sweet, tangy beef demiglace plays perfectly against the omelet and its hidden mound of rice. With its painstakingly swirled, twirled folds, it's traditional omurice, rebooted. It's a beauty, too.
The onigirazu, this time, are like giant sandwiches. Cinched with nori and layered with Spam and egg or chicken katsu breaded with a cornflake crust. They're the hefty, layered sandwiches you didn't know you needed. In my favorite, the brined chicken thighs are tender and the slaw has turned Technicolor from an overnight marinade of miso and a little diluted curry sauce and a hit from cayenne. It's spectacular.
The name derives from okaerinasai, which means "you have come home" or "welcome home." It all circles back to Pepping's original desire for a café—a space that would provide a coziness she craved. Even if, for now, that coziness comes from a dish whose fragrance you inhale at home or hold in your hand.
Order online at Okaeri Cafe's website. Pick up at Tasty Tails in Richardson or the ghost kitchen in Northwest Dallas.
Get the SideDish Newsletter
Dallas' hottest dining news, recipes, and reviews served up fresh to your inbox each week.
Author
Eve Hill-Agnus was D Magazine's dining critic from 2014-2021. She has roots in France and California and during her time at D wrote…