Let me preface this little round-up with an obvious observation: This isn't an encyclopedic accounting of all the horchata in Dallas. That, while a totally worthy endeavor, would require a lot of bathroom breaks. Here we have just a handful of horchata peddlers that are calling upon time-tested family recipes or sourcing top-notch ingredients for their versions of the milky beverage. Read on to inevitably find yourself with a strong thirst for the cinnamon-kissed Mexican drink.
Michael Ehlert's North Dallas enchilada restaurant may be laid back as casual, order-at-the-counter spots often are, but Lada doesn't skip over the details like its fast-casual brethren sometimes might. Its fine-tuned horchata is the perfect example of this. As we recently reported, the horchata is creamier, smoother, and richer than most. The horchata owes its milky and silky like liquid satin qualities to Ehlert's keen attention to ingredients: "For me, the fork in the road is whether or not it has almonds," he says. "The ones with almond, the rice was less important. And there was always this texture war. When I backed away from almonds, I was like, I think we should use better rice." They use only basmati rice, which imparts its fragrant flavor to the drink, and pure Mexican Ceylon cinnamon. The rice and cinnamon are allowed to shine and it shows with every desperately gulped sip.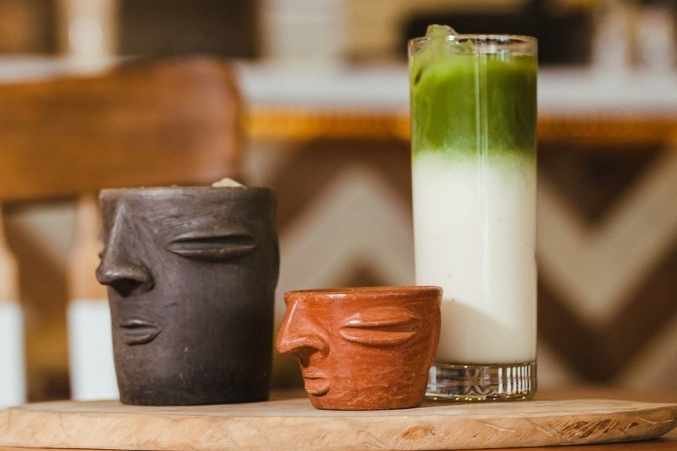 When this Jefferson Boulevard cafe opened last year, I knew it wasn\'t going to be just another trendy coffee shop. Co-owner Gerardo Barrera is too much of a coffee nerd who sources beans from smaller coffee farms in Mexico for that to happen. Even the horchata, which is made fresh daily in small batches based off a family recipe, can be imbued with single-origin coffee. Xamán\'s house espresso is a washed specialty coffee from Veracruz ("that scored 87 points on the Specialty Coffee Association scale," Barrera says in coffee geek speak). They roast it locally with fellow Oak Cliff outfit Graf Kofe. The horchata is a prime example of simplicity done exactly right—in other words, not too sweet, not too creamy, not a cinnamon-bomb. It comes in a cantarito with a shot of espresso to make it "dirty." Xamán\'s matcha horchata is apparently a hit with its cafe-goers, too.
The intricately crafted pastries at Maricsa Trejo\'s bakery get all of the love and attention. And rightly so. (I mean, have you seen the caramel churro cruffin? Behold.) To wash down golden kouign amann or craggy-crisp biscuits, though, you\'ll want La Casita\'s horchata. They blend theirs three days ahead of time, letting it rest for 36 hours before straining the creamy liquid. "We've found this gives it the closest flavor to the traditional horchata that my family has been making for years," says Trejo. The result is an absolutely chuggable rice-y sweetness with subtle cinnamon undertones. For a kick, you can get the cold brew version.
This beloved Bishop Arts gem is known for its incredible craft chocolate work—because, duh—chocolatier Andrea Pedraza has bequeathed her fine treats upon Dallas for years. But the horchateria side of things has garnered a bit more attention as of late even though CocoAndré has served their "dirty" horchata (that is, made with coffee) since 2017. "Since the horchatas took off during the pandemic we organically evolved into an horchateria," says Cindy Pedraza, who operates the shop with her chocolatier mother. CocoAndré\'s horchata, which you can also find bottled and ready to go, is made from scratch—and with love. Cindy says it "resonates with everyone differently, from childhood memories to culture and inspiration." One customer says it reminds them of the horchata their Costa Rican aunt would make. After lots of requests, they started making a matcha horchata version that\'s become a permanent fixture in the shop\'s horchata offerings. Aside from CocoAndré, you can also find CocoAndré horchata in bottles at the Plant Project in Uptown on the weekend.
In lieu of the usual milk tea base, Fat Straws swaps in a sweet (pretty sweet, in fact) horchata foundation. The tapioca boba pearls, though, counteract some of the saccharine notes, and makes it an all-around fun and tasty iteration of the drink.
Get the SideDish Newsletter
Dallas' hottest dining news, recipes, and reviews served up fresh to your inbox each week.
Author
Rosin Saez is the online dining editor for D Magazine's food blog SideDish. She hails from Seattle, Washington, where she…