We live in a world in which Texas barbecue menus are experimenting with an assortment of little-seen and intriguingly offbeat items. Barbecue mash-ups come in the form of smoked brisket ramen, black pepper–smoked sausage corn dogs or brisket green curry, and even the occasional pulled-pork egg roll. Upon your initial perusal over the Goldee's menu, then, you might be tempted to consider it "plain" or "simple." At Goldee's, the barn-red joint located on the edge of Fort Worth at 4645 Dick Price Road, you're going to find a short list of barbecue basics. Don't mistake simplicity for mediocrity, though, for Goldee's is anything but average. 
"We wanted the menu to be simple and true to Central Texas barbecue," says Dylan Taylor, one of five Goldee's pitmasters-owners "We do this so that we can really focus on the details behind each protein, side, and accoutrement." 
There's very little that's unrecognizable on the Goldee's menu: brisket, pork ribs, sausage, and turkey. Sides are equally straightforward with a lineup of beans, slaw, and potato salad (the cheesy grits, however, get a bit more adventurous).  So if you find something there, rest assured that it's only made the cut after years of experimenting, tweaks, and refinement, creating a product that each person on the crew is proud of. 
It's a menu full of Central Texas barbecue standards presented in their purest, most ideal form. You will not find a finer brisket in Texas. A bold claim, indeed, but true. They burn only Texas post oak, aged for eight months, to yield a perfectly moist, smokey, and peppery brisket. The pork ribs exhibit the perfect tenderness. The sausage is all made in house and comes in standard and jalapeño-cheddar. Both are excellent. And the beans! Those glorious beans. Spicy, saucy, and flecked with bits of brisket. There are no better beans on earth. Also noteworthy, they bake their own bread daily. No generic loaf of grocery store white bread for Goldee's customers. With each tray, you're presented with several slices of soft, airy, thick, golden bread. You will want to take home an entire loaf to make sandwiches later (and you can actually do just that).
After nearly a year of development Goldee's Barbecue, a fairly young restaurant located in a somewhat remote corner of Fort Worth near Kennedale, opened its doors in early 2020. The story of Goldee's Barbecue, though, actually begins many years ago with a group of five friends who grew up together in Arlington. It's a brotherhood that dates back to kindergarten, continued through high school, and remains to this day within the walls of a smokehouse. Just as some high school bros might one day decide to buy instruments and form a garage band, these friends decided they'd focus on smoked meat and eventually open their own barbecue restaurant. The five guys who now represent the owners, pitmasters, and managers at Goldee's—named for an old golden Ford F250 Taylor once used to haul around his first smoker—include Lane Milne, Jalen Heard, Jonny Ray White, Nupohn Inthanousay, and Dylan Taylor. 
After high school, the gang all moved to Austin, taking jobs at various barbecue restaurants in the area. Here, they soaked up every nugget of barbecue wisdom they could from some of the very best establishments in the state, heavy-hitting joints like Franklin, Valentina's, Truth, Micklethwait, and La Barbecue. Six years later, they decided it was time for their triumphant return to Fort Worth, armed with an unparalleled skill set and keen understanding of what makes for sensational smoked meats.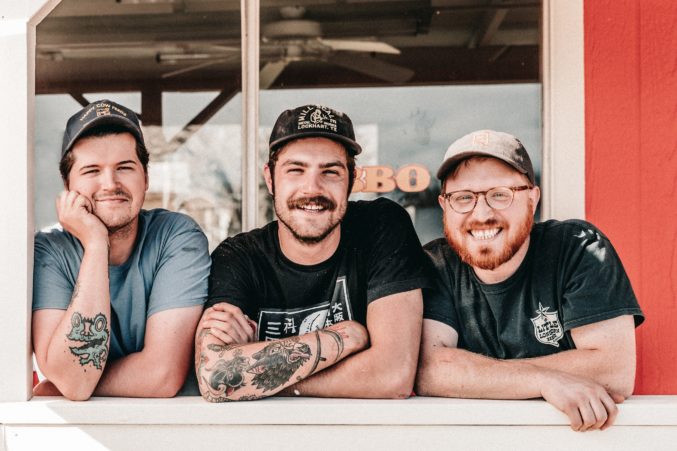 Given the restaurant's and its owners' relatively young age, combined with an off-the-beaten-path location, visiting Goldee's feels like a special event. To draw on my earlier musical analogy, it's sorta like you've stumbled upon some young, talented, underground local band—one that you know is about to blow up and become crazy-popular once everyone else figures out what's going on. But in the end, it's the food at Goldee's that really makes this place stand out. Simply put, it's fantastic. 
"We're really happy to see people willing to drive out here from all parts of Texas. Barbecue tends to be a pretty pilgrimage-friendly cuisine," says Taylor. If a "mecca of meat" exists, Goldee's deserves consideration for that title. Barbecue continues to command a dedicated following, and it posseses a popularity that doesn't seem to be slowing any time soon, with new joints popping up in nearly every corner of Dallas-Fort Worth. 
Still, Goldee's offers something any barbecue devotee should be excited about: They're traditionalists, not trend followers. They're producing food that deserves attention, not for being flashy, but for being meticulously crafted and painstakingly perfect.
Get the SideDish Newsletter
Dallas' hottest dining news, recipes, and reviews served up fresh to your inbox each week.